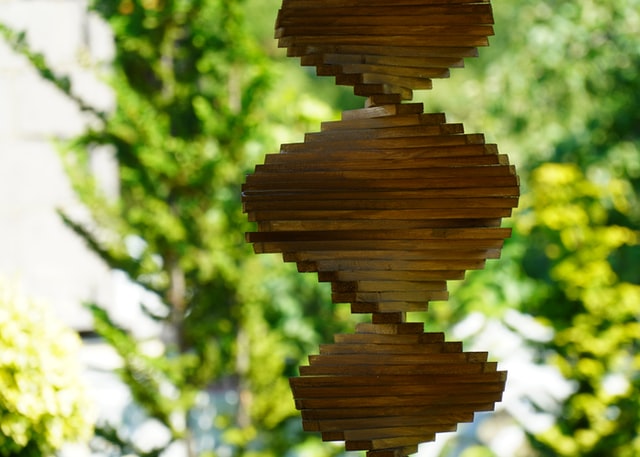 Overview
Products: DNA sequencing and genetic reports.
Cost: Services ranging from $144 to $249.
Reports: Ancestry, health, and wellness reports.
Raw data access: Yes, for $499.
Alternatives: SelfDecode offers personalized health recommendations based on your genes.
Pros
Wide variety of products on their website.
Includes genetic counseling in some of their services, which is also available as an optional add-on.
Only requires customers to have their DNA sequenced once.
Cons
Does not accept raw DNA data files from any other testing company.
Charges $499 for access to raw DNA data files.
Because the company has multiple partners, privacy concerns may increase.
About Helix DNA
Helix is a DNA testing company that applies their technology to understand populations, and how genes influence health and well-being. It was founded in 2015 by James Lu, Justin Kao, and Scott Burke. The company is located in California and their mission is to help people improve their lives with DNA insights.
Review of Helix DNA Products & Features
With Helix's proprietary DNA sequencing called Exome+, the company claims to combine Whole Exome Sequencing (WES) with low-coverage Whole Genome Sequencing (WGS).
Users can choose from a variety of ancestry, wellness, and health reports once they get a Helix DNA test. Examples of these reports are listed below. The company also offers a 30-minute genetic consultation.
Helix Ancestry
Breaks down ancestry in 26 regional groups. This service also provides information on specific traits such as high-fat diet adaptations, and lactose intolerance.
Women's Wellness
This report analyzes over 20 traits related to overall well-being, including body and skin, nutrition, and sleep.
Helix Wellness
This report offers information on how certain genes can affect wellness. It includes analysis on BMI, calcium and vitamin D levels, gluten tolerance, and others.
GoalGetter
Helix creates a personalized action plan based on DNA and provides recommendations on nutrition. GoalGetter informs on how genes affect weight, sleep, aging, performance, and food sensitivities.
GoalGetter is the result of a partnership between Helix DNA and InsideTracker. You can read more about this company here.
DietGENius
This service helps users lose weight and improve their diet by using personalized recommendations based on genetic predispositions and food habits.
CarrierCheck
This report provides genetic health testing and screens for 67 diseases to help users discover how their DNA may affect their family. A genetic counseling session is included.
Carrier check is the result of a partnership with Sema4. You can read more about this company in our comprehensive review here.
GoalGetter, DietGENius, and CarrierCheck are provided by third parties. Helix claims to share only information relevant to the specific analysis.
Helix Ancestry, Women's Wellness, and Helix Wellness are only offered for those who already have their DNA sequenced with Helix. DNA test kits are not available with these options. They only require their customer to have their DNA sequenced once, and stores the genetic data for future purchases.
Review of Helix DNA Reports
A Helix DNA test can take 4 to 12 weeks to process, and the company only shares a portion of the genetic data necessary for each report with their partners. Customers can access their results in 7 to 10 days from when the partner receives the data.
Since Helix offers a variety of apps, including from other providers, reports can vary between services. Brief reviews of some reports offered are listed below.
Helix Ancestry
The company shows an overview of the results, including the regional ancestry and specific adaptation results. For more information, users can select each category. As can be seen from the sample report below, the ancestry breakdown is listed in percentages.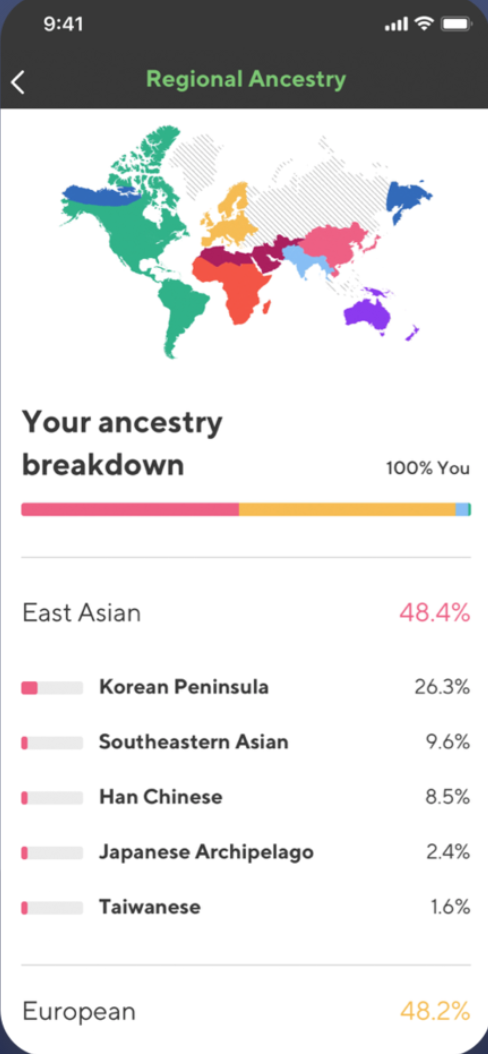 Women's Wellness and Helix Wellness
Both Women's Wellness and Helix Wellness offer a similar report. Like Helix Ancestry, they show an overview of the results that users can expand on, as shown below. For these reports, there are no health recommendations.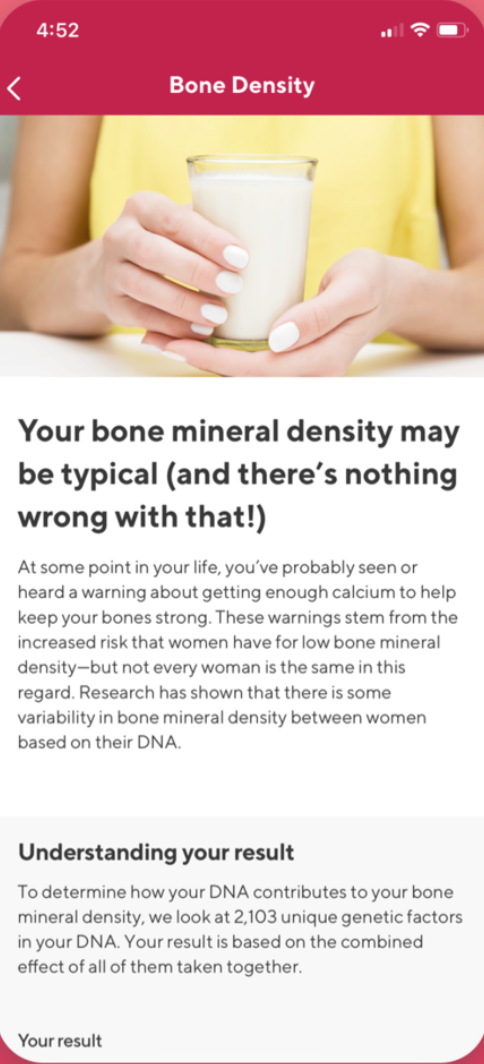 GoalGetter
GoalGetter offers DNA-based recommendations guided by a specific health goal chosen by the user. It can offer insights on athletic performance, weight, healthy aging, sleep, and food sensitivities.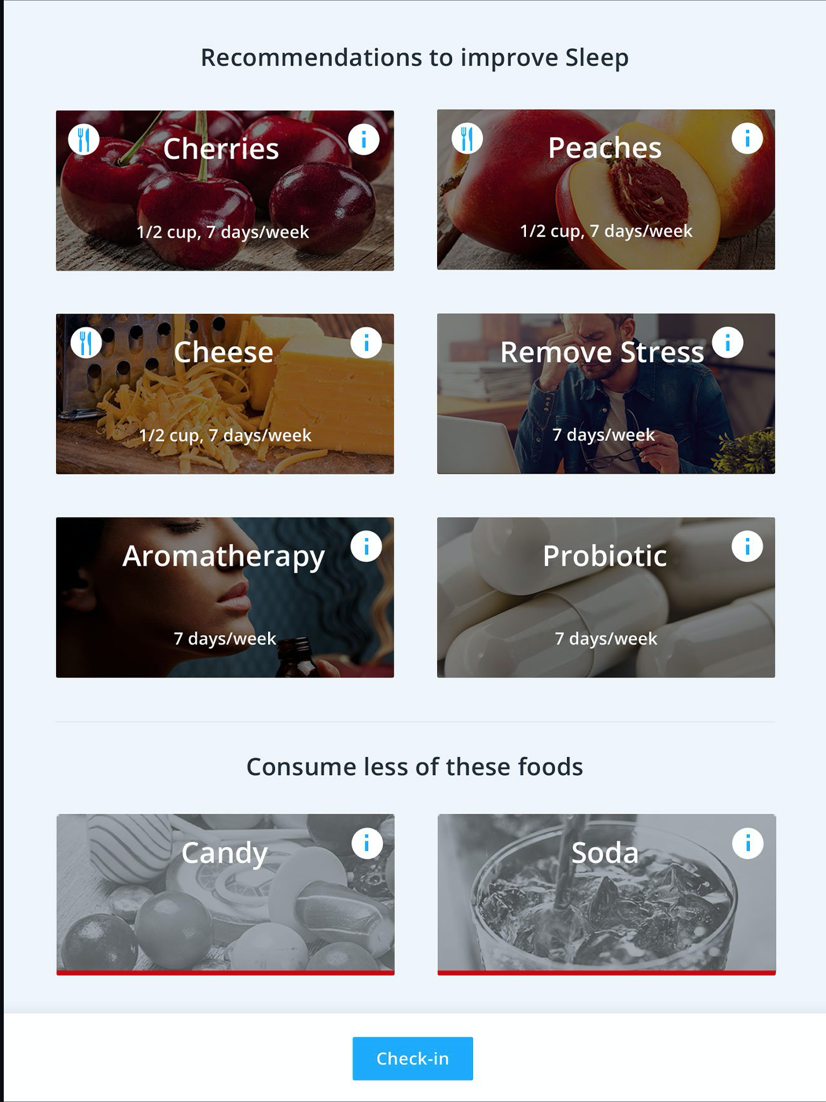 DietGENius
DietGENius provides an optimal diet plan based on DNA and self-reported habits. They have an artificial intelligence digital coach to help guide users through their recommendations. It is also possible to use a Fitbit to track exercise. Below are some sample screenshots of the report.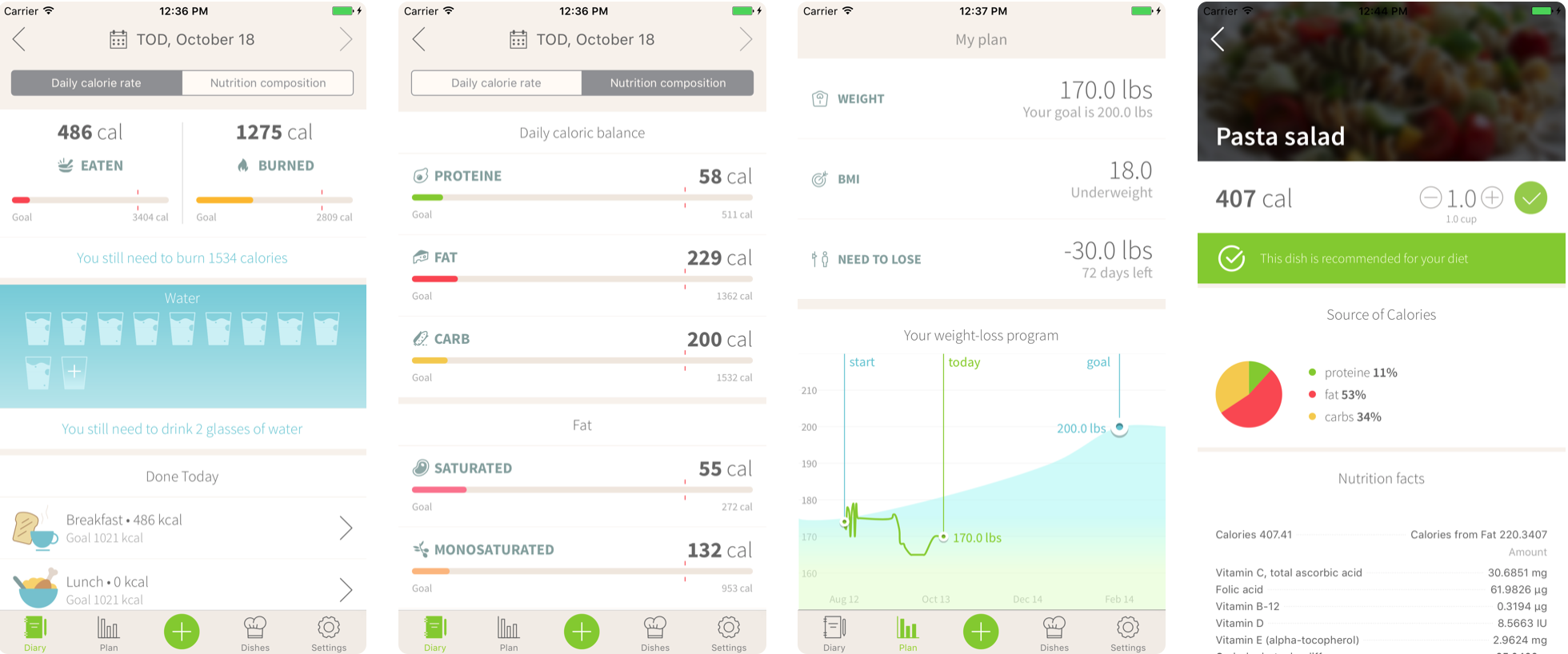 CarrierCheck
CarrierCheck offers screening for 67 genetic conditions and some insights about them. They offer some additional educational material and the possibility of consulting with a genetic counselor, but no personalized recommendations.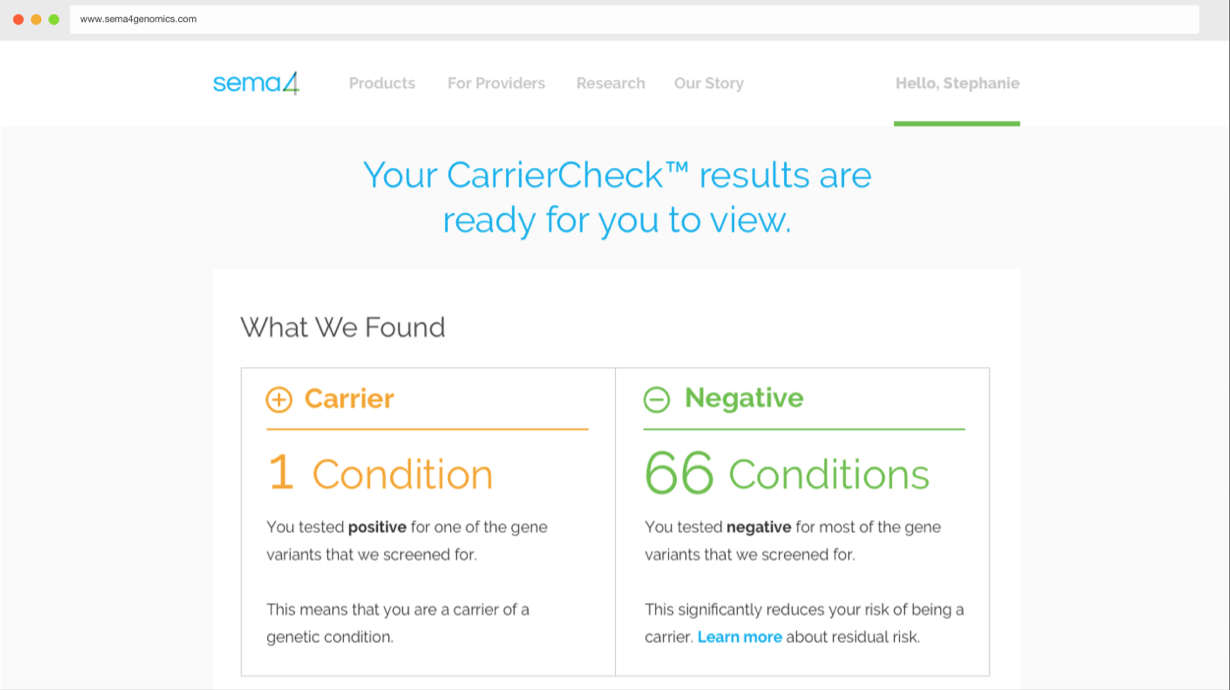 Cost of Helix DNA
Ancestry, Women's Wellness, and Helix Wellness are only available for those who already have taken a Helix DNA test. The company offers these reports for free. Diet GENius is priced at $144 with a Helix DNA test kit or $19 for those who already have their DNA sequenced.
GoalGetter is available for $190 with a DNA kit, or for $110 without a DNA kit. CarrierCheck is priced at $250, or $199 for those who don't need a DNA kit.
Users can also get a 30-minute genetic consultation for $75.
Health Recommendations from Helix DNA
Helix offers some health recommendations, but not for all of their products. Since multiple companies offer their services under the Helix website, there are different reports provided. For example, Helix's Ancestry and Wellness reports do not offer any recommendations, while GoalGetter focuses on nutrition and exercise suggestions.
Review of Helix DNA Privacy & Data Security
While Helix claims not to share data without user consent, they have many partners who use genetic data acquired by Helix's DNA sequencing. Users can choose to stop sharing their information at any time, but data already shared with partners is governed by their policies.
Although Helix states that genetic data belongs to users, they charge $499 for access to raw DNA data. Moreover, if users choose to close their account, the company can retain certain information for support, legal, and regulatory reasons.
SelfDecode vs Helix DNA
SelfDecode delivers natural supplement, diet, and lifestyle suggestions based on your genes that you can implement right away. Helix offers some recommendations in a few of their reports.
SelfDecode tells you why they make each recommendation so that you can understand the science behind the suggestion. Helix does not explain why they make their recommendations.
SelfDecode prioritizes recommendations based on their analysis of all the relevant genes instead of one gene at a time (through reports). Helix does not prioritize their recommendations.
SelfDecode takes a holistic approach to give recommendations that are best for your genes AND the health topic. Helix offers separate health and wellness reports.
SelfDecode has the world's first and only personalized genetics blog that allows you to get new gene-based recommendations daily. Helix does not have a personalized blog.
SelfDecode is the most comprehensive and looks at more genes & SNPs (over 150,000) to deliver the best analysis of genetic risks. Helix's DNA test offers a comprehensive analysis.
SelfDecode supports everything with peer-reviewed scientific studies in their research and checks for contradicting information. Helix does not provide scientific references in their reports.
SelfDecode never sells your data or gives it away. Helix claims not to share data without user consent.
Comparisons
| | | | | |
| --- | --- | --- | --- | --- |
| | SelfDecode | Helix | Nebula Genomics | DNAFit |
| Personalized & holistic health recommendations | Yes | No | No | Yes |
| Personalized blog posts | Yes | No | No | No |
| Products | DNA testing, wellness reports, research-based personalized blog posts, health recommendations | DNA sequencing, ancestry, health, and wellness reports | WGS, health reporting, traits, ancestry | WES, nutrition and fitness reports |
| Raw data access | Yes | Yes, for $499 | Yes | Yes |
| Cost (USD) | $97 – $389 | $145 – $250 | $0 (limited) – $700 | $49 – $629 |
Helix DNA Reviews
DNAtestingchoice – Editor Rating of 4 of 5 stars; 30 Customer Average Rating of 3.3 of 5 stars
The editor was impressed with the variety of services provided but was let down by the quality of communication after purchase.
See what people are saying about Helix on Twitter
The Helix hashtag on Twitter is a good place to find more information.
Alternatives
SelfDecode: Have your DNA analyzed to get personalized health recommendations so you can take control of your health.
Helix DNA Review Summary
Helix offers DNA sequencing with their proprietary Exome+ service. Customers are only required to have their DNA sequenced once, and can choose from a wide variety of genetic reports. The company offers some health recommendations based on DNA, but most reports are very superficial.
Because of their many partnerships, they are required to share the genetic data necessary to provide the services, which can increase privacy concerns. In addition, they charge their customers $499 for access to their raw DNA data files.
If you get your DNA tested with SelfDecode, you can get access to your raw genetic data at no additional cost. Or, you can choose to upload your preexisting DNA file to get access to your reports for less than $100 annually. SelfDecode offers health recommendations, but unlike Helix, direct references to peer-reviewed scientific articles are embedded throughout the reports.
Related