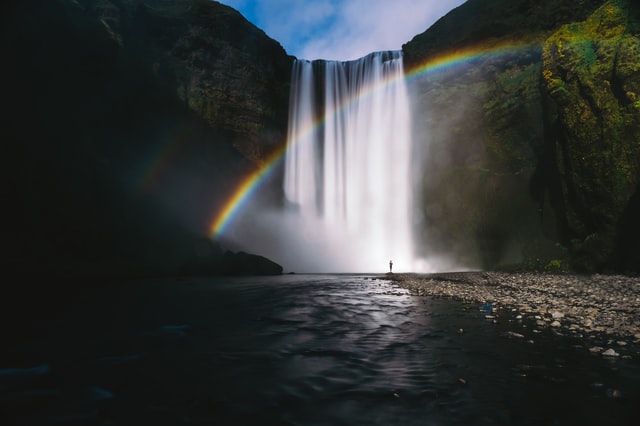 Overview
Products: DNA tests, health, wellness, and ancestry reports.
Cost: Reports generated from a raw data upload start at $17, but the reports + DNA test can cost $117 for a yearly subscription.
Reports: Health, nutrition, fitness, pharmacogenetics, traits, and ancestry reports.
Raw data access: Yes.
Privacy: ADNTRO does not sell personal information to third parties.
Alternatives: SelfDecode delivers personalized health recommendations based on DNA.
Pros
They have a wide variety of reports.
Yearly subscription service.
The company provides constant updates to the reports.
Cons
They do not consistently deliver health recommendations.
About ADNTRO
ADNTRO is a DNA testing company founded in 2019 by Guillermo Pérez Solero. Headquartered in Palma De Mallorca, Spain, the company aims to help people learn more about their genetic code by democratizing access to genetic information.
They continuously update their DNA database to include new traits and studies and strive to help develop scientific research in the field of genetics.
The founder states that DNA testing is still not widely known in Spain. As a company that has been recently established, they work continuously to improve their platform and data analysis algorithm.
Review of ADNTRO Products & Features
ADNTRO's DNA test analyzes 750,000 SNPs to generate reports on ancestry, health, and wellness. Additionally, ANDTRO imputes users' genetic data to obtain over 12 million genetic markers and provide more accurate results.
The Pack ADNTRO includes information about ancestry, nutrition, fitness, and personality. Customers have access to the Labs feature, which will be explained in the following section. The categories covered by this pack are explained below.
Ancestry: Compares the user's DNA to more than 40 modern populations and provides information on paternal and maternal lineage.
Nutrition and Fitness: Explains how diet and genetics interact and informs users of nutrient needs, food sensitivities, and more.
Personality: Based on research published by Robert Plomin, an American psychologist and geneticist. Explains how DNA can affect personality.
The Pack ADNTRO + Health grants access to the features from the basic pack, plus information on health and pharmacogenetics.
Pharma: Shares how different drugs can impact the person.
Health: Reveals genetic predispositions to certain conditions.
Both packages include a one-year subscription to the online platform.
Review of ADNTRO Reports
ADNTRO presents the reports on their platform. The dashboard seen below shows the categories included in the reports, which users can select for more information.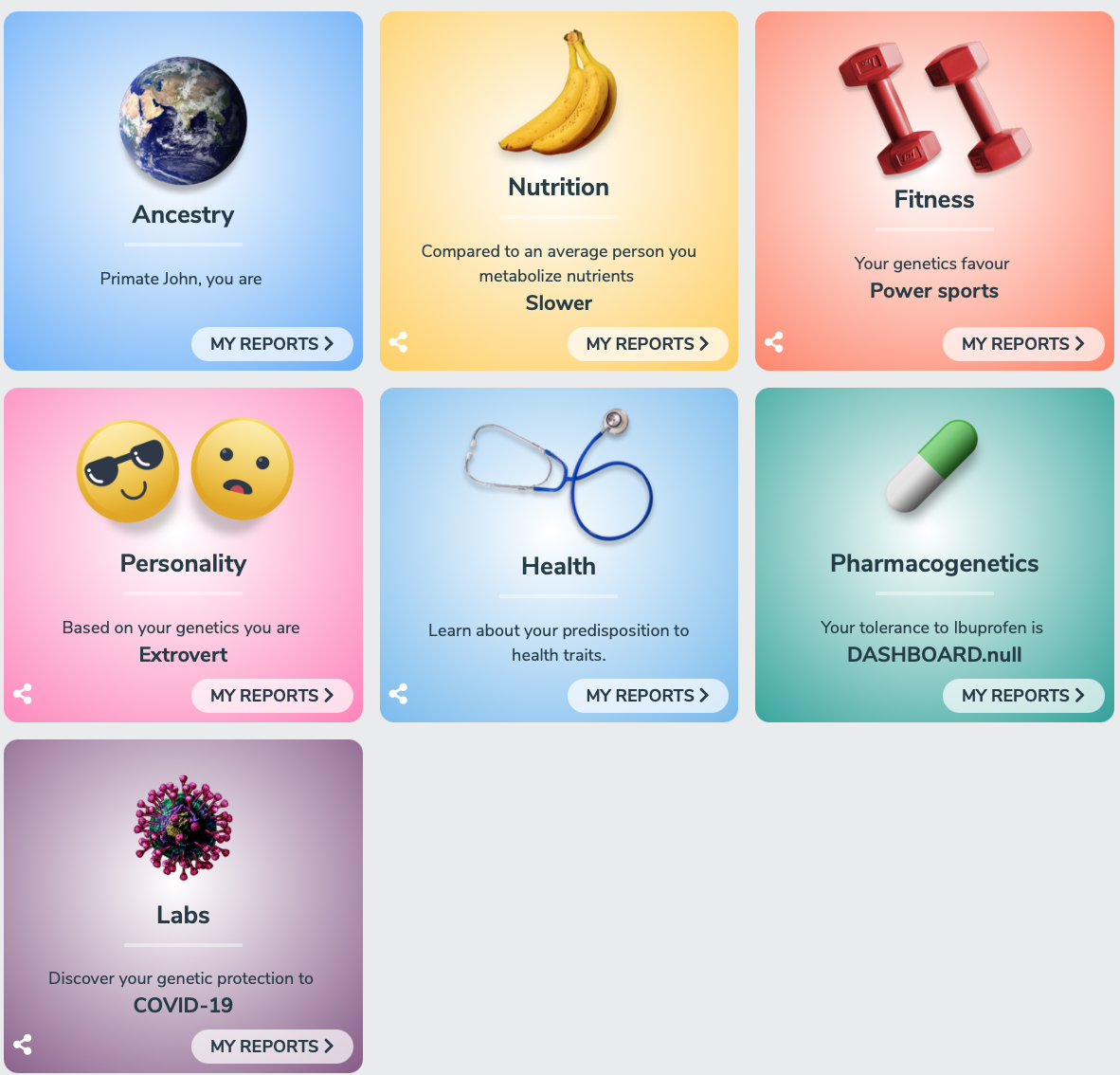 The Ancestry report displays information about the user's genetic similarity to modern populations, as shown in the sample report below.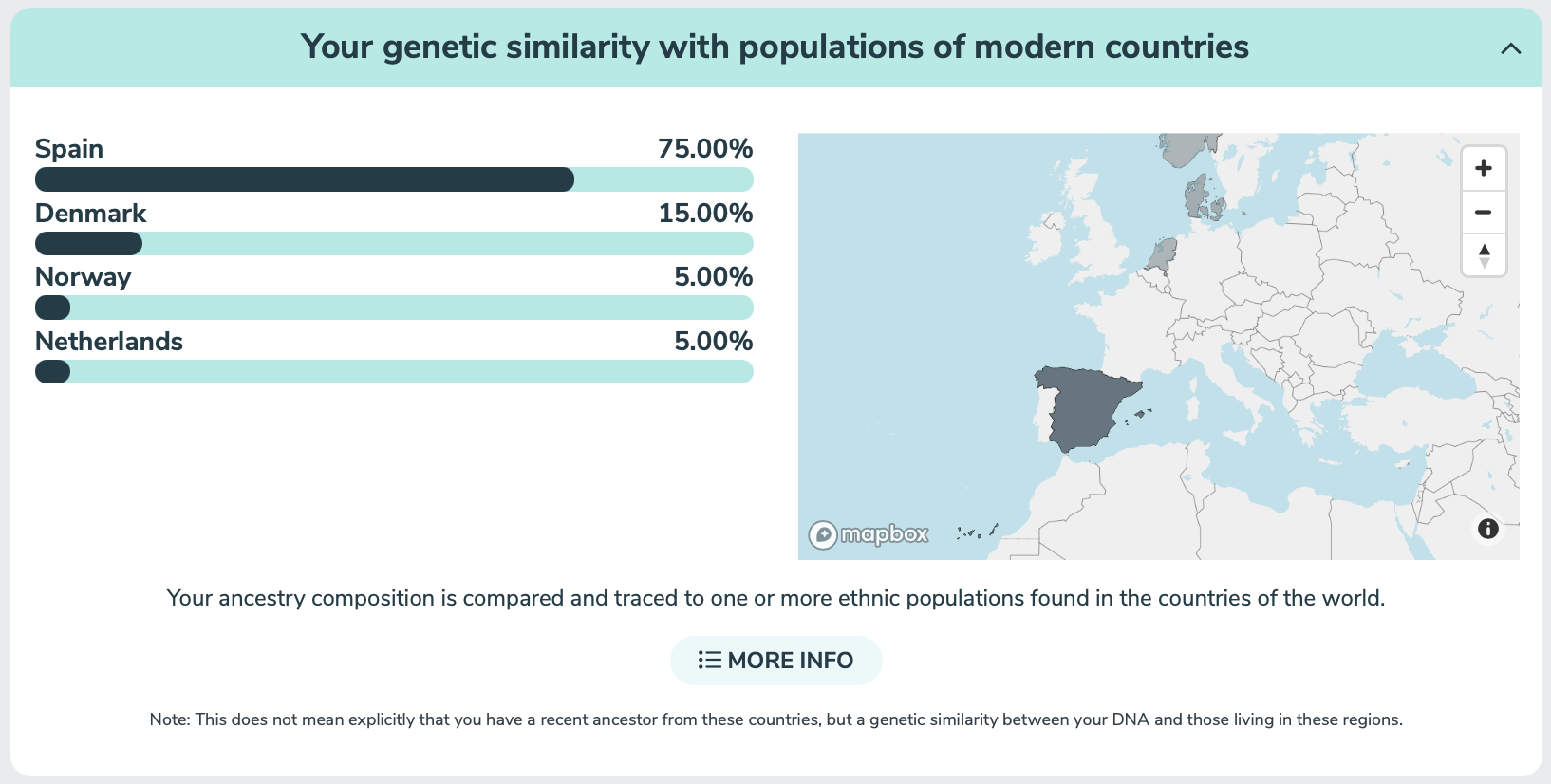 The company also provides information about haplogroups, which are population groups that share a common maternal or paternal ancestor. Additionally, the report explains if users have shared DNA with Neanderthals and displays a few traits related to them.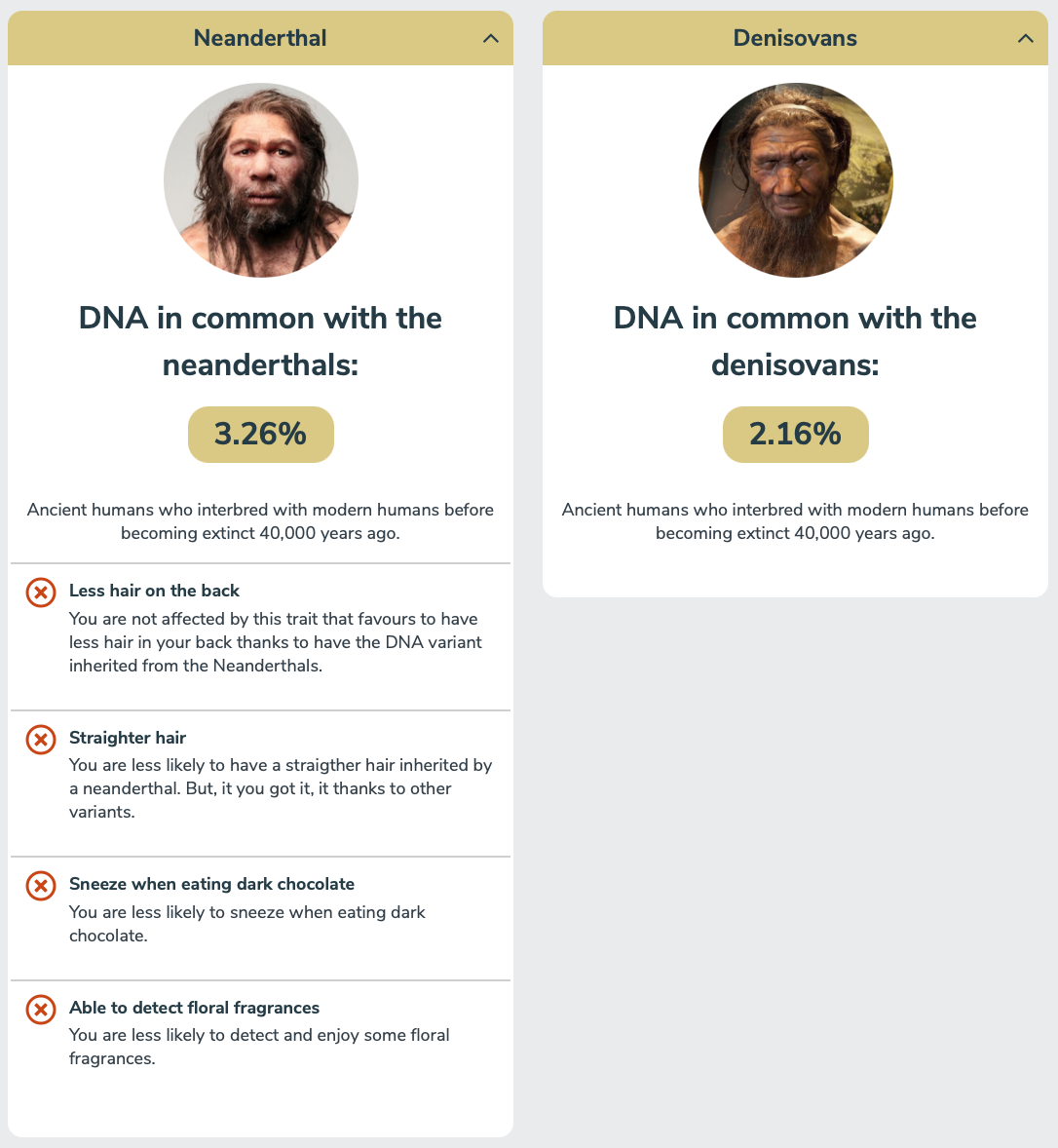 The Nutrition reports present color-coded results. ADNTRO delivers information about food sensitivities, how well users absorb and utilize nutrients, and how genes affect diet and metabolism. A sample report is shown below.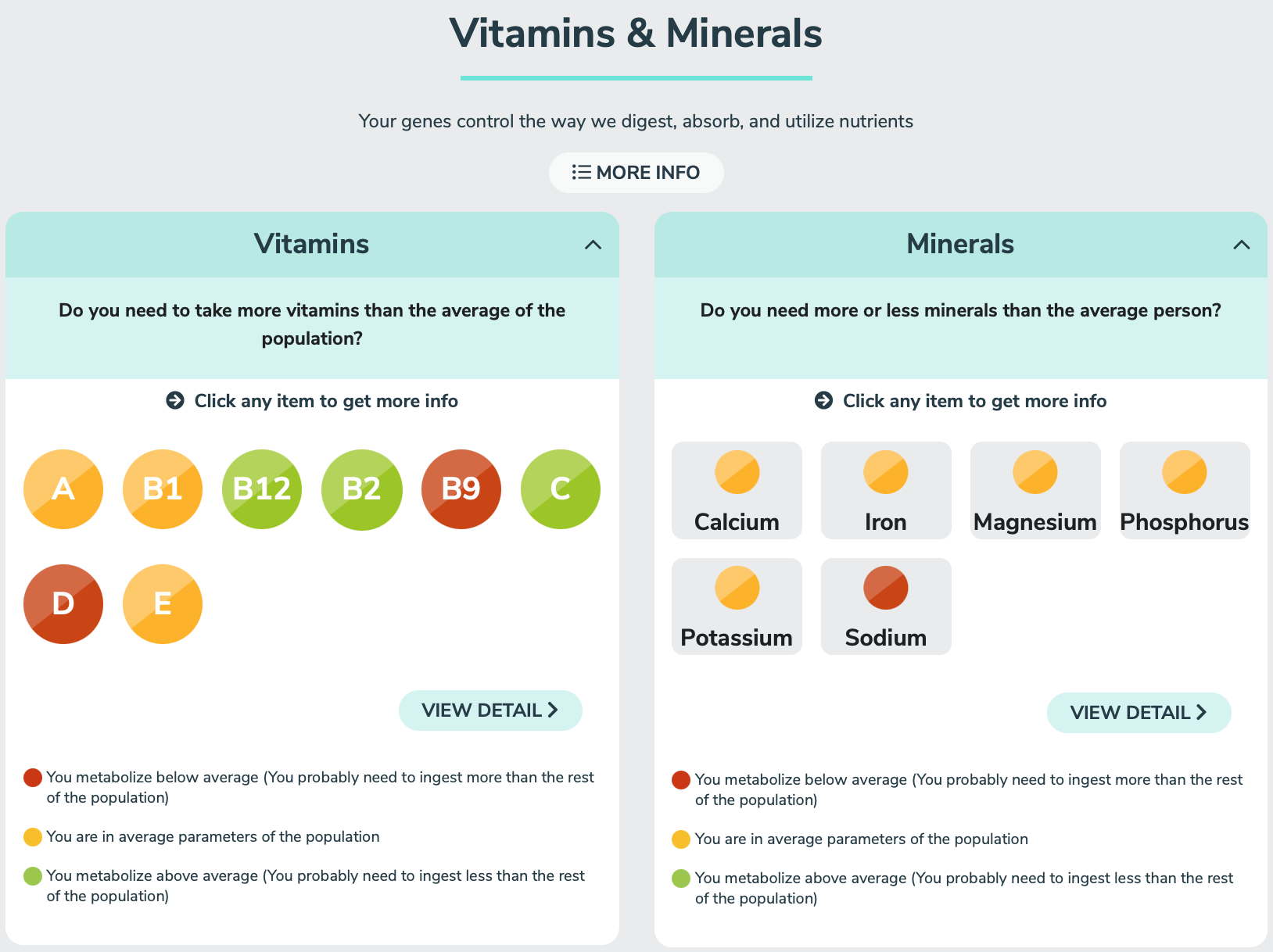 ADNTRO provides data about each subject, but they do not offer any personalized health recommendations. For example, the report shares general knowledge about where each nutrient is found, but they do not give specific suggestions, as seen below.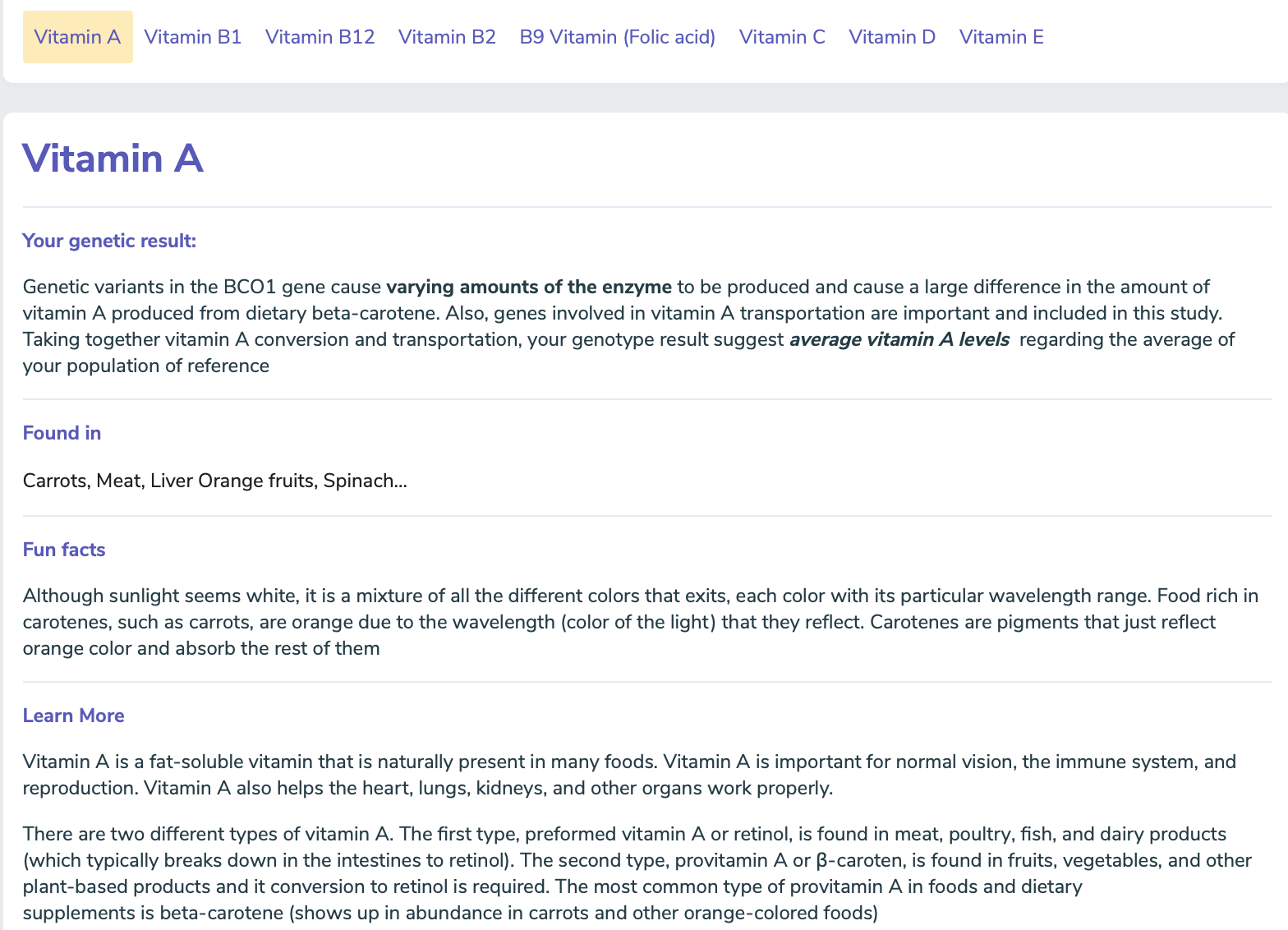 ADNTRO also includes a section containing a list of food products that are recommended to each user based on their results.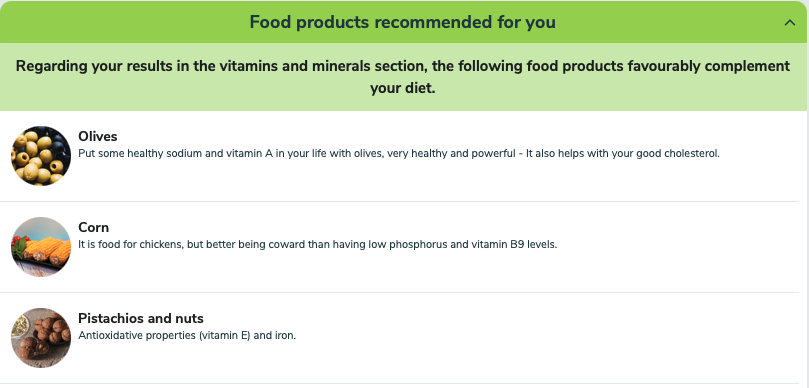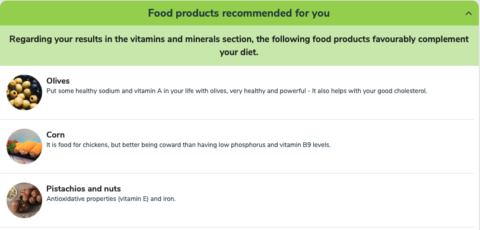 The Fitness section analyzes four categories, which include power, endurance, muscle building, and heart rate recovery.
The Health results are presented in comparison with the general population. For example, in the sample report below, the user is shown to be slightly more predisposed to gastric cancer than the average population.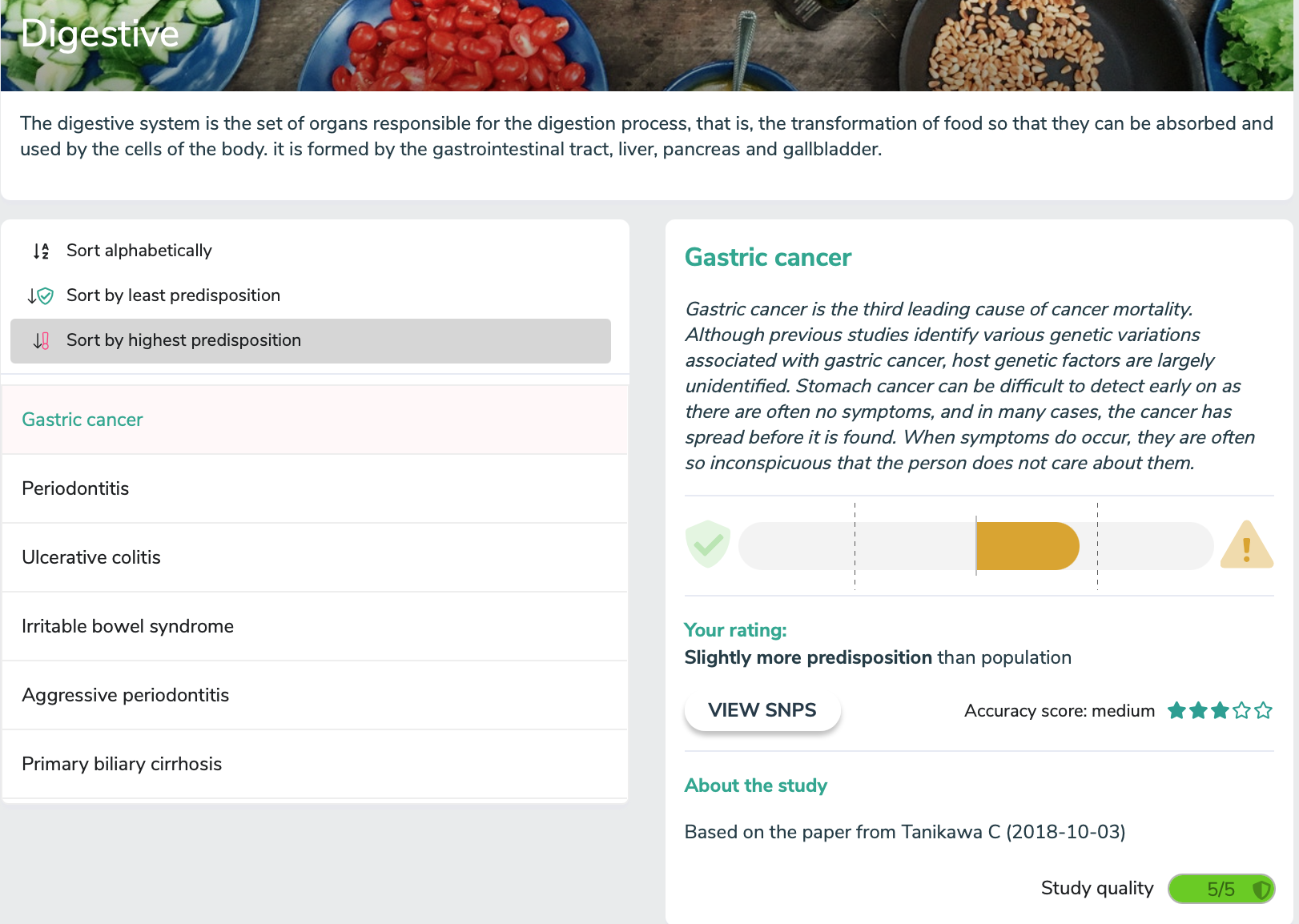 The platform allows customers to sort their results by the level of predisposition they present. The reports do not offer any additional information or health recommendations.
The Labs section lets users explore their DNA by providing more recent studies. Customers only need to answer questions to receive their results. This feature also helps ADNTRO improve their algorithm.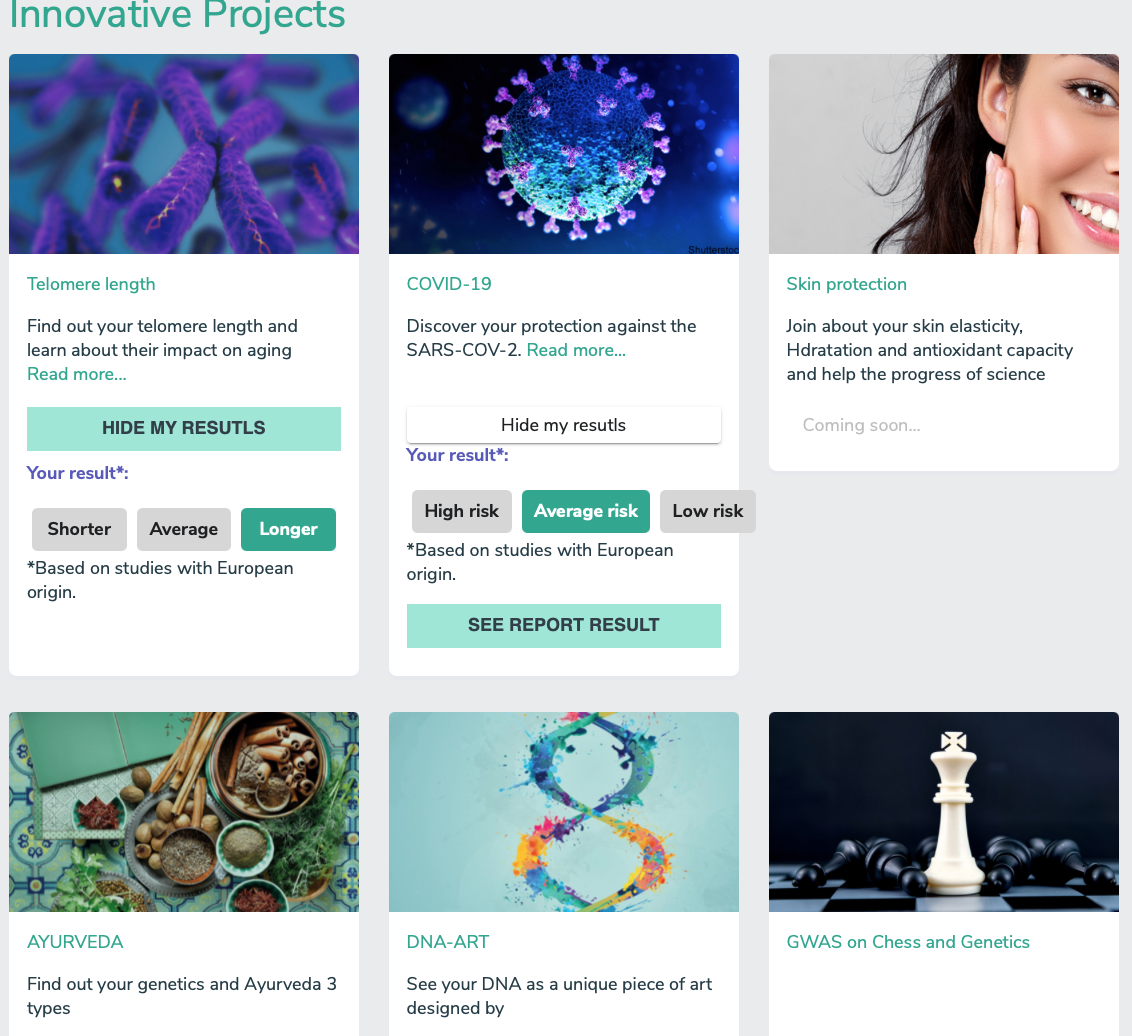 This section is still under construction, and the company only provides two additional tests at the moment.
Cost of ADNTRO
ADNTRO displays their prices in Euros, so any values presented in this article are approximate numbers in US dollars. Users can upload their preexisting genetic files and generate reports starting at $17. The Pack ADNTRO costs $93, and the Pack ADNTRO + Health is priced at $117. All of their services are billed as yearly subscriptions.
Health Recommendations from ADNTRO
ADNTRO does not deliver health recommendations in their reports. They allow users to sort their DNA results from highest to lowest predisposition, and vice versa.
The company provides some general information about diet, such as which foods contain each nutrient analyzed. The report also offers recommendations of food products based on users' genetic results.
Review of ADNTRO Privacy & Data Security
ADNTRO employs a Data Protection Officer (DPO) to ensure compliance with the pertinent data protection laws.
Users can request to access, rectify, or delete their data, but the company maintains they will keep information necessary for administrative, legal, or security purposes.
The company states that they take reasonable precautions to prevent information from being wrongly used or accessed. They claim that personal data will not be transferred to third parties, except if required by law or to provide the services.
SelfDecode vs ADNTRO
SelfDecode delivers natural supplements, diet, and lifestyle suggestions based on your genes that you can implement right away in all reports. ADNTRO offers nutrition recommendations only in their reports.
SelfDecode tells you why they make each recommendation so that you can understand the science behind the suggestion. ADNTRO gives a brief explanation of the genetic results.
SelfDecode prioritizes recommendations based on their analysis of all the relevant genes instead of one gene at a time (through reports). ADNTRO lets users sort their results by predisposition levels.
SelfDecode takes a holistic approach to give recommendations that are best for your genes AND the health topic. ADNTRO presents each result separately.
Comparisons
SelfDecode

ADNTRO
24Genetics

Helix

Personalized & holistic health recommendations

Yes
Yes, but not holistic
No

No

Number of genetic variants analyzed

Over 700,000 SNPs
Over 12 million genetic markers
WGS = 100%
WES = 85%
DNA = 700,000 SNPs

Unknown / Not Disclosed

Products

DNA testing, wellness reports, health recommendations, lab test analyzer
DNA testing, health, nutrition, fitness, pharmacogenomics, and ancestry reports
DNA testing, WGS, WES, health, wellness, and ancestry reports

DNA sequencing, ancestry, health, and wellness reports

Raw data access

Yes
Yes
Yes

Yes, for $499

Cost (USD)

$97 – $389
$17 – $117
$57 – $2,300

$145 – $250
ADNTRO Reviews
32 reviewers rated the company an average of 4.6 of 5 stars on Trustpilot.
Users from the genetics and anthropology discussion forum Anthrogenica like that the company uses their Denmark-based laboratory and Illumina chips for their DNA test. However, most users were not impressed by the accuracy of the ancestry report.
Alternatives to ADNTRO
SelfDecode: Get personalized health recommendations based on DNA through detailed reports and a genetics blog.
ADNTRO Review Summary
ADNTRO is a Spanish DNA testing company that was recently established in 2019. They offer a wide variety of reports, including ancestry, health, diet, and nutrition. Their interactive platform is user-friendly, and the results are easy to understand.
However, the company does not provide much additional information about the conditions and traits analyzed. Despite the vast amount of information offered by ADNTRO, they only give dietary recommendations to help people improve their overall well-being.
For people curious about receiving actionable information about their genetic data, alternative services like SelfDecode offer health-focused recommendations that are tailored to each genetic profile for less than $100 annually.
Related