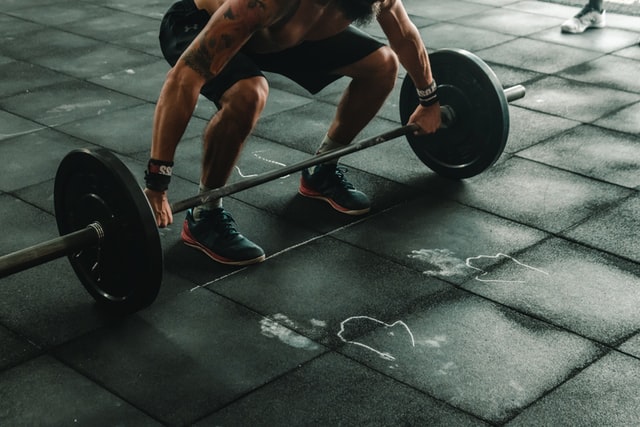 Overview
Products

: Athletigen provides personalized genetic analysis reports which give insight and recommendations to improve and optimize athletic performance, nutrition, and overall health.

Cost

: If you do not already have your raw genetic data, you can order a DNA kit for $174.99. Once that data is obtained, reports can be purchased for anywhere from $19.99 to $79.99. There is also one free report available.

Reports

: The reports range between 30 to 60 pages and utilize 40-100 genetic markers to gain insight into various traits.

Raw data access

: Access to raw DNA data is available for all users.

Privacy

: Raw DNA data can be personally deleted from the Athletigen database at any time.

Alternatives

:

SelfDecode

(comprehensive genetic reporting to optimize specific health areas).
Pros
Athletigen provides access to personalized recommendations to help achieve fitness and nutrition goals

Users can upload their raw data file from third party sources to order more specific, athlete-focused reports.
Cons
Multiple reports need to be purchased to get complete results
There are some limitations to using the Athletigen service without already having your raw DNA data to upload
Limited number of genetic variants analyzed
About Athletigen
Founded in Halifax, Nova Scotia in 2014 by CEO Jeremy Koenig, Athletigen is a sports-focused company that provides personalized DNA analysis and recommendations for optimization in nutrition, performance, and athletic ability. DNA testing kits and various reports are available for customers to order.
Koenig holds a PhD in Biochemistry and Molecular Biology from Dalhousie University and completed his postdoctoral research in Human Genetics and Microbiome at Cornell University. He aspires to unite and inspire people by helping users achieve health and fitness goals through higher self-awareness.
Testimonials can also be found on the Athletigen website from Olympians, professional athletes, and well-known coaches/professionals, such as Brad Marchand (two-time NHL All-Star), Dan Pfaff (10-time Olympic coach) and Kristen Zendran (Certified Holistic Nutritionist).
Koenig and his team at Athletigen strive to revolutionize the way athletes train and achieve goals through exploring how genetics influence human potential. Their mission is to develop customized training programs for elite athletes to achieve their athletic goals through DNA analysis.
Unfortunately, Athletigen has announced the temporary discontinuation of their DNA testing, with the last day to access an account on the website being February 28, 2021. Currently, customers can purchache Athletigen reports on the Sequencing.com website. This review will discuss past products offered by the company until said date.
Review of Athletigen Products & Features
Athletigen offers seven different kinds of reports to its users, one of which is free. The remaining range from $19.99 to $79.99 each. The reports offered are:
Cosmopolitan Report – Free
This report analyzes nutrition, performance, and recovery markers from your DNA to provide recommendations for optimal health.
If you already have a DNA file (from 23andMe, Ancestry DNA or Athletigen), you can simply upload your raw data file and access your report. If you do not already have a DNA file, you have the option to purchase a DNA kit ($174.99), which includes a free Welcome Report.
Welcome Report – $19.99 (or free with purchase of DNA kit)
This report provides a broader overview compared to Athletigen's other reports. Topics covered are speed and power, vitamins, exercise recovery, and sleep health.
Below is a portion of the sample report available on the Athletigen website. This report is approximately 35 pages and analyzes 40 markers to gain insight into 19 traits.
Recommendations based on your DNA outcome are provided, along with additional information describing health concepts such as sprint and power performance, seen below.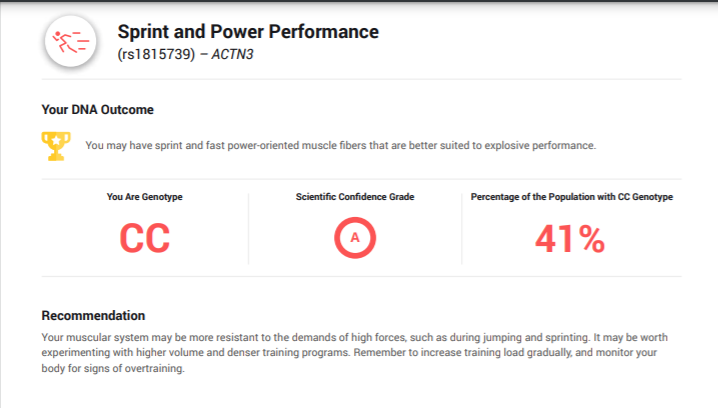 Optimum Movement and Recovery Report – $79.99
Consisting of approximately 30 pages, the report analyzes over 70 markers to gain insight into 25 traits, focusing on injury prevention and effective recovery.
Covered topics include: injury risk, bone health, joint health, muscular health, exercise recovery, and sleep hygiene.
ALTIS Sports Performance Report – $79.99
This report consists of approximately 35 pages and analyzes over 50 markers to provide insight into 22 traits.
This report tackles factors that can influence and optimize an athlete's performance such as endurance, power, and speed. It also discusses factors that could impact one's training, such as caffeine and body temperature change.
Nutrition Report – $69.99
The Nutrition Report explores how a user's DNA influences their body's response to various diets. This report targets a wider audience, instead of just athletes, appealing to anyone who may have concerns about their health and nutrition intake.
This report is approximately 40 pages and analyzes over 100 markers to provide insight into 30 traits. It consists of insights, recommendations and topics that include: vitamins, minerals, macronutrients and sensitivities.
Below are some parts of a sample Nutrition Report provided by Athletigen. Recommendations and background information are provided to help with users' understanding.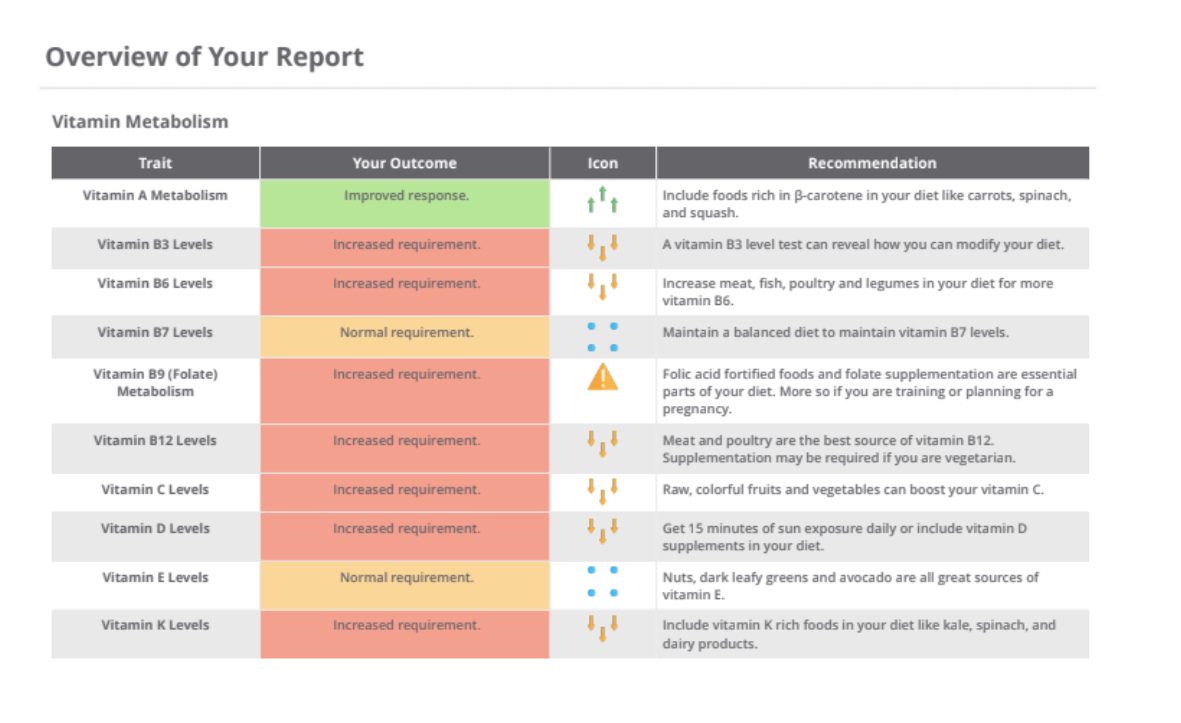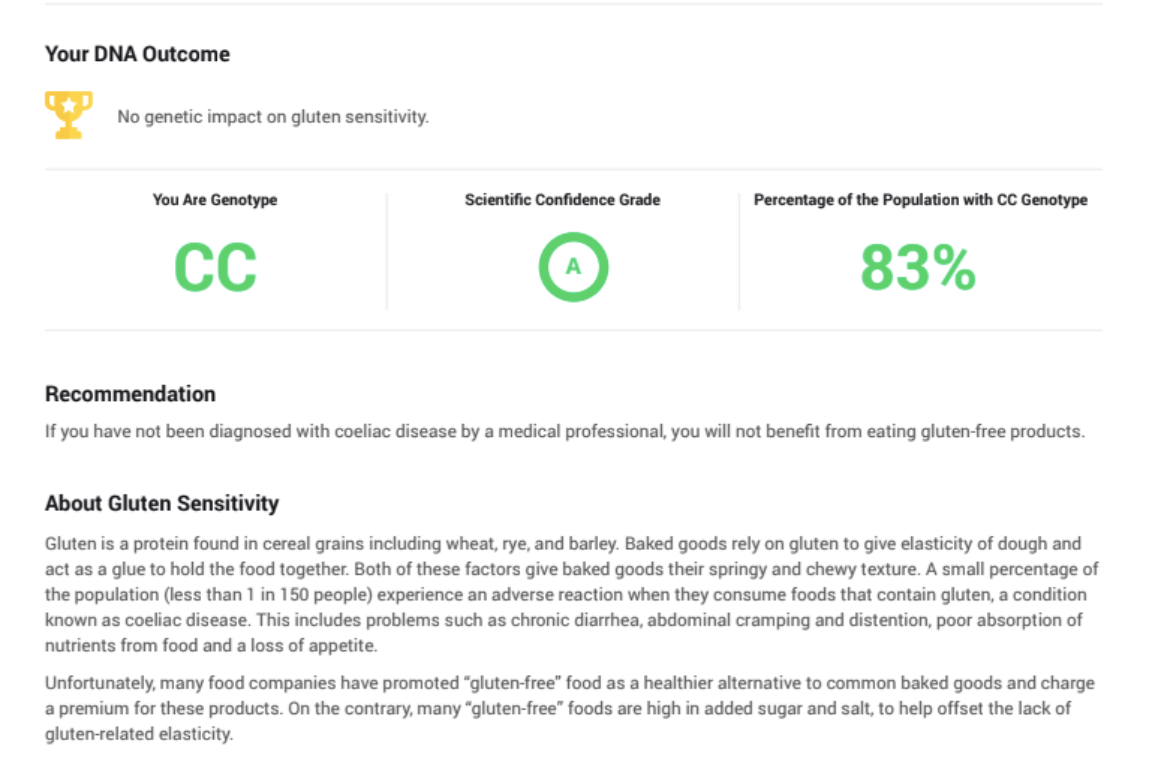 Wellness Report – $59.99
The Wellness Report also caters to a wider audience as it targets anyone interested in improving overall wellness, habits, or health problems.
This report is approximately 50 pages and analyzes over 40 markers to provide insight into 32 traits (see below). Report includes topics in these areas: aging health, bone health, joint health, metabolic health, vitamins and minerals, and muscular health.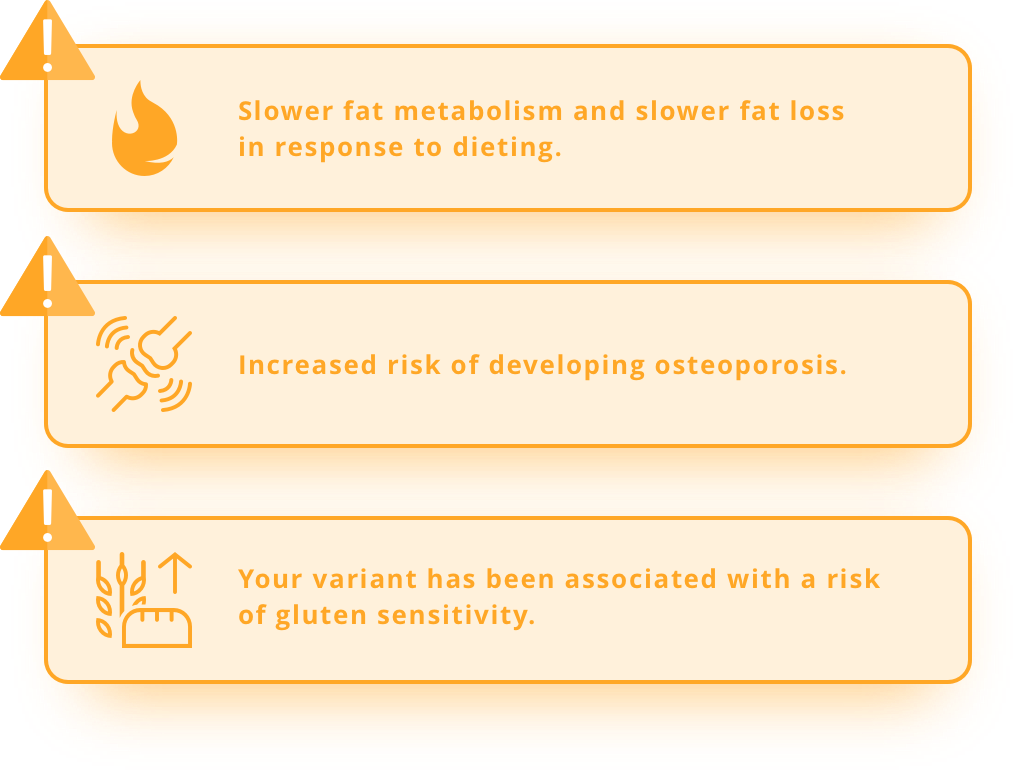 Athletic Report – $64.99
This report is for athletic users who wish to gain insight and receive recommendations that could improve their training, lifestyle, and wellness.
The Athletic Report is approximately 60 pages long and analyzes over 100 markers to provide insight into 40 traits, tackling topics such as endurance, power vs. endurance, and strength and hypertrophy.
An example of some of the insights regarding specific exercise topics can be seen below.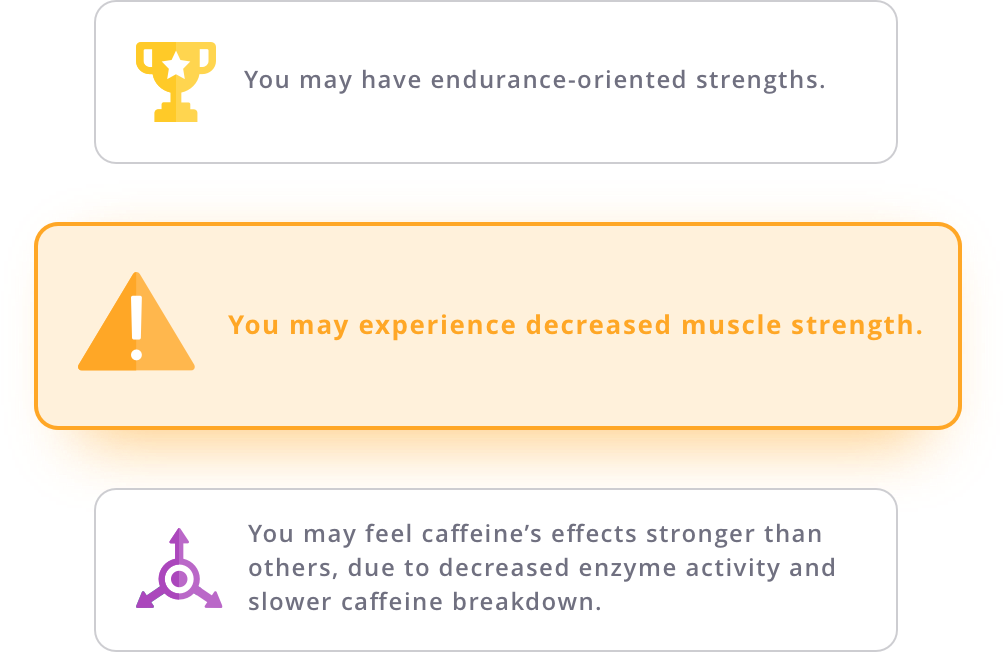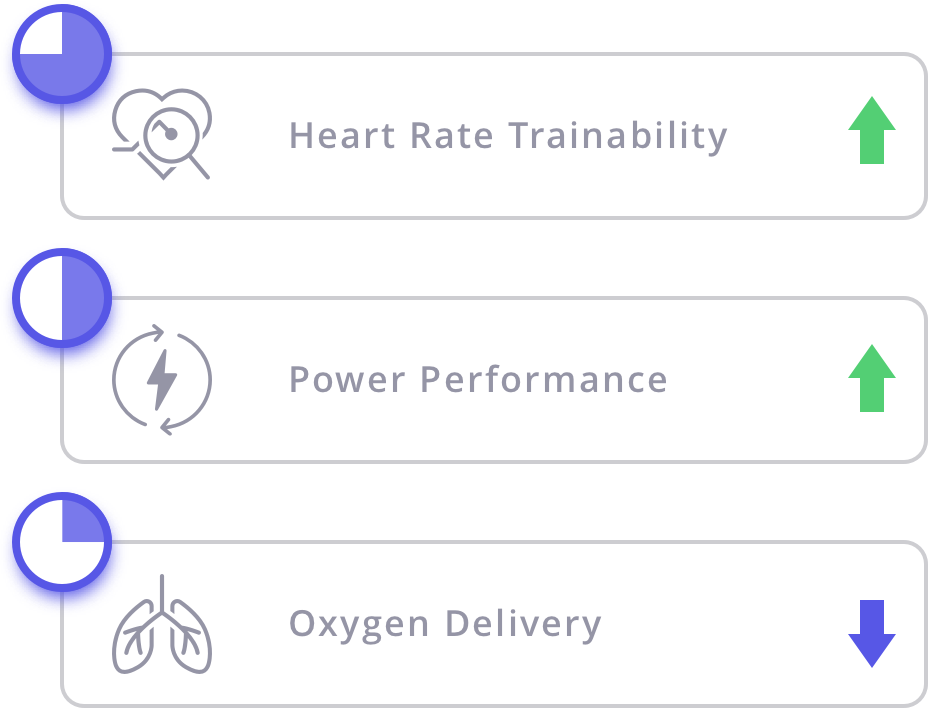 DNA Collection Kit – $174.99 + Welcome Report
The DNA Collection Kit is available if you do not already have your raw DNA data from another company.
Testing is done through cheek swab and results can be expected within 6-8 weeks after the sample is received by Athletigen.
Athletigen Privacy & Data Security
Athletigen has a statement on their website recognizing that each user has ownership of their own data. Every user has access to their raw DNA data, and can request to delete the info from Athletigen's database at any time.
However, under their privacy statement, Athletigen states that data collected by users could be used for research and development purposes within Athletigen or in conjunction with a third party.
SelfDecode vs Athletigen
SelfDecode delivers natural supplement, diet and lifestyle suggestions based on your genes that you can implement right away. Athletigen also provides recommendations for diet and lifestyle changes based on a users' genetic profile. However, the recommendations can be very generic, such as suggestions to warm up for 8-10 minutes before heavy exercise.
SelfDecode tells you why they make each recommendation so that you can understand the science behind the suggestion. Athletigen also explains their recommendations and provides some background information on the scientific aspects of the report.
SelfDecode prioritizes recommendations based on their analysis of all the relevant genes instead of one gene at a time (through reports). Athletigen uses DNA analysis to provide insight on the traits specific to that report.
SelfDecode takes a holistic approach to give recommendations that are best for your genes AND the health topic. Athletigen's approach is catered towards improving health and performance for athletes.
SelfDecode has a team of over 60 highly skilled scientists, MDs, PhDs, NDs, and software engineers to make sure they deliver the most accurate and science-based health information. Athletigen does not discloses how their team is comprised.
SelfDecode is the most comprehensive and looks at more genes & SNPs (up to 83 million) to deliver the best analysis of genetic risks. Athletigen analyzes 40-100 genetic markers for each report.
SelfDecode supports everything with peer-reviewed scientific studies in their research and checks for contradicting information. Athletigen quotes their team of experts in their recommendations.
SelfDecode never sells your data or gives it away. Athletigen states that data collected by users could be used for research and development purposes within Athletigen or in conjunction with a third party.
Comparisons
| | | | | |
| --- | --- | --- | --- | --- |
| | SelfDecode | Athletigen | Livewello | Promethease |
| Personalized health and wellness recommendations | Yes | Yes | No | No |
| Number of genetic variants analyzed | 83 million | 40-100 per report | 600k+, 50k+ w/ research data | 100k+ |
| Products | DNA testing, wellness reports, research-based personalized health recommendations, direct-to-consumer test kits. | DNA testing, health and nutrition recommendations, athletic performance reports | Research-based SNP variant reports, community tool for clinicians to organize patient data | DNA analysis, SNP variation assessment, links to scientific research |
| Raw Data Access | Yes | Yes | No – users must provide raw data to use this service | No |
| Cost (USD) | $97-$387 | $70 | $20 initial fee, $6 monthly, or $60 annually | $0 – $12 |
Athletigen Reviews
DNAtestingchoice – 12 Customer Average Rating of 3.5 of 5 stars, editor's rating of 4 of 5 stars
DNAtestingchoice's editor rates Athletigen with a 4 of 5 star rating. Points of strength include the simplicity and detail of the reports, and wide range of results. Its value for money is its greatest weakness listed by the editor.
Customer reviews on DNAtestingchoice were slightly lower at 3.5 out of 5 stars. Value is the biggest weakness cited by the customers, explaining that the reports were not worth the price.
Trustpilot – 3.8 of 5 stars based on 3 customer ratings
Trustpilot users vary in their ratings of Athletigen. The greatest strength of Athletigen according to the customers is the insightful analysis of the reports. The common theme of value continues to be the greatest weakness. However, this analysis is based on only 3 customer reviews, which is hardly enough to make any conclusions.
See the discussion about the accuracy of Athletigen on Reddit.
Discontinuation of Athletigen
As stated at the beginning of this review, Athletigen has announced the temporary discontinuation of their DNA testing service to focus on DNA education and research.
Current users had until February 28, 2021, to access their accounts and download their reports, or purchase new ones. For users who chose to delete their accounts, the company states that their DNA files will be deleted from their databases and servers permanently.
Currently, customers can purchase Nutrition, Fitness, and Wellness reports from Athletigen on Sequencing.com.
Alternatives to Athletigen
SelfDecode: The best option for health-focused DNA analysis with personalized reports and recommendations to improve your quality of life.
Athletigen Review Summary
Athletigen states their mission is to help athletes reach their fitness goals by providing DNA-based insights that could potentially influence performance. That being said, most of the reports Athletigen offers target professional athletes rather than the general public. However, they do provide a Wellness Report and Nutrition Report that can be applicable to more people.
Some online reviews have stated that the recommendations are too general for the price of the reports. Other positive reviews claim that the insights are useful for athletes who know what they want to focus on.
Athletigen is hyper-focused upon athletic performance and how genes influence training and exercise. However, overall health encompasses so much more than just athletics. To get a more holistic view of your health and strategies to improve it, SelfDecode is an excellent place to begin.
With the discontinuation of Athletigen's DNA testing services, it is unclear when customers will have access to genetic reports through this company again, as they have not stipulated a date for their return. If you want health recommendation based on an analysis of up to 83 million genetic variants, you should check out SelfDecode.
Related