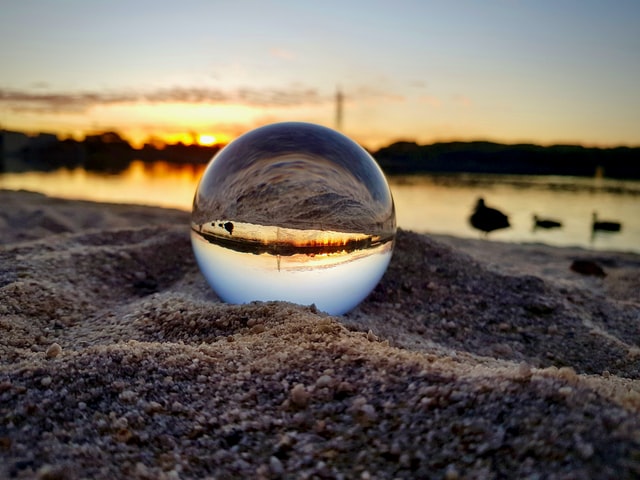 Overview
Products: Sequencing.com offers DNA testing and whole genome sequencing (WGS), as well as a wide range of DNA apps users can choose from.
Cost: The Ultimate DNA Test is priced at $189, while the Ultimate Genome Sequencing (WGS) costs $599. The DNA apps can range from free to $399.
Reports: Health, ancestry, nutrition, fitness, beauty, and lifestyle.
Raw data access: Yes.
Privacy: Sequencing.com claims to never sell genetic data to any third party.
Alternatives: SelfDecode offers personalized health recommendations through comprehensive genetic reports.
Pros
Users can upload their raw genetic files from any other testing company.
Wide variety of DNA apps to choose from.
Sequencing.com takes users' privacy and data security very seriously.
Cons
Membership prices for Sequencing.com can be very expensive.
Some apps in Sequencing.com's DNA app store can be as expensive as a full DNA analysis.
DNA apps are provided by different developers, creating inconsistencies between reports.
About Sequencing.com
Sequencing.com was founded in 2013 by current CEO Dr. Brandon Colby, a medical geneticist and preventive medicine physician. With offices in California and South Dakota, Sequencing.com has a team that includes medical doctors, geneticists, bioinformatics experts, and software developers helping them in their mission to provide people with creative solutions to help them live a better life.
Sequencing.com's platform is designed with an open Application Programming Interface (API), open-source code and open data, and it boasts the world's largest DNA App Store. Sequencing.com translates genetic code into software code for app developers to access without needing to know anything about genetics.
Review of Sequencing.com Products & Features
Sequencing.com offers both DNA testing and WGS, as well as over 100 apps available in their App Store that will give you health, ancestry, nutrition, and fitness reports.
Sequencing.com offers two tests, the Ultimate DNA Test and the Ultimate Genome Sequencing. Both tests are available for shipping worldwide, and test results are ready in 4 and 8 weeks respectively.
Sequencing.com also allows users to upload DNA data from any genetic testing company. Because of their Universal Compatibility Technology, the platform can accept any file format that contains genetic data or information.
Users can choose which of the apps and reports they want to purchase, and they can have an unlimited number of results stored in their account. Sequencing.com states that most DNA apps process and produce results in seconds, although some may take longer.
As an optional add-on, users can choose to get genetic counseling after receiving their test results.
For their membership program, the company offers different services that include:
Our Genome Technology: this service creates an enhanced virtual genome. If users choose to upload their genetic data from multiple companies, this technology can combine all of the data into a single genome.
Real-Time Genome Updates: Sequencing.com updates their members with SMS and email about their genome and health.
GenomeLock DNA Security: Sequencing.com offers lifetime protection of DNA with advanced account security and encryption.
Altruism Rewards: by contributing anonymously to Sequencing.com's genetic database, and by using the apps, users contribute to Community's Total Altruism. In return, Sequencing.com claims to make donations to life-changing charities.
If members choose to cancel their subscription, their raw DNA data is still available to them. Regardless of membership, users are given free unlimited storage for their genetic data.
Sequencing.com claims to thoroughly screen their apps, which are approved by geneticists and bioinformaticians for clinical and scientific validity. Sequencing.com claims to reject any app that does not meet their standards.
Healthcare professionals can use Sequencing.com's platform to store patients' genetic data and use the apps to perform clinical interpretation of genetic data.
Review of Sequencing.com Reports
Since Sequencing.com offers over 100 apps and reports in their DNA App Store, only a few featured in the Trending section will be reviewed (shown below).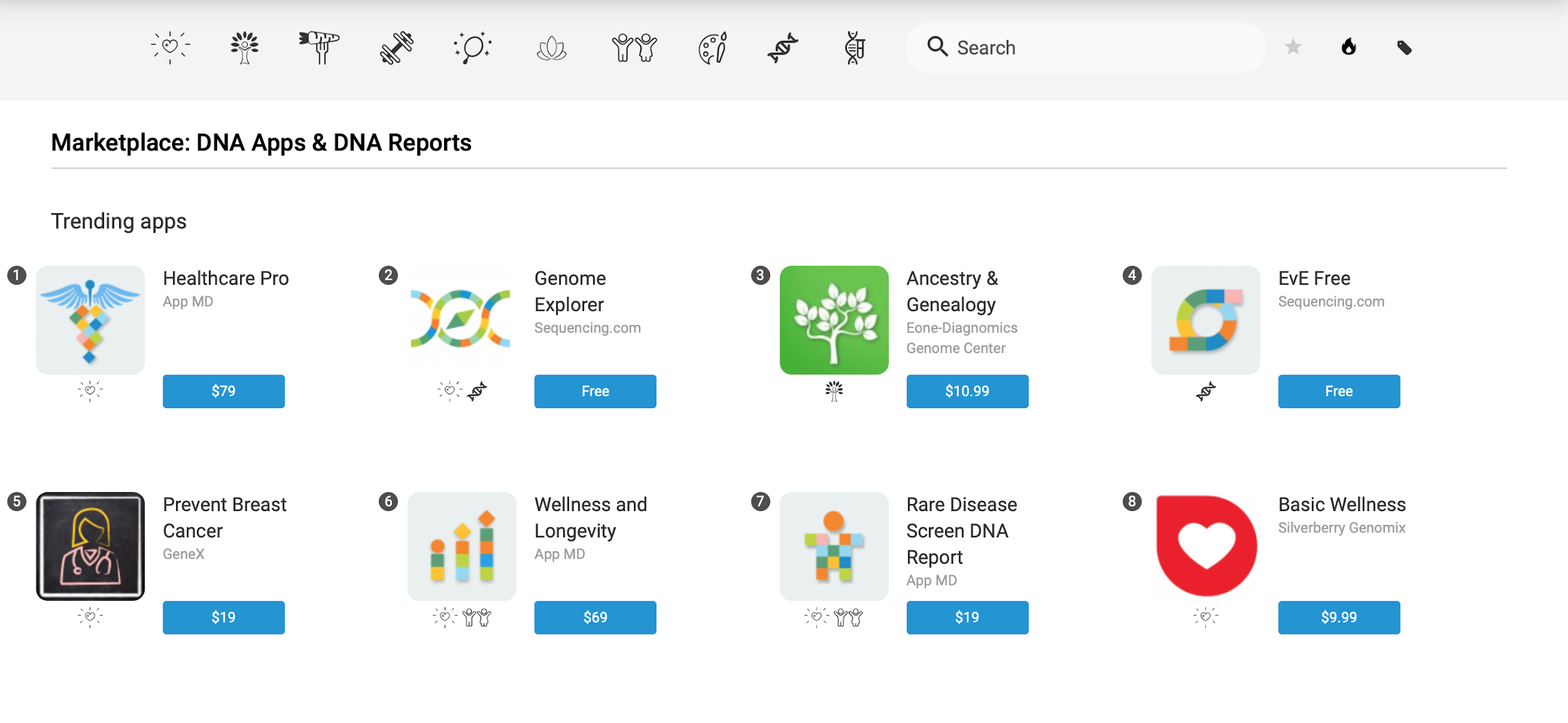 Ancestry & Genealogy
This report provides information about ancient ancestors and genealogy. It offers an easy and reliable way to share results with family and friends through a printable PDF report. With reference datasets from 6 continents, 22 subregions, and 97 countries, this report informs users about their ancestry, with percentages, as seen below.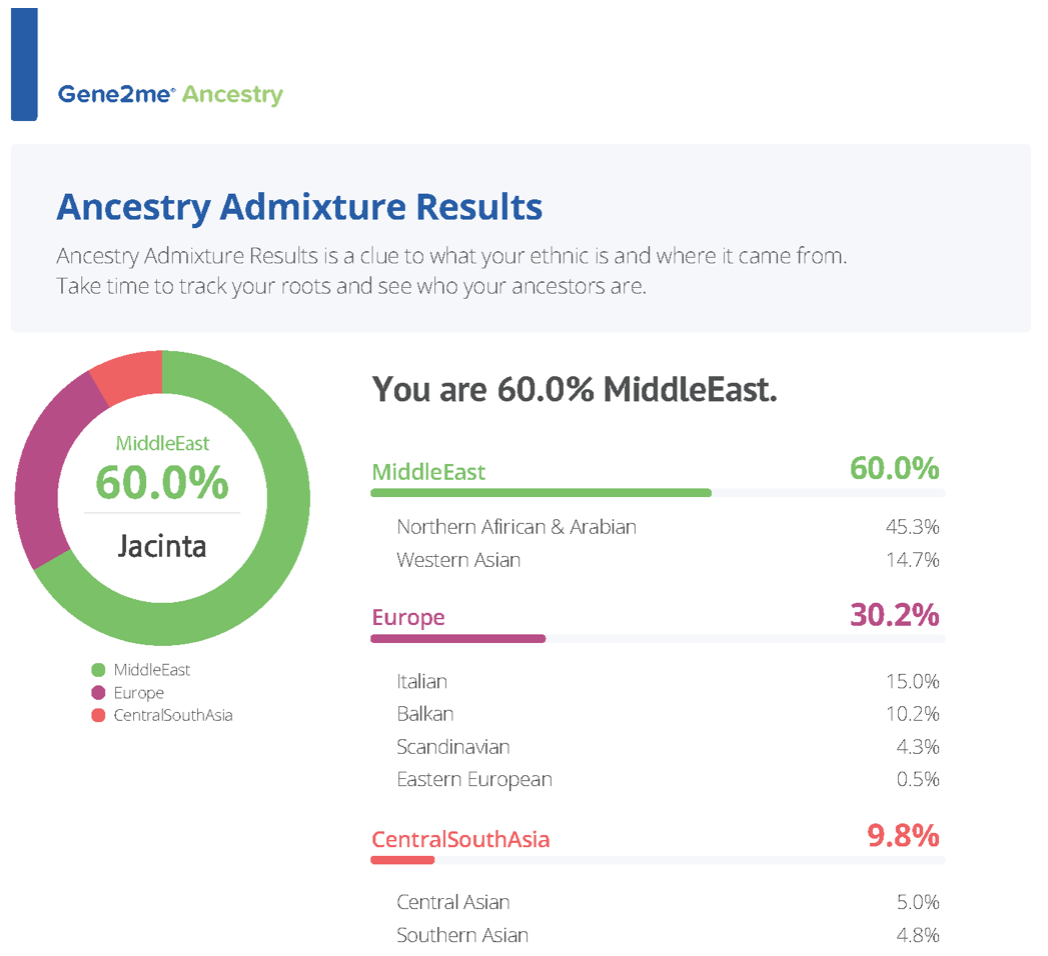 In addition to the ancestry results, the report also provides information about each location to help users understand their ethnic distribution results.
Basic Wellness
This DNA app provides multiple reports divided into five areas: exercise benefit, nutrition, skincare, allergy, and personality development. A list of all the reports is shown below.

Each report shows a summary of the results, followed by a personal assessment and how users compare to the general population. In addition, it provides some general information about the subject analyzed.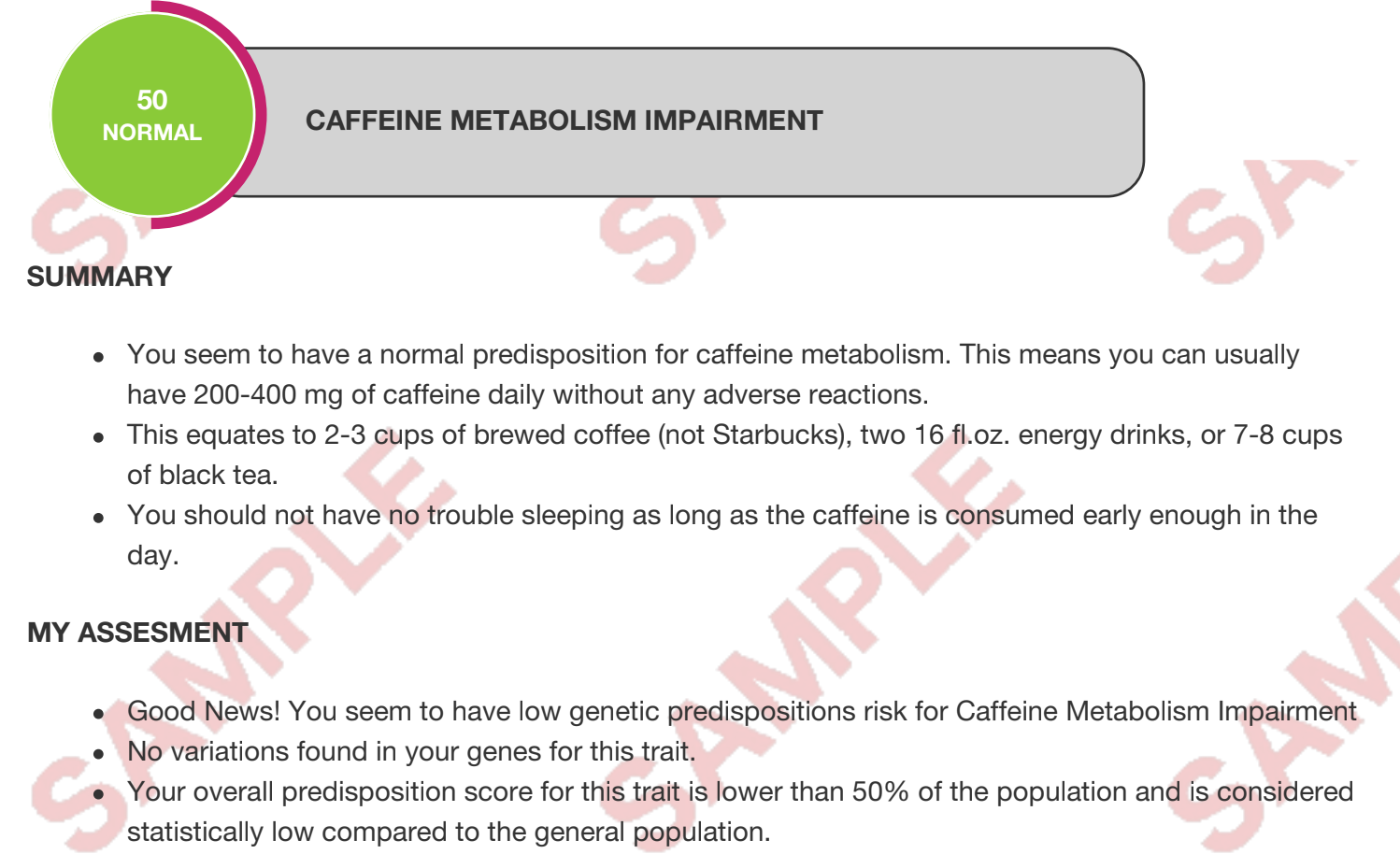 Users are provided with some recommendations on what they can do about the analyzed trait, although most of this information is already presented in the summary section. Furthermore, the report informs about the genetic variations that contribute or inhibit the trait.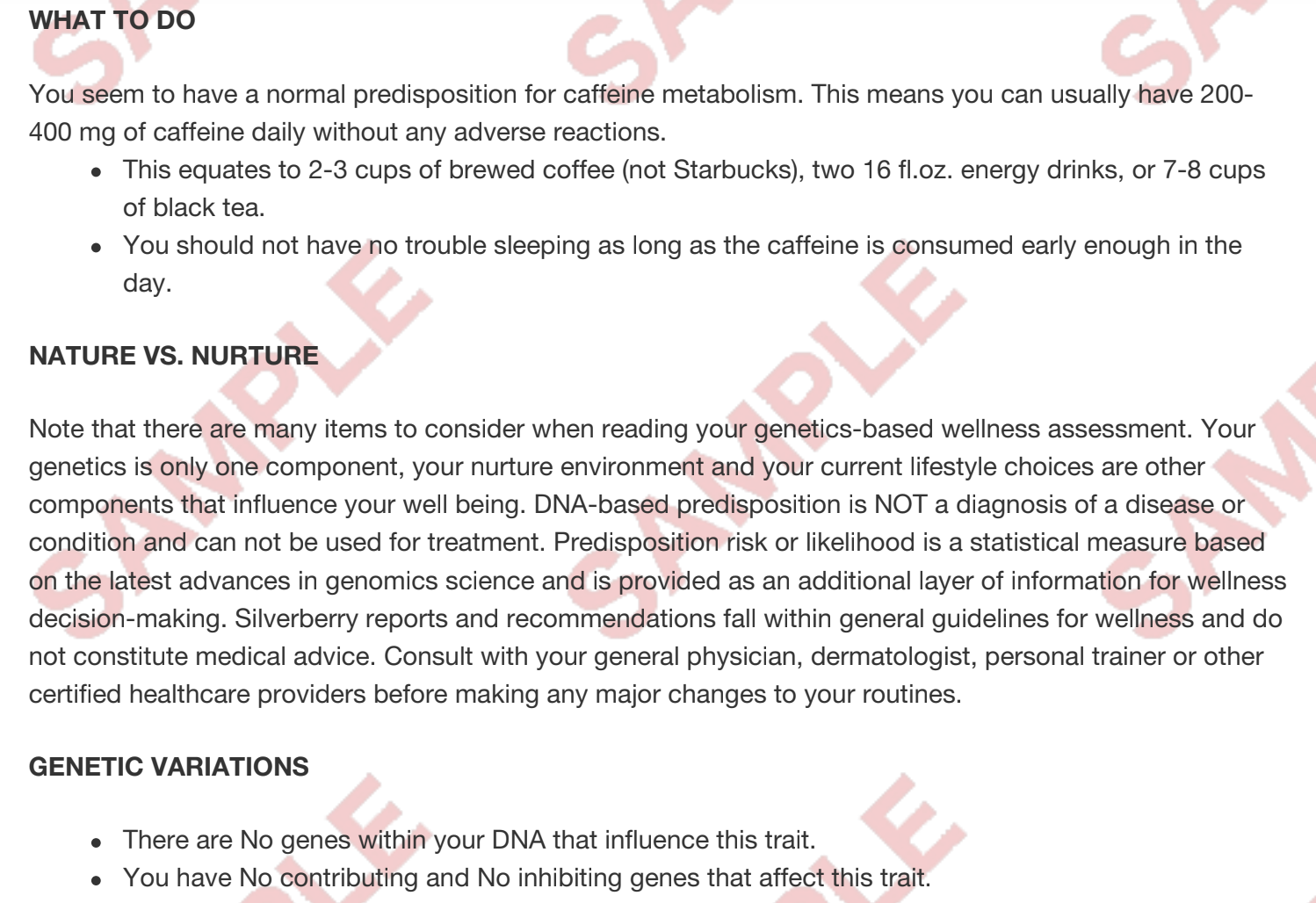 Healthcare Pro
This app provides healthcare professionals with genetic analysis and reports about their patients. Below is a list of areas analyzed in this report.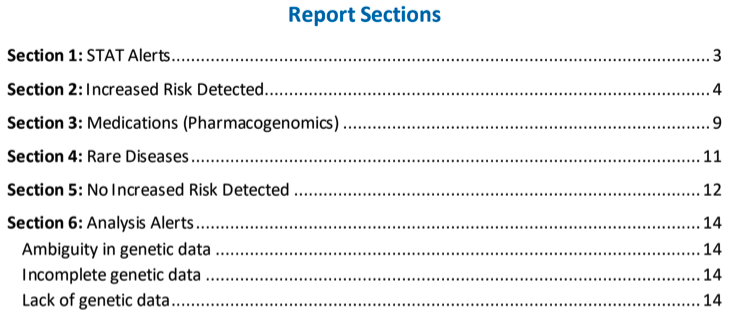 A sample of the section about Rare Diseases is shown below. Sequencing.com states that they screen for over 1,200 rare diseases, conditions, and traits, and lists the ones that are detected in the report. It also offers healthcare professionals some guidelines about how to monitor the condition.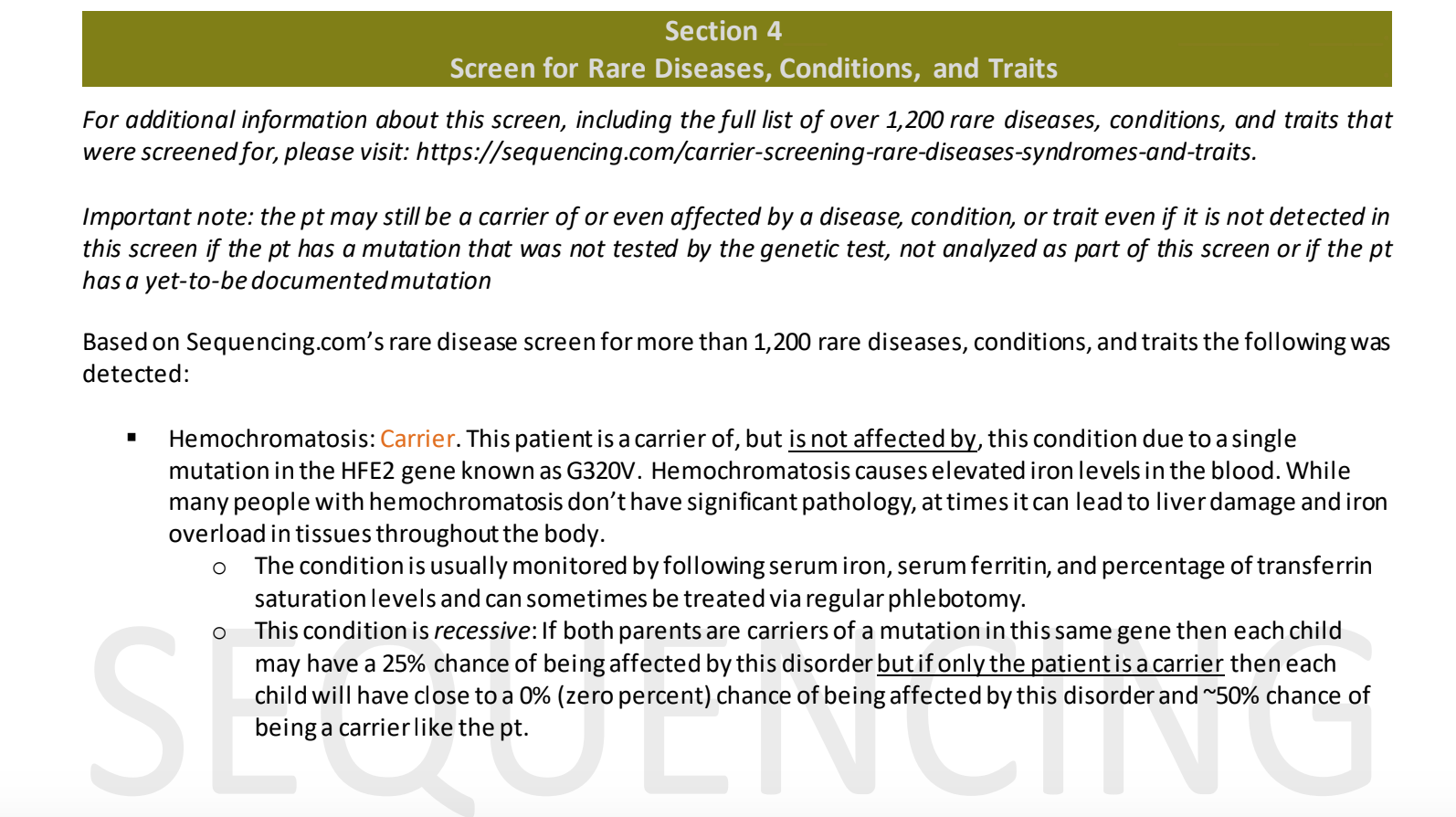 Finally, there is a section containing information about the genetic data analyzed and alerts on any limitations that may have been detected.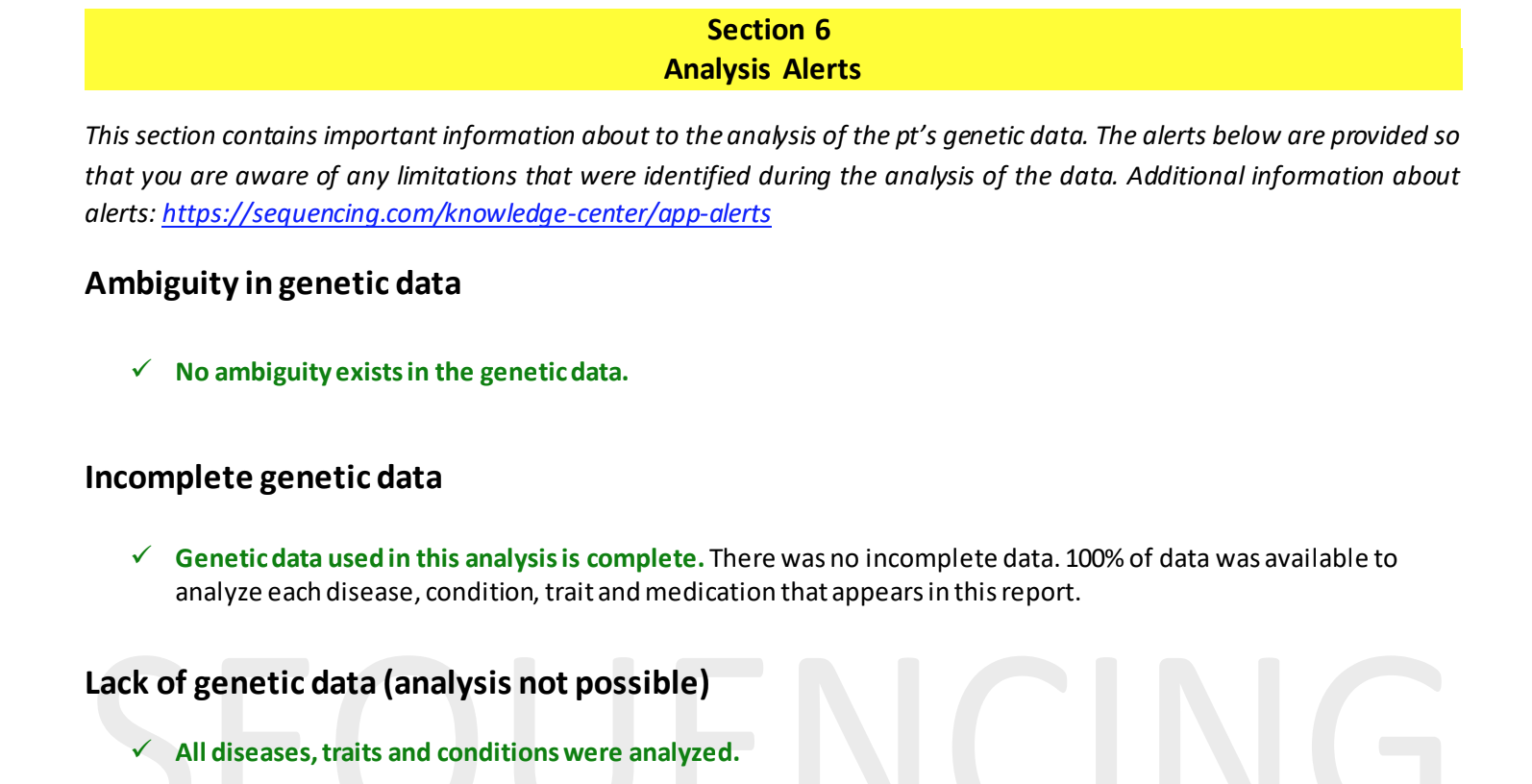 Wellness and Longevity
Sequencing.com analyzes the genetic risks for some preventable diseases and offers recommendations. It includes sections on athletic performance, medication assessment, and a variety of diseases including arthritis and coronary artery disease.
Users are given information on the clinical significance of the condition analyzed, specifying the impact it might have on overall health and wellness. It also provides information on the risk and actionability. A section of a sample report is shown below.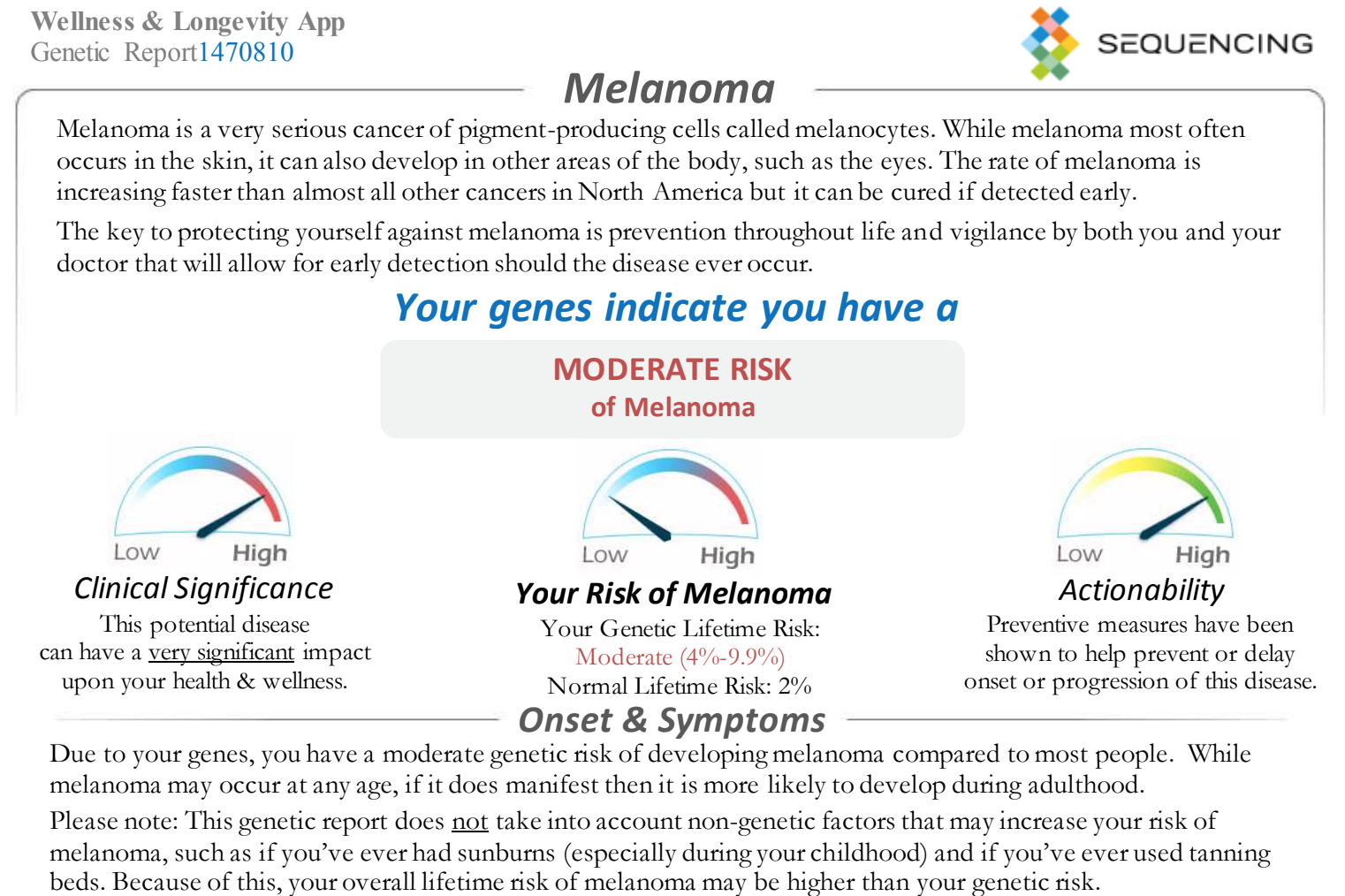 Moreover, Sequencing.com offers guidance on monitoring and screening, which cannot be seen in the sample report. Also included in the reports are lifestyle modification suggestions, disease interventions, and additional information.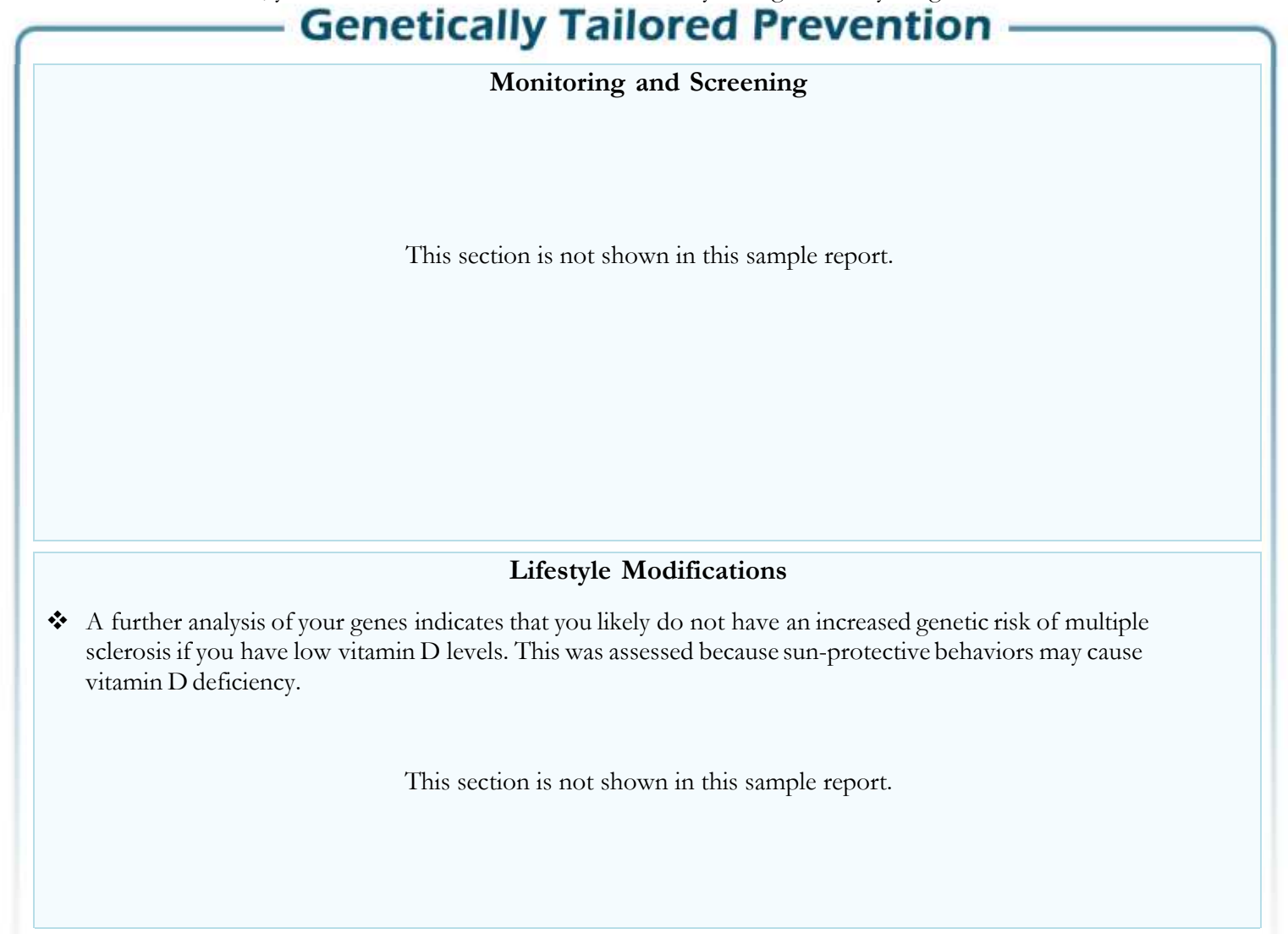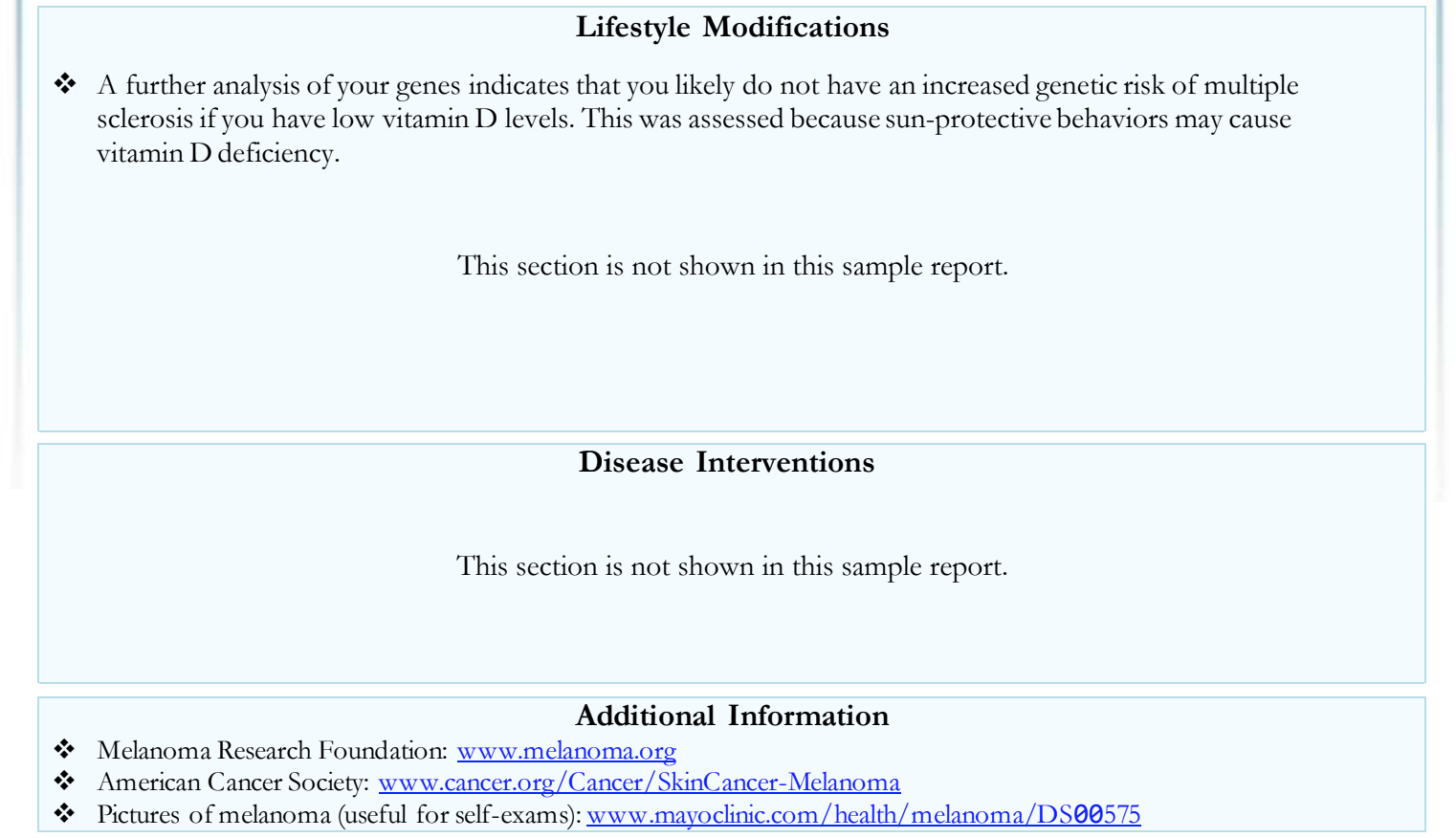 Users are informed about several diseases and conditions and their respective risk status. However, no recommendations or additional information are provided here.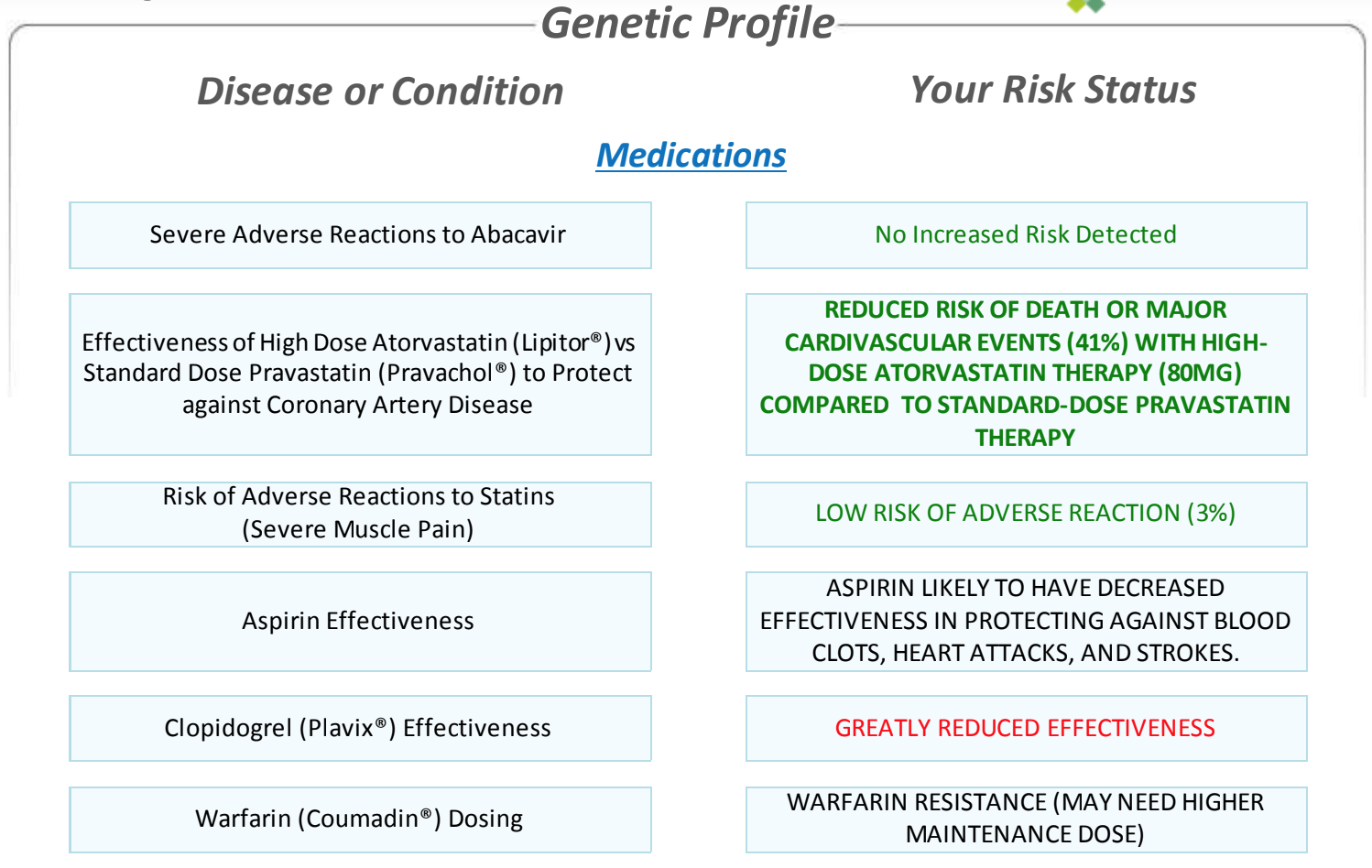 Finally, the report brings the gene and the position that were tested, as well as the genetic code associated with having an increased or decreased risk of the condition. It also shows users' genetic makeup, the condition examined and the scientific references used for the assessment.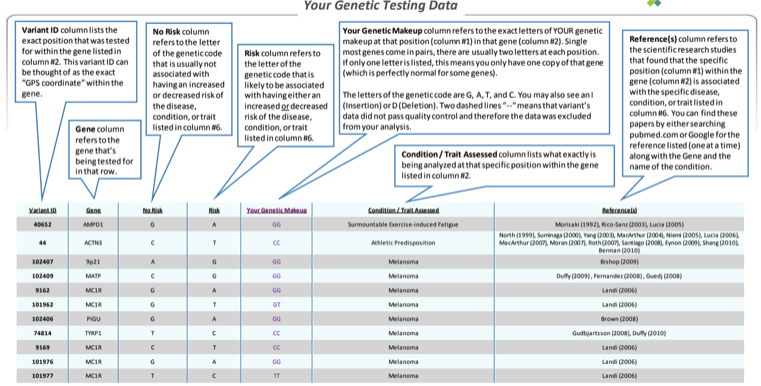 Cost of Sequencing.com
Sequencing.com prices their Ultimate DNA Test at $189, while their Ultimate Genome Sequencing costs $599. The DNA App Store offers a variety of choices that can range from free to $399.
In addition, Sequencing.com also offers membership programs at different prices:
Free: Access to the free apps in the App Market. Includes two free apps (Athletic Performance and Genome Explorer Free).
Silver: $239 annually. Includes two free apps every month, Genome-Lock DNA Security, One Genome for Life, Altruism Rewards, and two popular apps (DNA Selfie and Genome Explorer Ultimate).
Gold: $719 annually. Includes all the perks from the Silver membership, plus two more free apps every month, and Real-Time Health Updates.
Platinum: $1,199 annually. Includes all the perks from the Gold membership, plus two more free apps every month and live genetic counseling with licensed genetic counselors.
Is Whole Genome Sequencing Worth It?
Not yet.
Whole genome sequencing is far more expensive than other popular DNA test kits on the market. A test from SelfDecode, for example, will cost you $90 – this is far more affordable than the $600 cost of WGS with Sequencing.com.
Currently, only so many SNPs have been studied by scientists, so only a small portion of the results from a whole genome sequencing test can provide you with any meaningful information. Consequently, the difference in information between a standard SNP chip test (like one from 23andMe or SelfDecode) and a whole genome sequencing test is negligible.
Other DNA tests on the market are more focused on the SNPs that have actionable insights attached to them, so they provide essentially the same end result when it comes to health information. In addition, companies such as SelfDecode use AI and machine learning to accurately predict and analyze up to 83 million genetic variants from a typical DNA file for a fraction of the cost of WGS.
As more research in genomics is done and databases expand, whole genome sequencing will inevitably become more useful. However, at this time, you are getting very little for the significant extra cost required to have whole genome sequencing done.
Health Recommendations from Sequencing.com
Since Sequencing.com offers multiple genetic reports provided by different developers, their recommendations aren't consistent.
For example, in the Wellness and Longevity report users are provided with information and suggestions regarding the analyzed disease or trait. However, within the same report, some conditions and diseases are not detailed.
Additionally, while the Wellness and Longevity report provides references for the scientific research regarding the association between the gene and the condition analyzed, it does not offer any scientific references for their recommendations.
Review of Sequencing.com Privacy & Data Security
Sequencing.com states they do not sell access to genetic data to any third party, and users can delete any file in their account, including their DNA data files and genetic reports. Furthermore, their website is HIPAA and HITECH compliant and the company also complies with the 2008 Genetic Information Nondiscrimination Act.
Sequencing.com's DNA apps can only access information about the genes related to the specific app, and developers are given only temporary access to some of the genetic data and cannot view, copy or download any genetic files.
SelfDecode vs Sequencing.com
SelfDecode delivers natural supplement, diet, and lifestyle suggestions based on your genes that you can implement right away. Although Sequencing.com offers recommendations, their reports are not consistent.
SelfDecode tells you why they make each recommendation so that you can understand the science behind the suggestion. For most reports, Sequencing.com does not offer any explanation on why they make the recommendations.
SelfDecode prioritizes recommendations based on their analysis of all the relevant genes instead of one gene at a time (through reports). Sequencing.com does not prioritize their recommendations for all of their reports.
SelfDecode takes a holistic approach to give recommendations that are best for your genes AND the health topic. Sequencing.com offers basic recommendations in some of their reports.
SelfDecode has a team of over 60 highly skilled scientists, MDs, PhDs, NDs, and software engineers to make sure they deliver the most accurate and science-based health information. Sequencing.com claims their apps are approved by their geneticists and bioinformaticians.
SelfDecode is the most comprehensive and looks at more genes & SNPs (up to 83 million) to deliver the best analysis of genetic risks. Sequencing.com offers WGS, but it is costly.
SelfDecode supports everything with peer-reviewed scientific studies in their research and checks for contradicting information. Sequencing.com provides references in some of their reports, but not all.
SelfDecode never sells your data or gives it away. Sequencing.com claims to take privacy seriously and promises not to sell any data to third parties.
Comparisons
| | | | | |
| --- | --- | --- | --- | --- |
| | SelfDecode | Sequencing.com | Nebula Genomics | Dante Labs |
| Personalized & holistic health recommendations | Yes | No | No | No |
| Genes & gene variants analyzed | Up to 83 million genetic variants (~1 million per report) | 30 million genetic variants, WGS | WGS | WGS |
| Products | DNA testing, wellness reports, research-based personalized blog posts, health recommendations | DNA testing, WGS, health and wellness reports, ancestry | WGS, health reporting, traits, ancestry | WGS, health and fitness reporting, genetic health risks |
| Raw data access | Yes | Yes | Yes | Yes |
| Cost (USD) | $97 – $387 | $0 (limited) – $1,200 | $0 (limited) – $700 | $670 |
Sequencing.com Reviews
DNAtestingchoice – Editor's rating of 4 of 5 stars
In this Sequencing.com review, DNAtestingchoice's editor liked the fact that the company accepts data from any other DNA testing company. They were unimpressed with the amount of support available regarding their results, considering the serious conditions analyzed by the apps.
Top10DNATests – 8.6 of 10
The reviewer praises Sequencing.com for their innovation in combining technology with genetic testing.
Trustpilot – 24 Customer Average Rating of 4.5 of 5
Reviews on Trustpilot are limited. Customers are overall happy with the depth of results delivered by Sequencing.com. Only one reviewer had a negative experience with their customer service.
Alternatives
SelfDecode: A health-focused DNA analysis that offers personalized health reports with recommendations to help you become the best version of yourself.
Sequencing.com Review Summary
Sequencing.com offers genetic testing, WGS, and a variety of DNA apps which users can choose from according to their personal needs. However, both their DNA test and WGS are more expensive than other similar companies. In addition, their membership program can be expensive.
Through their Universal Genetic Data Compatibility technology, Sequencing.com enables users to upload genetic data files from any other genetic testing company, and the apps are compatible with any file format.
Although Sequencing.com offers some actionable information users can implement right away, they are inconsistent with their reporting because apps are provided by different developers. While some reports can present a comprehensive analysis of the conditions, others only offer superficial information and general recommendations.
SelfDecode provides you with a good alternative with consistent and comprehensive health reports to help you take control of your health, all for less than $100 annually. SelfDecode uses AI and machine learning to analyze up to 83 million variants to give genetic risk scores and personalized recommendations based on DNA.
Related