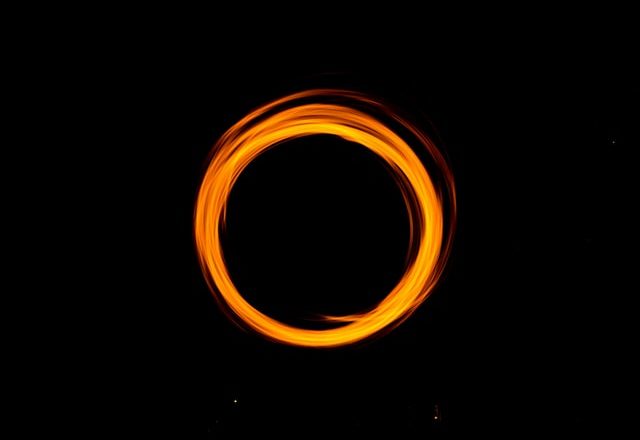 Overview
Products: CircleDNA offers a variety of health, nutrition and ancestry reports, as well as Whole Exome Sequencing.
Cost: Prices range from $189 to $629.
Reports: Diet, disease, and health reports. They can cover topics as superficial as one's dancing abilities or as serious as cancer screening.
Raw data access: Yes.
Privacy: CircleDNA claims not to share users' data with third parties.
Alternatives: SelfDecode uses AI and machine learning to analyze up to 83 million genetic variants and provides personalized diet, lifestyle, and supplement recommendations.
Pros
CircleDNA's reports are user-friendly and easy to understand.
Offers a complimentary 30-minute consultation along with all their testing kits. Premium users are offered two consultations.
Cons
Does not offer users the possibility to upload DNA files they may have acquired from other testing companies.
Although the company offers an extensive list of tests, it fails to provide users with actionable information in some reports.
CircleDNA's prices are more expensive when compared to similar companies.
Does not offer personalized health recommendations on a continuous basis.
About CircleDNA
CircleDNA was founded in 2014 by current CEO Danny Yeung and CSO Dr Lawrence Tzang. It boasts over 150 staff members, including scientists, engineers and counsellors. With its headquarters located in Hong Kong, CircleDNA is present around the globe and has offices in London, Singapore, Kuala Lumpur, and more.
They use Whole Exome Sequencing technology to generate reports regarding health, diet, and disease risks.
Review of CircleDNA Products & Features
CircleDNA uses Whole Exome Sequencing technology to read the sequences of protein-coding nuclear genes in the genome. To get started, users have to acquire the Circle Test Kit to collect a small DNA sample from their inner cheek. Processing can take 18 business days from when the sample is received.
CircleDNA services include:
Vital DNA Test
Health DNA Test
Family Planning DNA Test
Premium DNA Test
Users are given one complimentary 30-minute consultation with a certified genetic counsellor or health coach, depending on the test.
Premium users are also given a lifetime subscription with updates to any new features, reports and categories, as well as two 30-minute complimentary consultations with a genetics-trained health coach and a certified genetic counsellor.
Review of CircleDNA Reports
All CircleDNA's reports can be accessed on the official Circle Mobile App or via a PDF summary. The reports look at each trait separately, thus not providing a holistic approach to health. It's also worth noting that the company only analyzes a few genetic variants per report, possibly leaving out many that can affect health.
Vital DNA Test
The Vital DNA Test includes 125 traits divided into 14 categories. They are:
Diet: tests 15 dietary items, including alcohol sensitivity, coeliac disposition and lactose intolerance.
Nutrition: indicates personal vitamin and mineral needs, as well as food sensitivities.
Sports and Fitness: includes optimal training type and injury risk.
Stress and Sleep: helps users understand their genetic sleep and stress profile.
Ancestry: estimates the percentage of which user's ancestry comes from six different geographical regions (East Asian, European, African, Middle Eastern, Southeast Asian and South Asian).
Skin: provides users with their skin's genetic profile.
Physical Traits: includew hair color, waist circumference and smell sensitivity.
Personality Traits: covers five basic personality traits, including extraversion and neuroticism.
Behavioural Traits: genetic predisposition in behavior.
Success Traits: includes cognitive test performance and language ability.
Gender Traits: tests hormones and what their levels mean for well-being.
Music and Dance: includes dancing abilities and musical talents.
Well-Being: tests physical aspects of well-being and life longevity. Includes appetite control and metabolic response.
Pollution: informs users on genetic response to certain air pollutants and provides information about inherent respiratory risk.
CircleDNA provides a sample report as is shown on their Circle Mobile App for each of the categories. Their Nutrition sample report is shown below: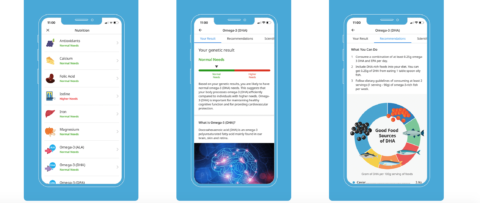 The results are shown on the app first as a summary. If the user wishes for more specific information, they can select any topic. CircleDNA divides their information into tabs within the app.
As shown in the Nutrition sample report, the first tab provides users with their genetic result along with general information about the subject area. The second tab shows a few general lifestyle recommendations, but these don't appear to be based on genetic results. The recommendations are very brief and lacking in detail.
The third tab breaks down which genes were analyzed and the confidence score, which indicates how strongly the genes influence the characteristic analyzed. CircleDNA also discloses a list of references.
All Vital DNA Test report samples follow the same model, with minor changes.
Health DNA Test
The Health DNA Test includes 115 traits divided into 4 categories. They are:
Cancer Screening: includes risk for 36 types of cancer, including breast, colorectal and ovarian cancer.
Dementia and Brain Health: shows genetic risk for a variety of neuropsychiatric conditions, including Alzheimer's Disease.
Common Health Risks: informs users about their risk for 8 common health conditions, including heart disease.
Disease Risk: provides users with information about their genetic risk for certain diseases.
The Dementia and Brain Health sample report is shown below.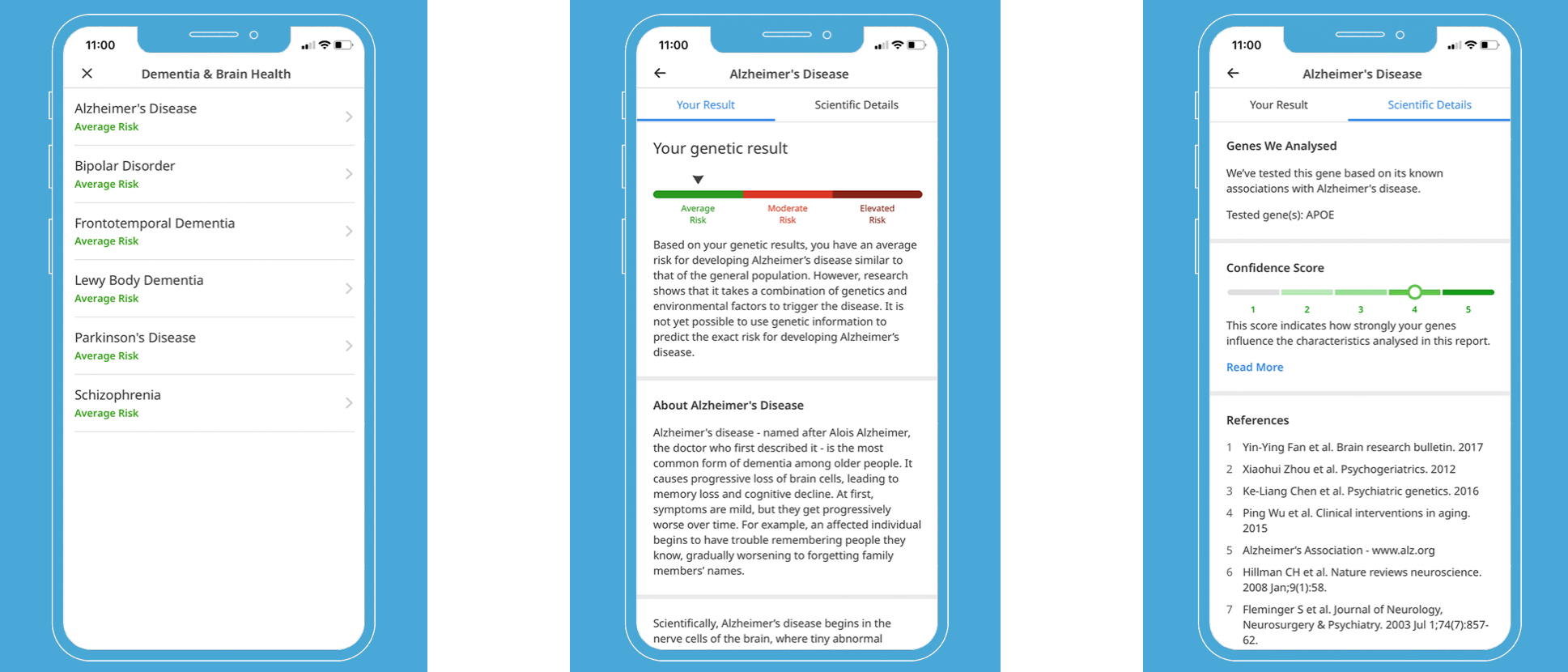 Similarly to the Vital DNA Test, the result is shown on the app, first as an overview. For a more in-depth look, users can select any condition analyzed. The report for each condition is divided into two tabs. The first tab shows users their genetic result and informs them about their risk for developing the condition, and also provides pertinent information about the subject. The second tab shows scientific details specifying which genes were analyzed and their confidence scores.
In the sample report above, CircleDNA does not offer any health recommendations to help you address your genetic predispositions.
All Health DNA Test report samples follow the same model.
Family Planning DNA Test
The Family Planning DNA Test includes reports that help assess carrier status across 163 hereditary conditions. It analyzes:
38 conditions associated with increased risk of neonatal and early childhood death
116 conditions shown to shorten lifespan
71 conditions that can cause intellectual disability.
CircleDNA's Family Planning Report is shown below.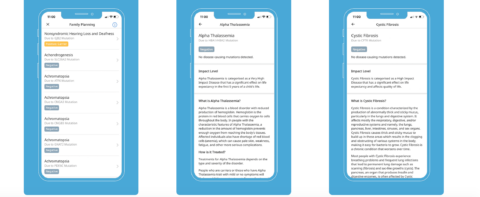 The first page of the app shows an overview informing users of their carrier status. It is possible to select a condition for a more detailed explanation, which includes the mutation analyzed and an explanation of the affliction. CircleDNA also provides users with the disease impact level and describes the effect each condition has on life expectancy and quality of life.
Premium DNA Test
The Premium DNA Test includes reports from the Vital, Health, and Family Planning DNA Tests. Premium users are also provided with an exclusive Drug Response DNA Test, which cannot be purchased with any other service. It analyzes 103 FDA approved drugs and how the body responds to them.
You can view a sample report for the Drug Response DNA Test below: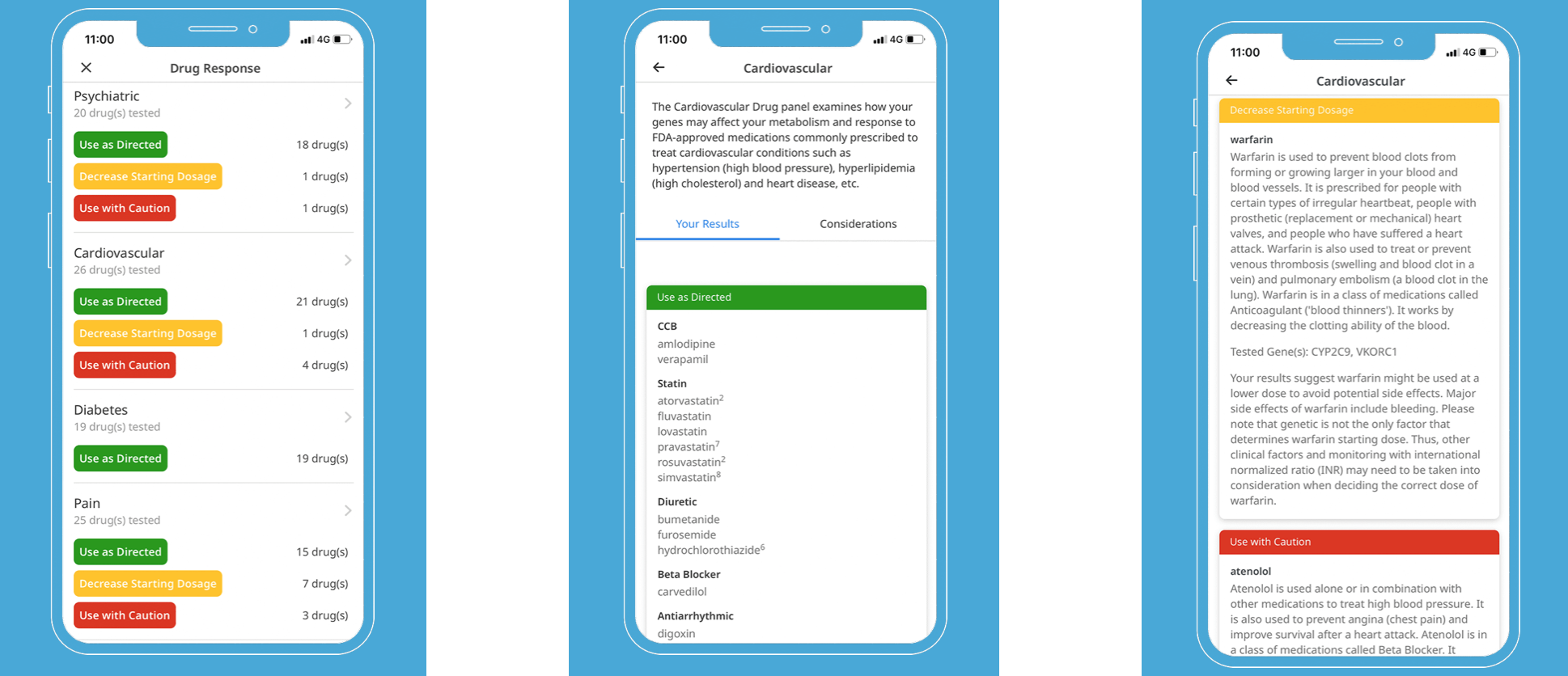 The overview section of the app shows users drug categories such as psychiatric and cardiovascular. Each category is detailed with an explanation about how genes may affect the body's response to each drug analyzed. CircleDNA offers recommendations on usage of each drug (use as directed, decrease starting dosage or use with caution), and provides information about the genes tested for each drug.
Premium users also get a lifetime subscription which includes free updates for life for any new features, reports and categories.
Unfortunately, Circle DNA only analyzes a few genetic variants in each report and does not appear to include all variants that can impact your overall wellness, and the recommendations are not personalized based on DNA results. Not all reports include suggestions, so you'll be left without much guidance on what to do with your results. For a full picture of your health, you might need to look elsewhere.
Cost of CircleDNA
CircleDNA offers four options for customers to purchase:
Health DNA Test ($499)
Family Planning DNA Test ($499)
Vital DNA Test ($189)
Premium DNA Test ($629)
All testing kits are given free international shipping including delivery and return.
Health Recommendations from CircleDNA
CircleDNA's Circle Mobile App offers on-screen recommendations, including information about the subject and suggestions on what users can do regarding the analyzed characteristic, but these are not personalized to your DNA results.
The advice provided can be superficial, and CircleDNA does not offer an in-depth explanation of how they are created or sourced. CircleDNA also presents their recommendations separately in each report, failing to provide a holistic apprach to health. The company does not offer recommendations for all of their tests.
Review of CircleDNA Privacy & Data Security
CircleDNA states that they do not share users' data with any third party. They are compliant with the International Security Standard ISO-27001 and all their connections are encrypted using Secure Socket Layer (SSL) technology.
CircleDNA stores users' data on Amazon Web Services (AWS). The company claims that users can delete their account and data at any time.
CircleDNA processes samples in their ISO accredited laboratory in Hong Kong, China.
SelfDecode vs CircleDNA
SelfDecode delivers natural supplement, diet and lifestyle suggestions based on your genes that you can implement right away. CircleDNA offers a few recommendations in some of their reports, but not all, and they are not personalized.
SelfDecode tells you why they make each recommendation so that you can understand the science behind the suggestion. Although CircleDNA makes a few recommendations and offers a list of references, they do not expand on the research supporting their suggestions.
SelfDecode prioritizes recommendations based on their analysis of all the relevant genes instead of one gene at a time (through reports). CircleDNA's reports are based on each singular condition or trait analyzed.
SelfDecode takes a holistic approach to give recommendations that are best for your genes AND the health topic. CircleDNA's reports do not offer a complete overview of their suggestions.
SelfDecode has a team of over 60 highly skilled scientists, MDs, PhDs, NDs, and software engineers to make sure they deliver the most accurate and science-based health information. CircleDNA claims their team includes scientists, engineers, genetic counselors, and health coaches.
SelfDecode is the most comprehensive and looks at more genes & SNPs (up to 83 million) to deliver the best analysis of genetic risks. CircleDNA offers Whole Exome Sequencing, but it is far more costly, and they only analyze a few variants per report.
SelfDecode supports everything with peer-reviewed scientific studies in their research and checks for contradicting information. CircleDNA provides some references for their results.
SelfDecode never sells your data or gives it away. CircleDNA also claims to take privacy seriously and not to sell data.
Comparisons
| | | | | |
| --- | --- | --- | --- | --- |
| | SelfDecode | CircleDNA | Dante Labs | 23andMe |
| Personalized & holistic health recommendations | Yes | No | No | No |
| One-click regimen builder | Yes | No | No | No |
| Products | DNA testing, wellness reports, research-based personalized blog posts, health recommendations | Whole Exome Sequencing, health, diet, and family planning reports | Whole Genome Sequencing, health and fitness reporting, genetic health risks | DNA testing, traits, wellness reports, more accurate ancestry |
| Raw data access | Yes | Yes | Yes | Yes |
| Cost (USD) | $97 – $396 | $189 – $629 | $700 – $1,000+ | $99 – $199+ |
CircleDNA Reviews
DNAWeekly – 9 of 10
DNAWeekly's expert points out the reports will not provide you with detailed information as other companies, and they state that their ancestry testing is lacking.
Trustpilot – 665 Customer Average Rating of 4.6 of 5 stars
One customer at Trustpilot commented how CircleDNA "falls short of the expectation created by the pricing". Others share that the results are generic and vague.
Read what people are saying about CircleDNA on Twitter
The CircleDNA hashtag on Twitter is a good place to find more information.
Alternatives to CircleDNA
SelfDecode: The best option for health-focused DNA analysis with personalized reports and recommendations to improve your quality of life.
CircleDNA Review Summary
CircleDNA uses Whole Exome Sequencing technology that offers an accurate and comprehensive analysis. Their services include diet, health, family planning, and ancestry reports, which are divided into four bundles: Vital, Health, Family Planning, and Premium DNA Tests.
The Circle Mobile App is easy to navigate and their reports are clear and easy to understand. However, while CircleDNA provides users with some insight into their results, they do not offer more detailed actionable information, nor is the advice tailored to the user's genetic profile. Another point to be made is that they only analyze a few genetic variants per report, possibly leaving out many that can affect overall well-being
For a more holistic approach to health, SelfDecode could be a better option. SelfDecode uses AI and machine learning to accurately predict and analyze up to 83 million genetic variants from a typical DNA kit. Then, SelfDecode provides personalized and prioritized recommendations aimed at improving overall health based on your unique DNA and labs.
Related