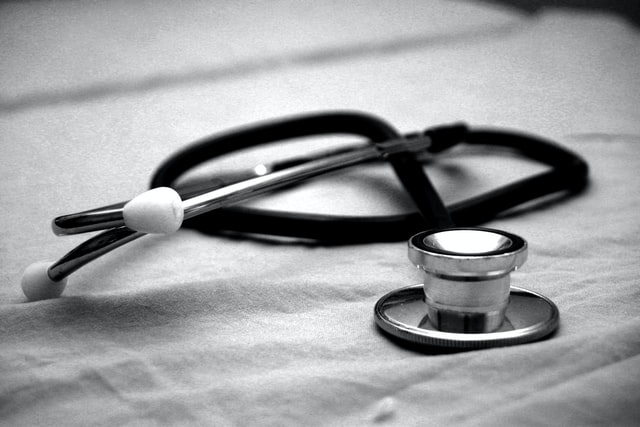 Overview
Products: Whole Genome Sequencing (WGS), Whole Exome Sequencing (WES), disease reports.
Cost: Costs vary depending on insurance coverage.
Reports: Reports on rare and ultra-rare disorders.
Raw data access: No.
Privacy: GeneDx may disclose protected health information in some cases.
Alternatives: SelfDecode – get personalized health recommendations based on DNA to help improve overall well-being.
Pros
The reports offer detailed information about a wide variety of rare genetic conditions.
GeneDx offers both Whole Exome and Whole Genome Sequencing.
They provide expert assistance to healthcare providers throughout the whole testing process.
Cons
Tests can only be ordered by allopathic doctors (MD), osteopathic doctors (DO), and genetic counselors in some cases.
Patients do not have direct contact with the company.
Reports are sent directly to the healthcare provider and can take a long time.
About GeneDx
GeneDx is a genomics company founded in 2000 by two National Institutes of Health scientists, Sherri Bale and John Compton. They are a division of BioReference Laboratories located in Maryland, USA. Their team consists of over 140 medical doctors and Ph.Ds and more than 150 genetic counselors.
The company offers their services in over 55 countries and claims to be a global industry leader in genomics and genetic testing. GeneDx is a member of the iHope Whole Genome Sequencing Program, a philanthropic program that provides WGS at no cost to patients who cannot afford the tests.
Review of GeneDx Products & Features
GeneDx offers tests for rare and ultra-rare genetic disorders and covers conditions related to neurology, hereditary cancer, cardiology, and more. To get started, the patient must meet with their healthcare provider, who can consult GeneDx's test menu to choose the appropriate tests.
Healthcare providers or staff in a healthcare facility can register on the portal, but only MDs and DOs are legally allowed to order genetic testing and can register as ordering providers. Some states allow genetic counselors to request test kits, but the company says they will verify each case. In any case, patients must sign the appropriate consent forms.
Patients also need to fill out clinical information regarding their known health conditions, and GeneDx asks that detailed medical records be attached to the requests. Below is a test requisition form provided by the company. Healthcare professionals can select tests from the GeneDx test menu they think are appropriate for the patient's clinical presentation.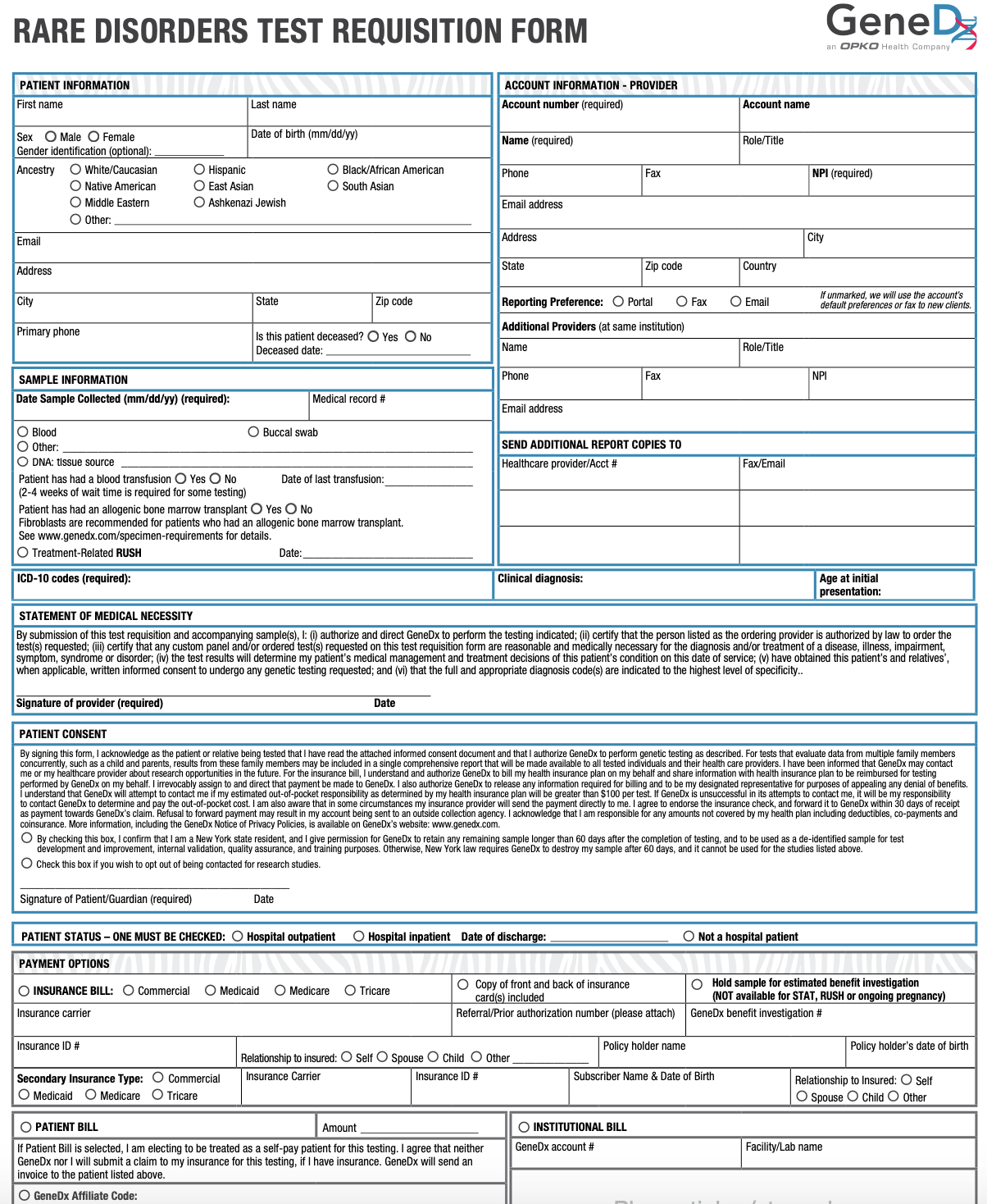 GeneDx Lab Requisition Form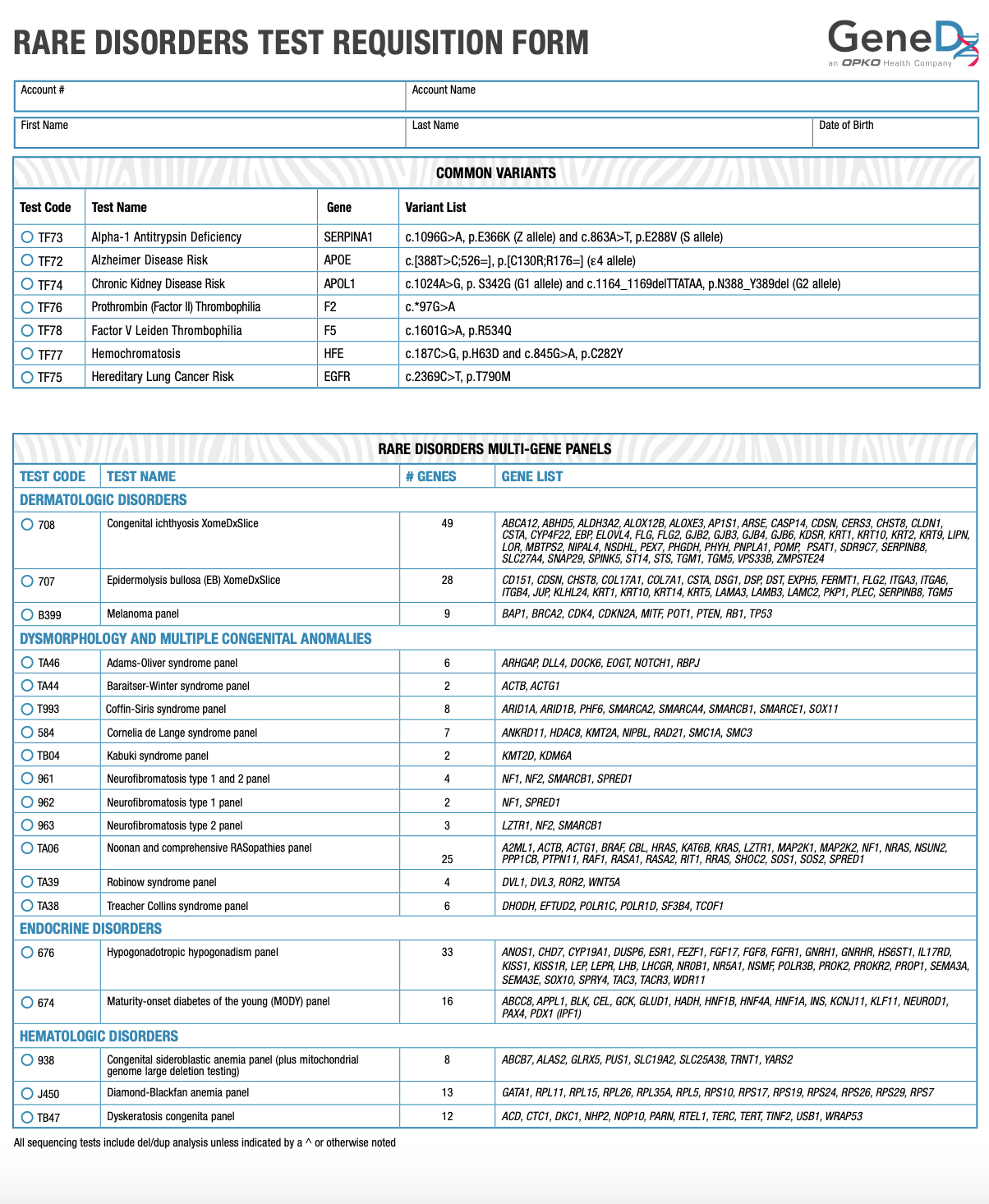 GeneDx Test Menu
With their Whole Exome Sequencing, GeneDx targets exons, which are protein-coding regions of the human genome that totals approximately 2% of the genome, or 20,000 genes. Results can take up to 12 weeks and are available to the healthcare provider on the online portal.
The Whole Genome Sequencing includes protein-coding and non-coding regions of the genome and allows for the detection of variants in regions not assessed by WES. The results are ready in 12 weeks.
They also offer Slice Tests that sequence the entire exome but only analyze a custom gene list created by the ordering provider based on the patient's clinical presentation. Results are ready within 8 weeks.
The company has an express processing option, in which they deliver verbal results in 7 days, and written reports in 3 to 4 weeks.
Review of GeneDx Reports
Reports are delivered directly to the healthcare provider through GeneDx's online portal. As seen below, the report contains information about the test ordered and any relevant family history. The company displays the results and the mutations detected, and a final diagnosis is delivered in the Interpretation section followed by a detailed explanation of the variant tested.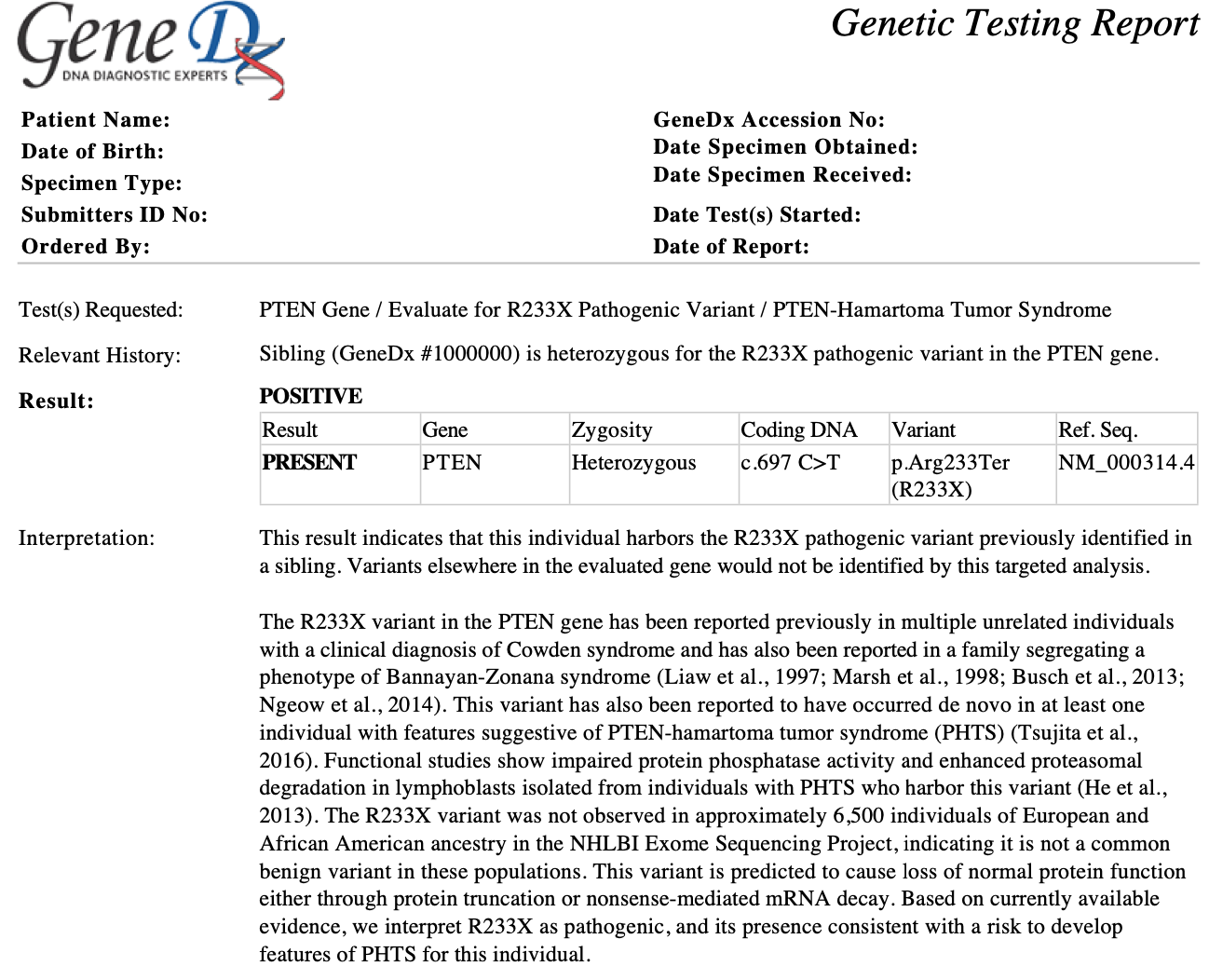 The report offers guidance to healthcare providers regarding the next steps, such as further testing and genetic counseling, seen below. Additionally, the company describes the methodology used by the GeneDx lab.


GeneDx does not send the report directly to the patients, and they do not offer advice on how to manage any of the conditions tested. Any expert support provided by the company is only meant for healthcare providers.
Since the reports are written for medical professionals, they use technical language that may not be readily understood by those outside the field.
Cost of GeneDx
GeneDx is contracted with major commercial insurances, but out-of-pocket costs vary according to patients' coverage. Patients are responsible for the co-pay, co-insurance, and unmet deductible established by the carrier.
The company will perform a requested benefits analysis to estimate out-of-pocket costs and they contact the patient if the value is expected to be greater than $100. They offer financial assistance programs for people who have financial difficulties, including compassionate care prices and payment plans.
Health Recommendations from GeneDx
GeneDx does not offer recommendations to help patients control their health conditions. They provide healthcare professionals with some suggestions on possible treatments and further testing and explain if a genetic consultation is needed.
Review of GeneDx Privacy & Data Security
GeneDx complies with the Health Insurance Portability and Accountability Act (HIPAA), the Health Information Technology Act (HITECH) regulations, and the General Data Protection Regulation (GDPR).
The company does not allow unauthorized disclosure of medical and identifiable information but may disclose protected health information (PHI) as required by law. They may share PHI with public health authorities, employers, and agencies responsible for monitoring the health care system. Additionally, they may share information with family members if it is related to their involvement with the patient's care or payment of care.
SelfDecode vs GeneDx
SelfDecode delivers natural supplements, diet, and lifestyle suggestions based on your genes that you can implement right away. GeneDx does not provide health recommendations directly to the patient.
SelfDecode tells you why they make each recommendation so that you can understand the science behind the suggestion. GeneDx offers clinical recommendations to aid healthcare professionals.
SelfDecode prioritizes recommendations based on their analysis of all the relevant genes instead of one gene at a time (through reports). GeneDx does not prioritize their recommendations.
SelfDecode takes a holistic approach to give recommendations that are best for your genes AND the health topic. GeneDx focuses on rare and ultra-rare disease diagnosis.
SelfDecode is the most comprehensive and looks at more genes & SNPs (over 700,000 SNPs) to deliver the best analysis of genetic risks. GeneDx offers WGS and WES, but it can be costly if not covered by insurance.
SelfDecode supports everything with peer-reviewed scientific studies in their research and checks for contradicting information. GeneDx provides scientific references in the reports.
SelfDecode never sells your data or gives it away. GeneDx may share protected health information, but not for commercial use.
Comparisons
| | | | | |
| --- | --- | --- | --- | --- |
| | SelfDecode | GeneDx | Color Genomics | Ambry Genetics |
| Personalized & holistic health recommendations | Yes | No | No | No |
| Products | DNA testing, wellness reports, health recommendations, patient and provider options | WGS, WES, disease reporting | DNA testing, health recommendations, genetic counseling, patient and provider options | DNA testing for health conditions, patient and provider options |
| Raw data access | Yes | No | No | No |
| Cost (USD) | $97 – $389 | Depends on insurance coverage | $99 – $499 | $100-$3,000 |
| Number of genetic variants analyzed | Over 700,000 SNPs | 20,000 | Unknown / Not disclosed | Unknown / Not disclosed |
GeneDx Reviews
The company has mostly negative customer reviews online. Users complain that the prices were miscommunicated to them and say processing time is too long.
Google Reviews – 26 Average Rating of 1.8 of 5 stars
Many customers had problems paying their bills and say they were charged many months after the tests were performed. A few reviewers state the prices were not the same as the amount estimated by GeneDx before services were provided.
Yelp – 8 Average Rating of 1.5 of 5 stars
Likewise, reviewers had problems with incorrect prices and say the results take a long time to be ready. One customer had a positive experience with the company and says they received their results in under a month.
Alternatives to GeneDx
SelfDecode: Offers DNA analysis focused on health and wellbeing and provides detailed reports and personalized recommendations. SelfDecode does not require the authorization of a doctor to join and covers much more than disease risk.
GeneDx Review Summary
GeneDx focuses on diagnosing rare and ultra-rare diseases and conditions. Patients need to request the tests through their healthcare providers, as they cannot order from GeneDx's on their own. Healthcare professionals can choose from the GeneDx test menu depending on their patient's clinical presentation, and they have access to the reports on the company's online platform. The reports are very technical and patients do not have direct access to them.
The company offers advice on possible treatments and other tests recommended, but they do not deliver actionable insights to help patients manage their health conditions. Other services like SelfDecode offer personalized health, diet, and lifestyle recommendations based on DNA that are easily implemented. For healthcare providers, SelfDecode also offers professional plans with unlimited genetic file uploads and discounts for DNA kits.
Related