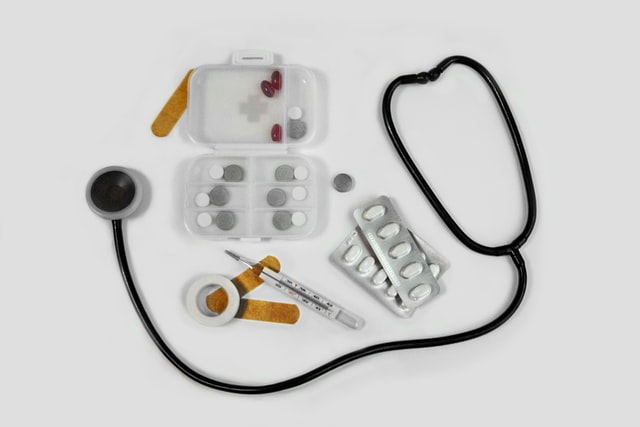 Overview
Products: Clinical genetic testing, genetic counseling.
Cost: The prices are not disclosed on the website, but the company offers a cost estimator tool to help patients estimate their out-of-pocket costs.
Reports: Disease reports.
Raw data access: Yes.
Privacy: Integrated Genetics may share personal health information with practitioners and health plans according to their privacy policy.
Alternatives: SelfDecode is a direct-to-consumer DNA test that delivers personalized health recommendations.
Pros
The company offers genetic counseling services.
Integrated Genetics offers prenatal testing.
The reports cover many health conditions.
Cons
Patients need to consult with a healthcare provider to order the tests.
The reports do not deliver health recommendations directly to the patients.
About Integrated Genetics
Integrated Genetics is a member of the LabCorp Specialty Testing Group and has over 25 years of experience in reproductive health and hereditary cancer genetic testing. The company specializes in women's health and claims to aim to help women with their infertility issues.
With offices in Massachusetts, USA, the company claims to perform over 250 million tests each year. They state they have the nation's largest genetic counselor network, with over 100 professionals.
The company has laboratories across the country. Patients have access to 2,000 LabCorp patient service centers, including 100 Walgreens locations for convenient sample collection.
Review of Integrated Genetics Products & Features
Integrated Genetics offers a wide variety of reproductive genetic testing, diagnostic tests that include carrier screening, and hereditary cancer tests. To get started, patients must go through a healthcare professional to order the tests. Medical providers and patients are required to sign an informed consent form and fill out a test requisition form.
Integrated Genetics offers tests that cover different stages of a woman's life (fetal, pediatric, and adult). The Pre-Pregnancy tests include carrier screenings to help determine if the couple presents an increased risk of having a baby with an inherited genetic disorder. The tests are:
Inheritest: Tests for over 500 hereditary genetic disorders, including cystic fibrosis.
Single-Gene Screening: Targets specific disorders. The company states that the most common screens are for cystic fibrosis, spinal muscular atrophy, and fragile X syndrome.
The Pregnancy screening tests listed below offer information about the baby's health during the first and second trimester of gestation. The company offers two main options:
Non-Invasive Prenatal Tests (NIPT): Screens for many chromosomal abnormalities such as Down Syndrome and gives information on the baby's sex.
Serum Screening: Identifies pregnancies at risk for Down Syndrome, trisomy 18, and open neural tube defects.
Integrated Genetics explains that the tests above require only a blood sample from the mother. The NIPT tests can be performed as early as 9 weeks of pregnancy and the Serum Screening at 10 weeks.
The Reveal SNP Microarray Prenatal can detect genomic imbalances related to congenital abnormalities, intellectual disabilities, miscarriages, and stillbirth.
The Reveal POC test may help the patient understand why a pregnancy loss occurred. The test may also give information on potential risks for future pregnancies.
The Reveal Pediatric tests for chromosome abnormalities related to certain birth defects, intellectual disabilities, autism spectrum disorders, and more.
The company also offers DNA tests for Hereditary Cancer, which can help determine if the patient has mutations that are associated with an increased risk for certain types of cancer. There are two main categories:
BRCAssure: Tests for BRCA mutations that are linked to an increased risk for breast, ovarian, and other types of cancer.
VistaSeq: Analyzes genetic mutations associated with an increased risk of developing cancer. The company offers 12 panels that include breast, endocrine, pancreatic cancers, and more.
In addition to the tests mentioned before, the company has a variety of other diagnostic tests that are available at Integrated Genetics or LabCorp. They also offer genetic counseling sessions to assist the patient in choosing their test and to discuss the results.
Review of Integrated Genetics Reports
First, Integrated Genetics delivers the test results to the referring healthcare provider. After 2 to 7 days from the physician receiving the results, they are available to the patient on the LabCorp Portal Account.
Since the company offers many genetic tests and reports, only the Breast Cancer Panel will be reviewed in this section.
As can be seen in the sample report below, the gene and variant detected is displayed in the beginning of the report, and then it presents a more detailed explanation of the results.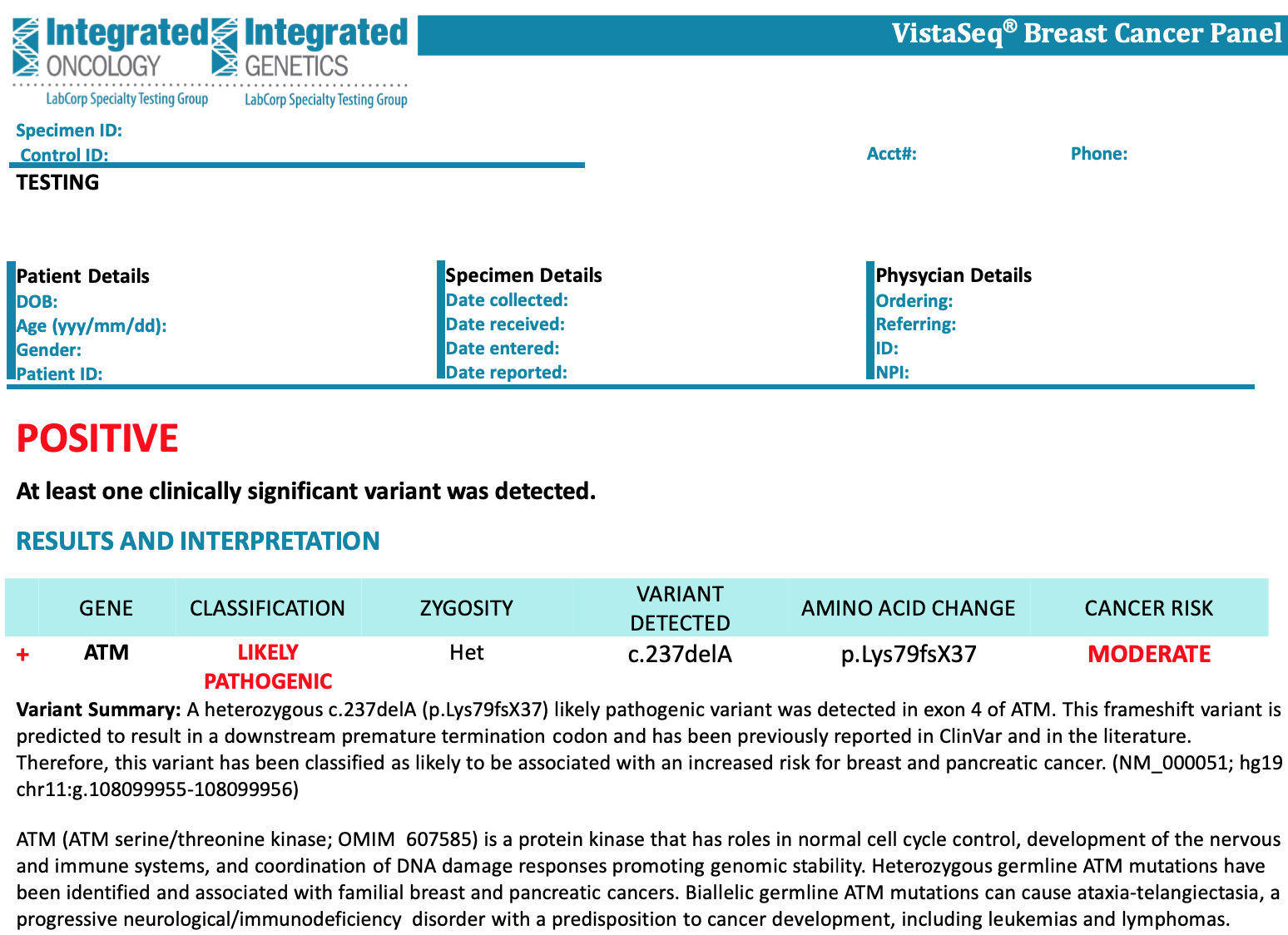 Additionally, Integrated Genetics describes the clinical significance of the mutation and explains the cancer risks associated with the results. The report also gives recommendations to healthcare providers about supplementary tests and if genetic counseling is appropriate, as seen below. Patients do not receive any recommendations directly from the company on how to address their health issues.

Cost of Integrated Genetics
Integrated Genetics does not provide test prices on the website. The company offers a cost estimator tool, which patients can use to estimate their out-of-pocket expenses. They claim to assist patients who need financial assistance and can file claims for insured patients directly to Medicare, Medicaid, and other insurance companies.
Health Recommendations from Integrated Genetics
Integrated Genetics does not offer health recommendations directly to patients. The reports deliver clinical advice to healthcare providers about further testing and discuss if a genetic counseling session is needed. Patients will not receive any advice on how to address their DNA test results and will need to consult with their healthcare provider for more information about the reports.
Review of Integrated Genetics Privacy & Data Security
Integrated Genetics states they may share personal information with third parties if it is necessary to perform their services. The company complies with the Health Insurance Portability and Accountability Act (HIPAA).
They may share protected health information (PHI) with the patient's medical provider if necessary for treatment. The company may also disclose PHI to health plans to receive payment for their services.
Users may access their PHI at any moment unless a healthcare provider determines that it may endanger the life or safety of the patient or others.
DNA samples are stored according to the applicable federal, state, and professional regulations. If no regulations apply, they are destroyed 60 days after the sample is collected.
SelfDecode vs Integrated Genetics
SelfDecode delivers natural supplements, diet, and lifestyle suggestions based on your genes that you can implement right away. Integrated Genetics does not provide any recommendations directly to the patient.
SelfDecode tells you why they make each recommendation so that you can understand the science behind the suggestion. Integrated Genetics explains the results in the reports, but they can be difficult to understand for those who are not medical professionals.
SelfDecode prioritizes recommendations based on their analysis of all the relevant genes instead of one gene at a time (through reports). Integrated Genetics delivers clinical recommendations to healthcare professionals, but not directly to the patient.
SelfDecode takes a holistic approach to give recommendations that are best for your genes AND the health topic. Integrated Genetics focuses on diagnostic tests.
SelfDecode has the world's first and only personalized genetics blog that allows you to get new gene-based recommendations daily. Integrated Genetics does not have a health blog.
SelfDecode is the most comprehensive and looks at more genes. SelfDecode uses AI and machine learning to analyze up to 83 million genetic variants to deliver the best analysis of genetic risks. Integrated Genetics analyzes genes related only to the specific health condition for each test.
SelfDecode supports everything with peer-reviewed scientific studies in their research and checks for contradicting information. Integrated Genetics provides scientific references in their reports.
SelfDecode never sells your data or gives it away. Integrated Genetics may share personal information as stated in their Privacy Policy.
Comparisons
| | | | | |
| --- | --- | --- | --- | --- |
| | SelfDecode | Integrated Genetics | GeneDx | Ambry Genetics |
| Personalized & holistic health recommendations | Yes | No | No | No |
| Personalized blog posts | Yes | No | No | No |
| Products | DNA testing, wellness reports, health recommendations, patient and provider options | Clinical genetic testing, disease reports, genetic counseling | WGS, WES, disease reports | DNA testing for health conditions, patient and provider options |
| Raw data access | Yes | Yes | No | No |
| Cost (USD) | $97 – $387 | Not disclosed | Depends on insurance coverage | $100 – $3,000 |
Integrated Genetics Reviews
There are no online reviews for Integrated Genetics. However, LabCorp, the group of which the company is a member, has mostly negative reviews about customer service.
Yelp – 24 Customer Average Rating of 1 of 5 stars
Users complain about delays in appointments at LabCorp and say the customer service needs improvement. Many patients comment that they had problems with their billing department.
SiteJabber – 236 Customer Average Rating of 1.3 of 5 stars
Similarly, reviewers say that LabCorp's customer service is lacking. Multiple users state they receive delayed or incorrect bills, and many complain about the delay in test results.
While LabCorp possesses many negative feedback from patients regarding customer service, it is not indicative of Integrated Genetics as a whole. The reviews do not evaluate the company's products and services.
Alternatives to Integrated Genetics
SelfDecode: A direct-to-consumer health-focused DNA test that delivers diet, lifestyle, and supplement recommendations.
Integrated Genetics Review Summary
Integrated Genetics can help providers and their patients understand how DNA can impact health. They offer tests that range from non-invasive prenatal tests to hereditary cancer tests.
Their reports deliver information that can assist medical professionals in finding the right diagnosis and treatment for their patients. However, the tests are not available directly to patients, and they do not offer advice to the customer.
As it is, the company focuses on very specific health topics for patients, such as family planning or women's health tests. While this service is precise, it falls short in terms of scope. Many people looking to improve their health are looking for something more comprehensive and user friendly, which they can access without consulting with a healthcare provider.
An alternative such as SelfDecode that offers a direct-to-consumer DNA test could be a sound choice. SelfDecode uses AI and machine learning to accurately predict and analyze millions of genetic variants and delivers personalized and prioritized recommendations to help you improve your health. For healthcare providers, SelfDecode also offers professional plans that include unlimited DNA report downloads and discounts on DNA kits.
Related Articles