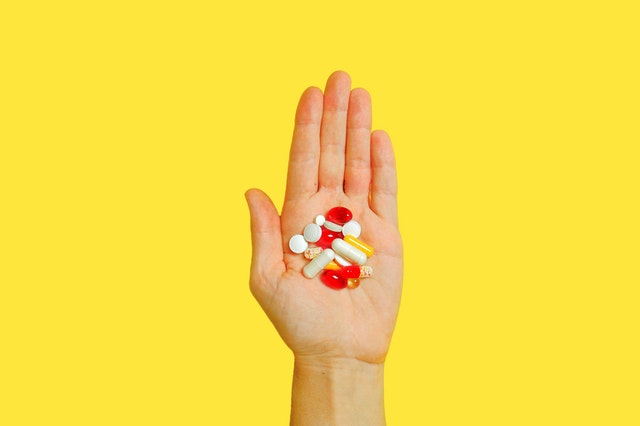 Overview
Products: Customized vitamin packs and powders
Cost:

Supplement pills: $5 to $19 each for a 30-day supply
Supplement powders: $5 to $32 for 7-15 day supplies

Reports: Personalized vitamin regimen based on your quiz results
Privacy: Care/of claims not to sell or give any of your information to third parties for any purpose.
Alternatives: SelfDecode – The best option for health-focused DNA analysis with personalized reports, symptom analysis, and health recommendations.
Pros
Supplement subscription service
Their products are packaged well with clear descriptions of what you are getting
Cons
Care/of does not use genetic analysis, lab tests or environmental factors to create personalized recommendations. They aren't truly personalized recommendations
The company only ships to the US and Canada
About Care/of
Care/of creates custom multivitamin packs based on a user's response to their online quiz. Each pack can include a variety of supplements tailored to the user. Craig Elbert and Akash Shah founded Care/of in New York City in 2016. The company also offers their products in the stores and on the website of the big-box retailer, Target.
In August 2020, the company was acquired by the pharmaceutical and pesticide behemoth Bayer for $225M.
Review of Care/of Products & Features
Care/of products include vitamins, minerals, herbs, probiotics, and powders.
Vitamins
The vitamins offered are B-complex, Vitamin B12, Vitamin C, Vitamin D, Vegan D, Prenatal, Multivitamin & Multivitamin + Iron.
Minerals
Minerals are inorganic elements your body needs to function properly. The minerals offered by Care/of are Calcium Plus, Iron, Magnesium, and Zinc.
Herbs
The herbs category includes American Ginseng, Ashwagandha, Elderberry, Garlic, Milk Thistle, Rhodiola, Shatavari, Turmeric, and Cranberry.
Probiotics
Probiotics are supplements made from strains of 'good' bacteria – bacteria that help with digestion. These are selected to ensure optimal balance within the digestive system. Probiotics include Probiotic Blend and S. boulardii.
Specialty
Care/of specialty supplements are sourced from the best natural environments and made from clean production practices. Specialty products of Care/of are Adaptogenic mushrooms, Astaxanthin, Ceramides, Fish Oil, Keratin Vegetarian Collagen & Veggie Omega.
Collagen powder
Care/of uses the typical hydrolyzed collagen peptides, that are typically used by mass market products. The products under this category are Collagen Unflavored, Collagen Lemon Passion Fruit, Collagen Matcha & Collagen Vanilla Oat Creamer.
Protein powder
Protein products are Plant Protein Vanilla, Plant Protein Chocolate, Whey Protein Vanilla & Whey Protein Chocolate.
Boost powders
The products under this category include Superberry, Creatine, Electrolytes, and Maca.
Review of Care/of Subscription
Care/of has their own quiz which you can answer on their site, and this will guide the company to create your a blend of vitamins.
The first thing they ask you is your name. This is printed on each monthly packet, so it's best to be honest here.
Next, they try to get an idea of your level of awareness about supplements in general.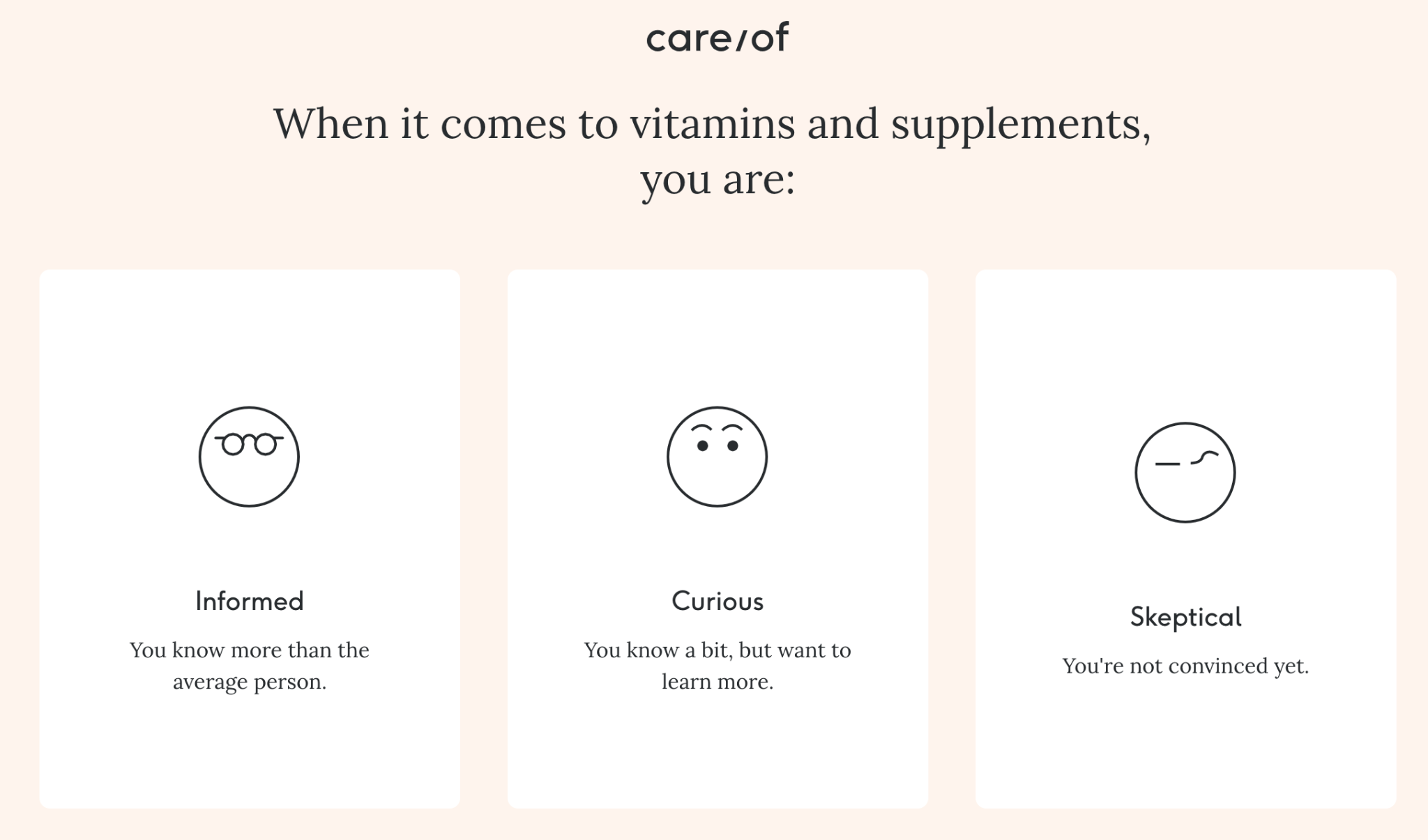 Then, you are asked about your current vitamin regimen, such as the number vitamins or supplements you usually take.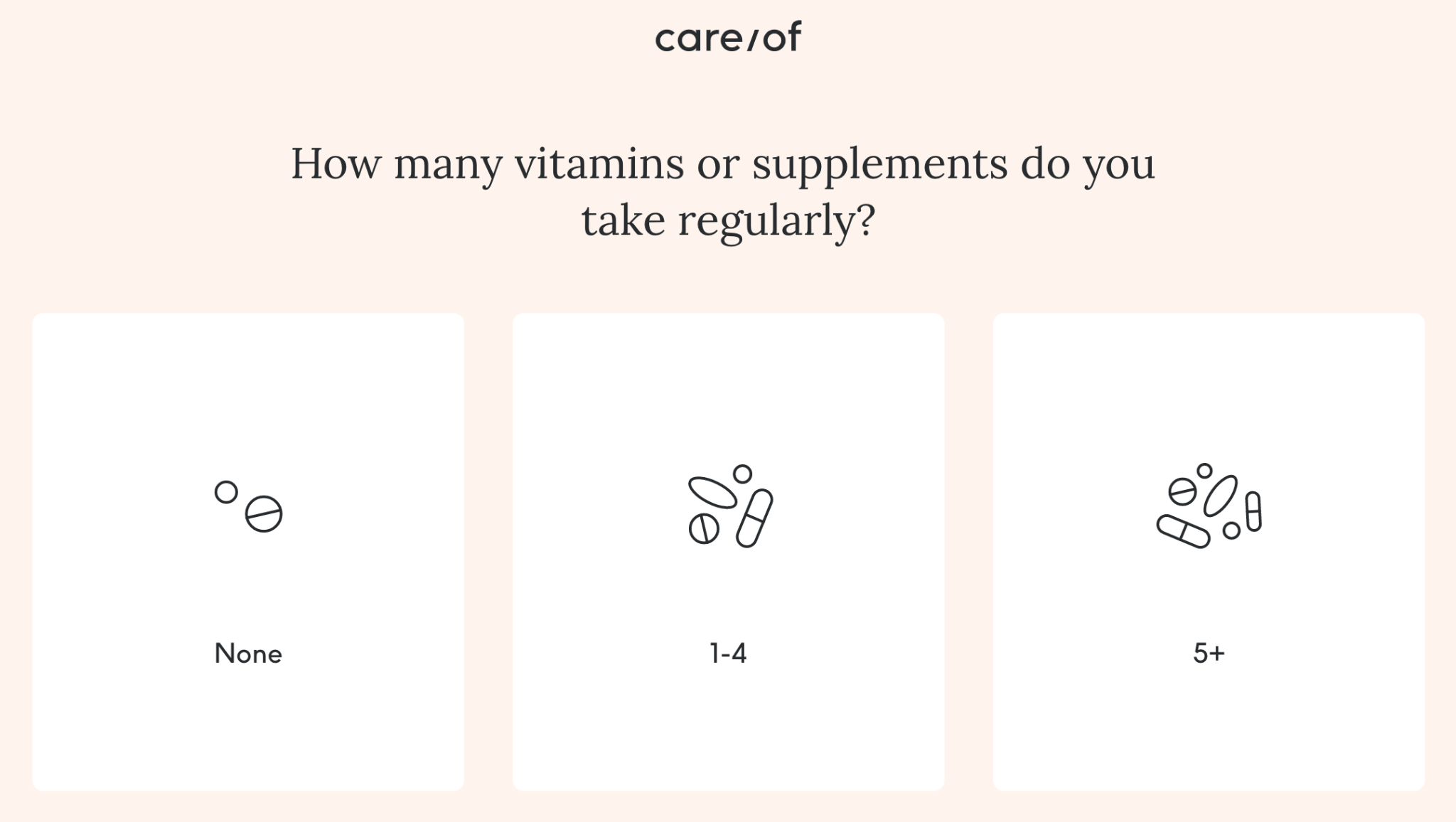 Following this are other general information questions like age and gender. After you answer a series of questions, Care/of will ask if you live in the United States.
If you answer yes, you will proceed normally, if not you will be asked a follow-up question: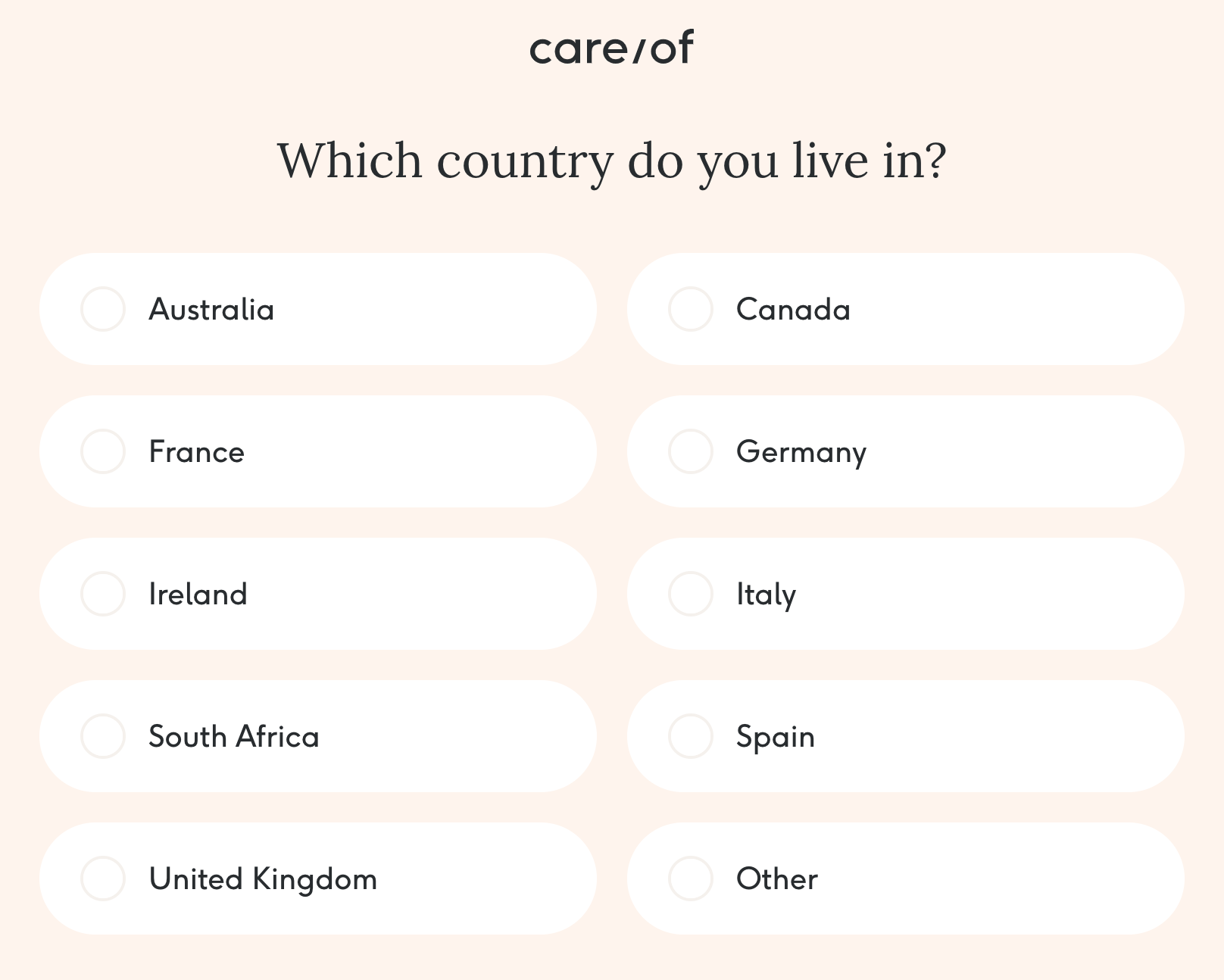 Since Care/of only delivers to the US and Canada, if you answer anything other than 'Canada' here, they will inform you they do not ship to your location.
Assuming you live in the US or Canada, you will then be asked about your goals: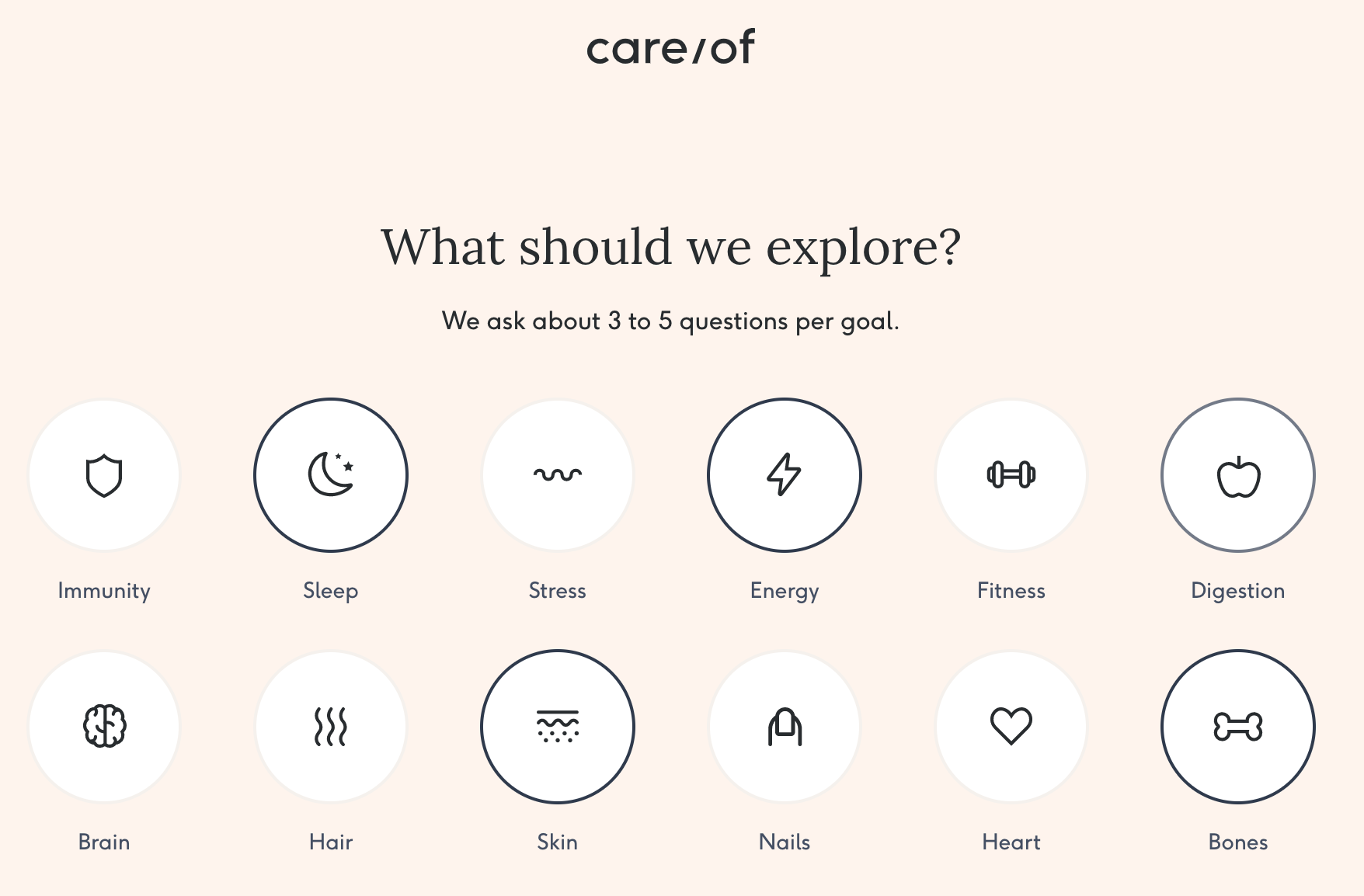 You will need to give details about your lifestyle habits related to each goal, and then finally you're asked about your views on traditional Eastern Medicines such as Ayurveda.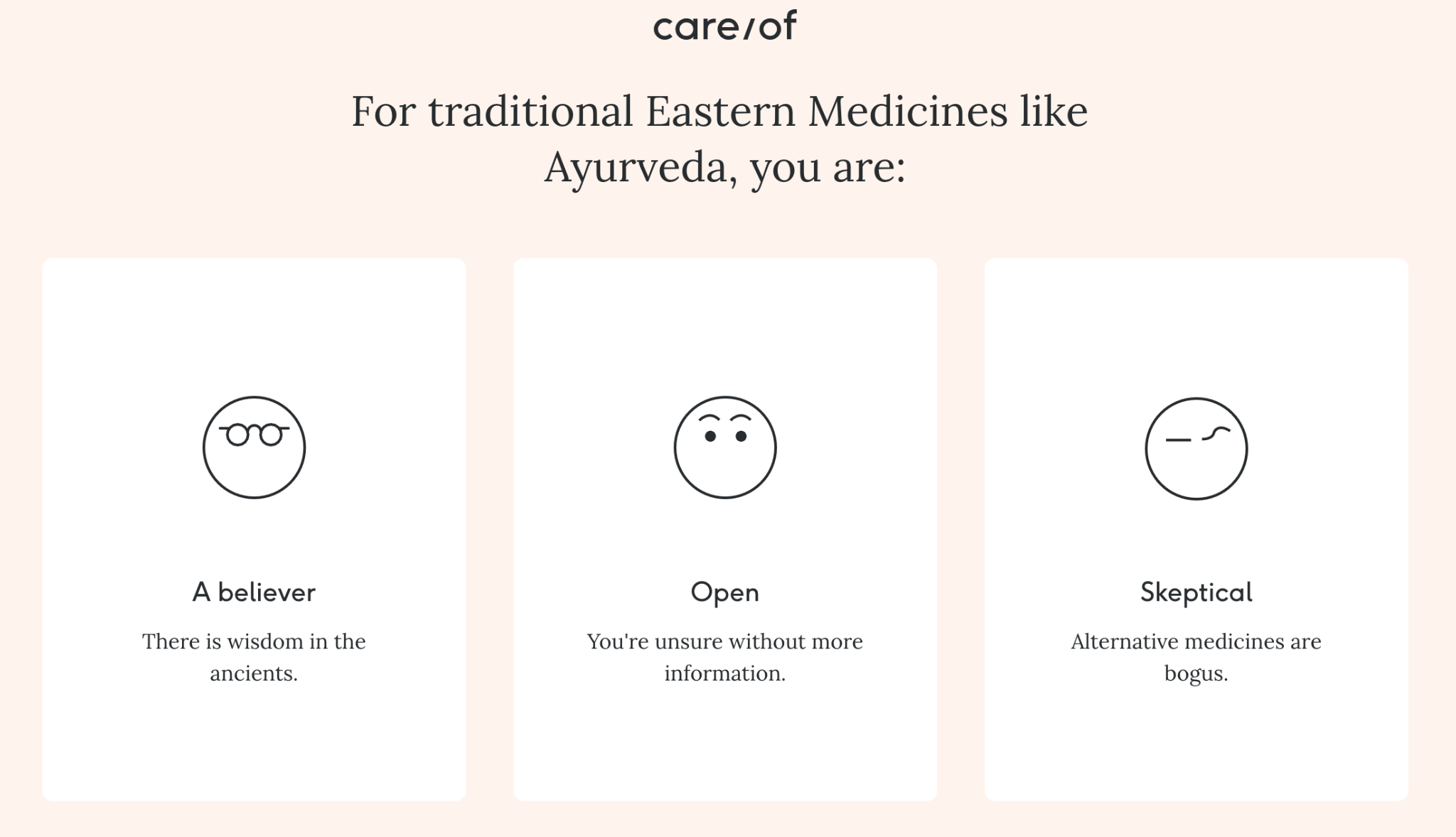 After this, you are then given your Care/of vitamins recommendations. Although Care/of claims these are personalized to your quiz answers, they use common ingredients for their supplements, which you can find anywhere.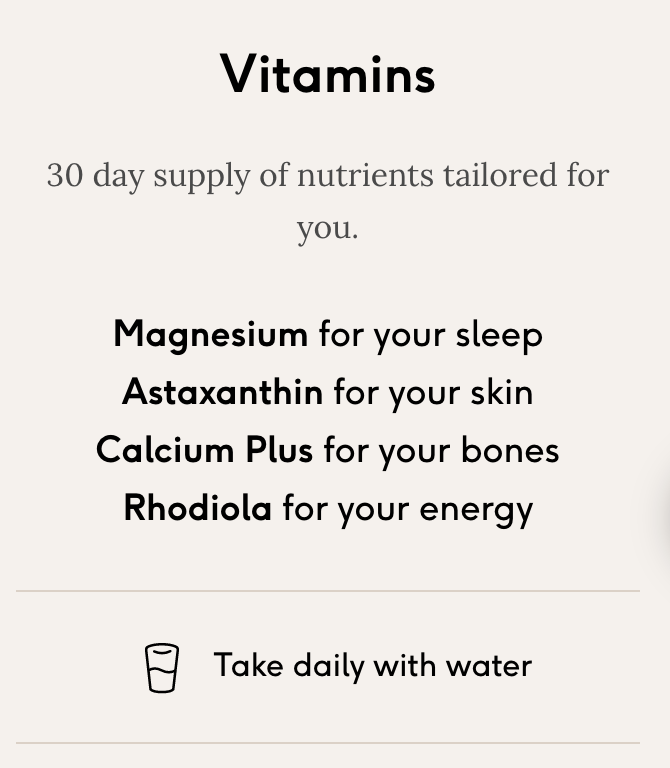 These are all packed into a packet and shipped to your door every month. Care/of also gives you the option to purchase any of the supplements offered without taking the quiz.
The company offers an app available for both iOS and Android. With the app, you can take their quiz, order vitamins, set reminders, track your vitamins, among other features.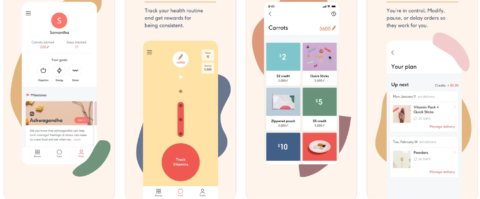 Cost of Care/of
Each 30 day supply of vitamins starts at $5 up to $19. The supplements powders range from $5 to $32 for 7-day or 15-day supplies. Shipping is included on orders above $20. You are automatically billed for renewal every 30 days, but they claim you are able to make changes at any time to your delivery schedule and products ordered.
Health Recommendations from Care/of
Care/of does not provide health recommendations, instead, they claim to only give suggested vitamin and supplement combinations based on the answers you give to their quiz. If you want a more personalized and holistic approach to health, there are other alternatives you should consider.
Care/of Reviews
Customers on highya.com gave Care/of a 2.4 out of 5-star rating from 20 reviews. Many of the complaints talked about problems with the orders, wrong items received, and customer service, or lack thereof. Those that rated them highly mentioned how easy the vitamin routine is to follow and stick to.
Trustpilot users gave the company 4.6 out of 5 stars from 1,832 reviews. The majority of customers on this site praised the quality of vitamins and packaging, and how convenient their new vitamin regimen was to follow.
Alternatives to Care/of
Care/of recommendations are only based on self-reported information. What that means is that they don't really know what's going on in your body. A better or more optimal way to approach personalized vitamins is to use a service like SelfDecode, which can be combined with a vitamin delivery service.
SelfDecode analyzes your DNA and lab tests to provide personalized recommendations that work for your body, all backed by peer-reviewed scientific studies and aimed at helping you optimize your health.
Before going off to buy vitamins and supplements, it might be best to find out how your levels are and understand how your body processes these micronutrients.
Care/of Review Summary
Care/of recommends personalized vitamin packs which are a great option for busy people. Customized for your needs and delivered in a packet with your name on it, it is both convenient and relatively affordable.
However important your nutrient levels are, there are many alternatives to Care/of that offer so much more than just supplement recommendations based on self-reported information. The company does not offer any kind of health testing, so how personalized they are to your specific needs is questionable. Understanding how your body works can help you guide you to make better health decisions.
Companies such as SelfDecode offer genetic analysis to generate DNA wellness reports built just for you, and a tool that analyzes your lab test results so you can make sure your levels are optimal. SelfDecode uses AI and machine learning to analyze up to 83 million genetic variants so you can receive the most accurate results, and gives personalized diet, lifestyle, and supplement recommendations based on your DNA and labs.
Related