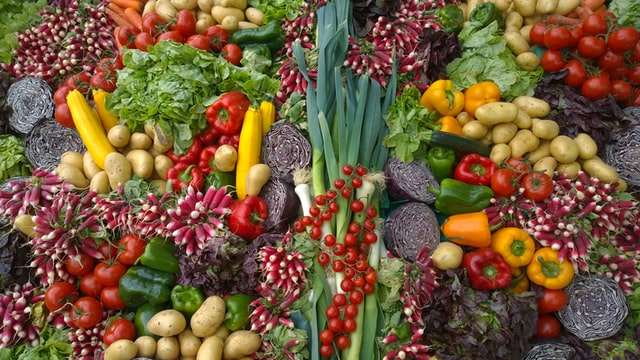 Overview
Products: Thryve Gut Health Test and probiotic supplements
Cost: The Gut Health Test costs $99, each bottle of supplements costs $39, and the supplement subscription costs $35 per month.
Raw data access: No raw data access is available. Customers of Thryve must provide raw data in the form of stool samples to the company.
Privacy: Thryve does not provide your information or results to employers or health insurance companies, and promises to never sell your data.
Alternatives: SelfDecode – SelfDecode provides personalized health recommendations supported by peer-reviewed genetic studies based on your DNA variants. SelfDecode promises to never sell or give away your data to any third parties.
Pros
Personalized nutrition and probiotic recommendations
Affordable products and monthly probiotic subscription
Low-cost shipping to the US and a 2-week guaranteed turnaround on test results
Cons
Offers a custom probiotic regimen, but only offers 5 different pre-packaged products
The microbial analysis only provides information about the type of bacteria present in your microbiome. Your overall gut microbiome is also home to other microbes, like fungi and viruses, which can also have a large impact on your health.
Only provides probiotics and dietary recommendations.
About Thryve
Thryve is based near San Francisco and incorporates microbiome testing with personalized dietary and probiotic recommendations. The firm has secured $1.4 million in venture funding. A number of leading scientists from Stanford, Harvard, MIT, and a former U.S. Food and Drug Administration regulator comprise its Scientific Advisory Board.
The Thryve Gut Health Test takes a stool sample to test the content and diversity of your gut biome. Based on your test results, Thryve creates a customized probiotic plan designed to optimize your gut health.
Review of Thryve Products & Features
The Thryve Gut Health Test analyzes a stool sample to provide personalized probiotics recommendations, tailored to the user's gut microbiome.
The Gut Health Test requires users to mail in their stool sample to their lab. After registering the kit, customers are asked to submit a questionnaire on a few personal health indicators. These include: health concerns, sleep quality, energy levels, weight, skin type, mood, gender, and age.
Using the data that customers provide from the Gut Health Test results and the questionnaire, the company offers Thryve probiotic recommendations along with their reports (more on this below).
Thryve also offers 5 different blends of probiotics with different strains of bacteria, each with their own unique claims:
Healthy Gut (digestive health)
Ketone Booster (weight loss)
Endless Energy (energy levels)
Mood Enhancer (mood)
Ultimate Immunity (immunity)
Review of Thryve Reports
The Thryve website has a very simple interface for navigating the reports. These reports can be quite complicated for a typical user. It does, however, include short embedded YouTube videos designed to help you understand each section of the report. The four sections of the Gut Health Report are the Health Report, Probiotic Recommendations, Food Recommendations, and My Gut Bacteria.
Thryve's introduction to the probiotic recommendations section of the report shows that the analysis is 80% based on the questionnaire and 20% based on the test result. It leaves one to wonder why such a low percentage of the analysis comes from the sample provided by the user.
Health Report
A customer's health report is composed of Gut Wellness and Gut Diversity scores, along with a Likelihood Analysis. The Gut Wellness score compares the microbes in your gut to that of the healthy American population.
The Likelihood Analysis clearly states that the analysis is not a diagnosis. Ailments such as anxiety, constipation, weight gain, fatigue, and dry skin can be correlated with the proportion of various bacteria in your gut versus that of the general population.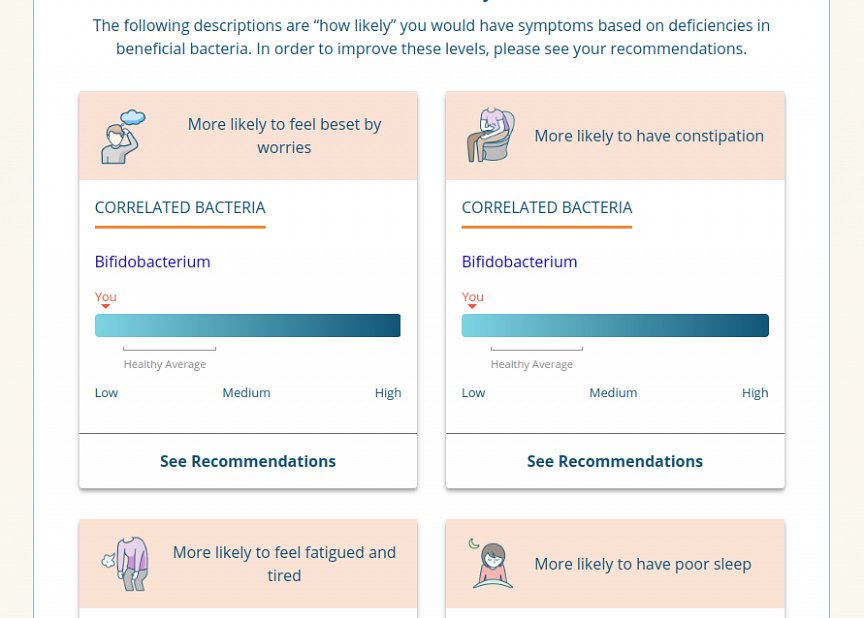 Probiotic Recommendations
The Thryve Probiotic Recommendations section begins with a pitch for a probiotic supplement subscription. The description of a specific blend includes probiotics which would counter the microbes users lack, as well as probiotics which have been shown to help patients who have similar weight loss goals. Each probiotic is followed by a description of its health benefits.
For example, below is a suggested blend containing Lactobacillus reuteri Tr1 (ADR1) which "lowers blood lipid levels, lowers cholesterol, and improves gut health".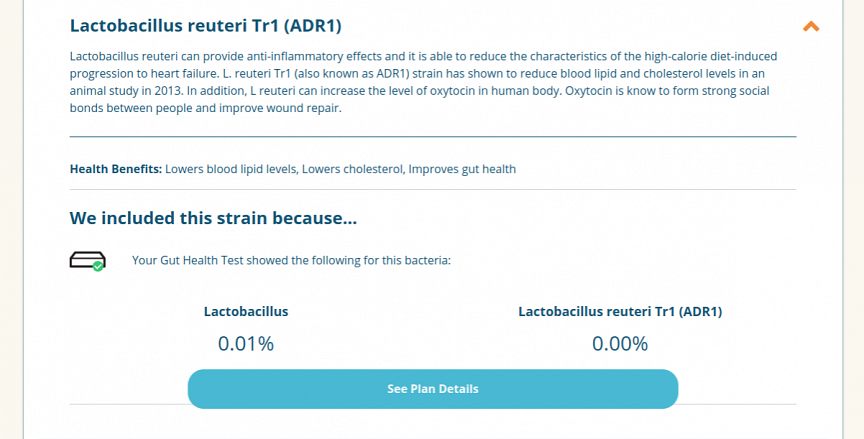 Food Recommendations
Thryve's personalized dietary plan can be considered to be somewhat overwhelming. It has a drop-down menu with a seemingly exhaustive list of foods from A to Z.
Upon selecting "apple", for example, users receive general information about the fruit (paleo-friendly, whole 30 friendly, vegan friendly), along with information specific to their results. For instance, eating apples could help increase Blautia and Ruminococcus bacteria in your gut.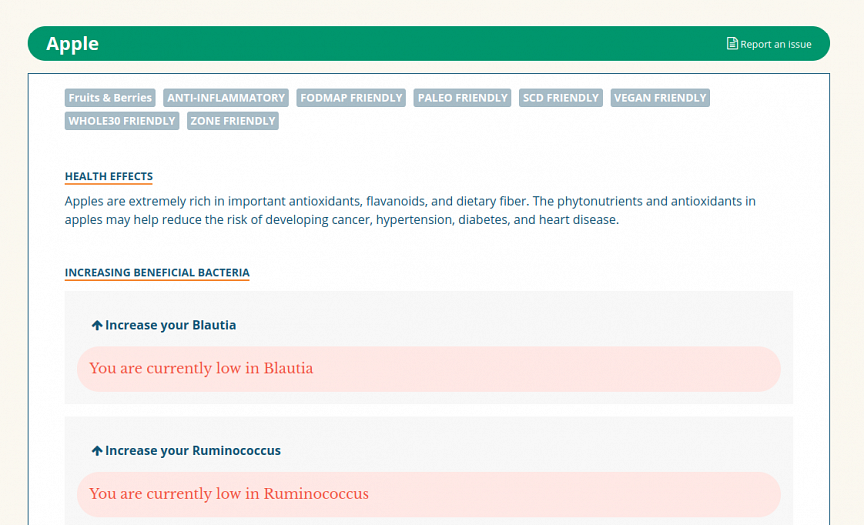 In this example, the "research confidence" connected to apples and gut bacteria was considered "strong", and users are given links to studies from reputable scientific journals. At the bottom of each section were a number of recipes for the given food.
My Gut Bacteria
The My Gut Bacteria section is clearly intended for the data enthusiast. The raw data on the entire measurable population of your gut microbes is downloadable in .csv format.
However, learning that your gut bacteria ecosystem is made up of 48.509% Bacteroidia can be an interesting bit of trivia, but it is not clear what a customer can do with this information.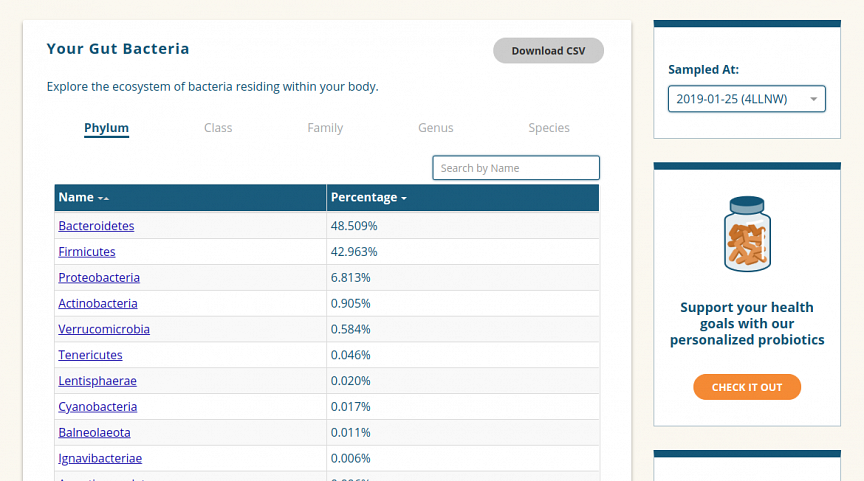 What would perhaps be more interesting is to find out how your gut biome changes over time depending on diet, supplements, and other external factors. This single measurement feels a little like only a starting point.
Cost of Thryve
The Thryve Gut Health Program costs $99, each bottle of supplements costs $39, and the supplement subscription costs $35 per month. There are no other products sold on their site.
Health Recommendations from Thryve
Thryve's health recommendations are all contained in their Gut Health report. There you will find food and probiotic recommendations, as well as information about your specific bacteria counts and how your microbiome compares to the rest of the general population.
The company limits their analysis to the gut microbiome and offers no health recommendations other than dietary and probiotics.
Review of Thryve Privacy & Data Security
Thryve separates users' personally identifiable information (PII) from protected health information (PHI) and uses multiple layers of encryption and access protection. They do not provide your information or results to employers or health insurance companies, and promise to never sell your data.
SelfDecode vs Thryve
SelfDecode delivers natural supplement, diet, and lifestyle suggestions based on your genes that you can implement right away. Thryve also delivers supplement and diet suggestions, but no lifestyle suggestions.
SelfDecode tells you why they make each recommendation so that you can understand the science behind the suggestion. Scientific references are presented along with the Thyrve reports, but they are limited to the food recommendations.
SelfDecode prioritizes recommendations based on their analysis of all the relevant genes instead of one gene at a time (through reports). Thryve's recommendations are only based on the bacteria in your gut microbiome, omitting other viruses and fungi that may be present, and offers no other DNA analysis.
SelfDecode takes a holistic approach to give recommendations that are best for your genes AND the health topic. Thryve does not take a holistic approach to their food and supplement recommendations because they only analyze bacteria in your gut.
SelfDecode is the most comprehensive and looks at more genes & SNPs (up to 83 million) to deliver the best analysis of genetic risks. Thryve only conducts gut bacteria microbiome analysis.
SelfDecode supports everything with peer-reviewed scientific studies in their research and checks for contradicting information. Thryve does provide some scientific references but only for their food recommendations.
Comparisons
SelfDecode

Thryve

NutraHacker

Viome

Personalized & holistic health recommendations

Yes

Yes
No

Yes

Personalized blog posts

Yes

No
No

No

Products

DNA testing, wellness reports, research-based personalized blog posts, health recommendations

Gut Health Tests report, probiotic supplements
DNA testing, basic and limited health recommendations

Gut intelligence report, health intelligence report, nutrition and supplement recommendations, supplement offerings

Raw data access

Yes

No
Yes

No

Cost (USD)

$97 – $387

$99 – Test
$39 – per bottle of probiotic

$35/monthly probiotic subscription

$0 (limited) – $85 per report

$0 (limited) – $700
Thryve Reviews
Thryve reviews are mixed, citing issues with shipping unwanted tests and products and poor response to emails.
Trustpilot – 154 Users Average Rating of 3.9 out of 5 stars
The majority of Trustpilot users rated Thryve with 5 stars (68%), but there was a surprising (14%) number of 1 star reviews. Some of the 1 star reviews were concerning, as they claim that the CEO responding to their complaints was not helping to resolve their issues.
DNAtestingchoice – 75 Users Average Rating of 5 of 5 stars
DNAtestingchoice users rated Thryve 5 out of 5 stars. The editor's remarks state "I'd recommend the Thryve Gut Health Test to someone interested in learning more about this fascinating field of biology and understanding how a healthy gut biome may influence overall health."
Notably, the editor was invited to take this test free of charge and all user reviews shown had to be approved by the site.
Alternatives to Thryve
SelfDecode: The best option for health-focused DNA analysis with personalized reports, symptom analysis, and health recommendations.
Thryve Review Summary
Thryve is an affordable service that offers specific food and probiotic recommendations aimed at improving the overall microbiome health of its customers. While they claim to customize your probiotic supplements to your gut health test results, they only sell 5 blends of probiotics.
If you are just looking for an easy way to learn more about your gut health and some recommendations to improve it, Thryve may be the right service for you. However, the company only provides probiotics and dietary advice, which do not appear to be delivered in the most user-friendly way.
An alternative such as SelfDecode provides you with a more comprehensive service and offers consistent, holistic health reports to help you take control of your health. SelfDecode analyzes up to 83 million genetic variants to deliver personalized and prioritized recommendations on over 30 health topics, including gut health.
Related