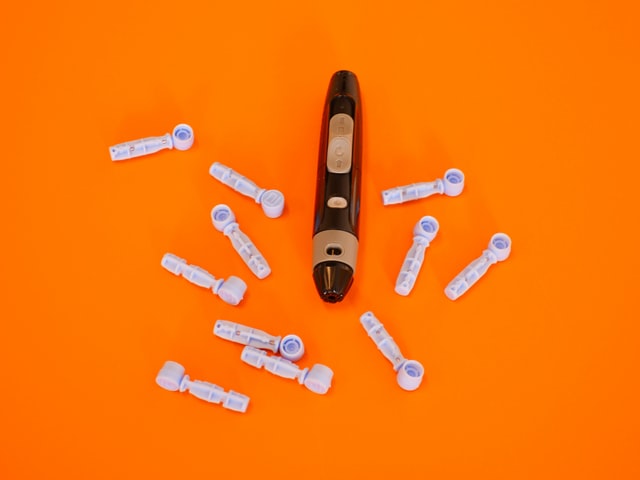 Overview
Products: DNA testing for gut microbiome and nutrition reports.
Cost: $499.
Reports: Nutrition reports.
Raw data access: No.
Privacy: DayTwo may share non-identifiable information with third parties for research or other commercial purposes.
Alternatives: SelfDecode – the best health-focused DNA analysis that delivers personalized reports and recommendations.
Pros
DayTwo offers personalized dietary advice based on gut microbiome testing.
The test is based on 5 years of scientific research.
The company offers a free consultation with a registered dietitian.
Cons
DayTwo only takes into account blood sugar levels to make their recommendations.
The company does not allow raw data access and users cannot upload genetic files from other DNA testing companies.
They do not account for any dietary restrictions or medical conditions to make their suggestions and do not include a structured meal plan.
They require additional blood test results to give more accurate recommendations.
About DayTwo
DayTwo was founded in 2015 by current CEO Lihi Segan, Marius Nacht, and Yair Schindel. The company aims to deliver personalized nutrition insights to help their customers maintain normal blood sugar levels. They offer their services in Israel and the United States.
The product is based on research conducted by professors Eran Segan and Eran Elinav, from the Weizmann Institute of Science in Israel. This technology was licensed to DayTwo and the results were published in the scientific journal Cell. Professors Segan and Elinav act as scientific consultants for DayTwo and focus on studying the relationship between health and gut microbiomes.
Recently, a study was conducted with the Mayo Clinic to validate the Weizmann Institute's conclusions.
Review of DayTwo Products & Features
DayTwo offers an alternative for blood sugar monitoring without finger prick tests by analyzing the microbiome present in the gut and scoring foods to help their customers make better dietary choices.
To get started, users need to provide a stool sample collected with DayTwo's collection kit. After submitting the samples, they are invited to answer a questionnaire and provide blood test results. While the blood results are not mandatory, the company highly recommends users submit them for more accurate recommendations. Despite this, DayTwo does not offer blood testing to user.
DayTwo uses Shotgun Metagenomic Sequencing technology to sequence DNA from the gut microbiome, which they claim allows them to examine the genes in all microorganisms present in each complex sample and evaluate bacterial diversity. They combine this result with the survey answers and blood test results to predict which foods are better for each individual.
The food is rated based on a scoring system to help customers make better dietary choices to control their blood glucose levels. The system allows them to know how their body will respond to each food before they eat it.
Additionally, the company includes a free 30-minute video consultation with a registered dietitian to review the microbiome profile and answer questions regarding the use of the app. They also offer a follow-up call if necessary.
Review of DayTwo Reports
DayTwo presents the results in their app with personal nutritional recommendations aimed at balancing blood sugar levels. The company scores foods specifically for each user based on survey answers, blood tests, and microbiome DNA results. The scores range from A+ to C-, with A+ being the best food choices for blood glucose control and C-, the worst.
In addition to scoring individual food items, the app provides scores for complex meals, as seen below. The score given to each food item can change depending on the foods it is combined with, and the overall quantity of the item.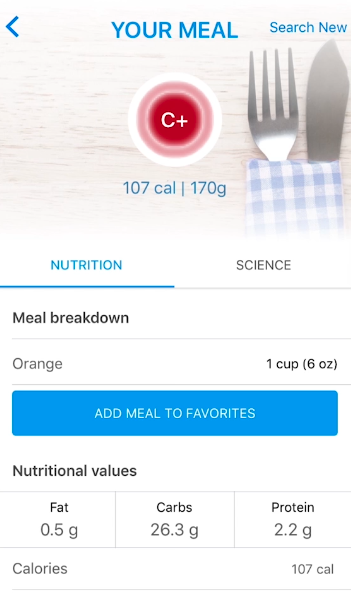 DayTwo separates foods into categories such as breakfast, lunch, dinner, and dessert and gives the option of selecting meals based on their score, portion size, and calories.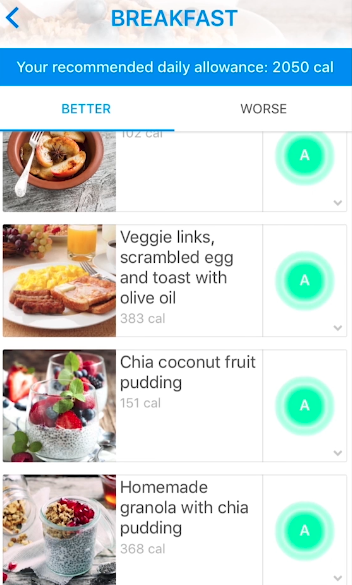 Additionally, the app has the Snack Smarter section with information about which snacks are the best option for blood glucose control, as seen below.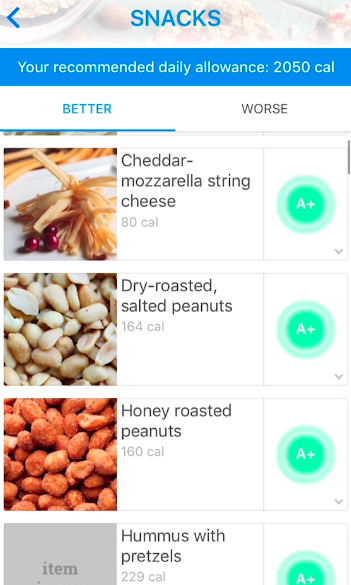 DayTwo offers additional information for each food item with macronutrients and calories, shown below. Moreover, the science section includes a description of the microbiome with an explanation of its importance and a breakdown of the user's unique gut bacteria composition.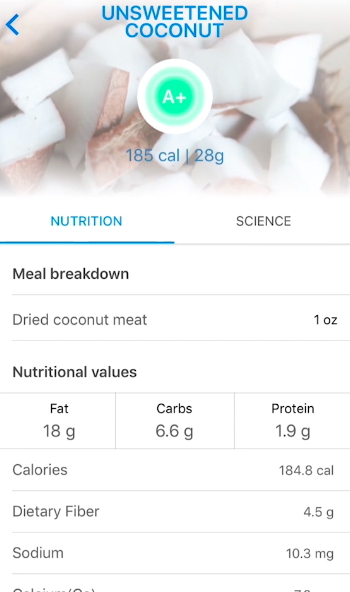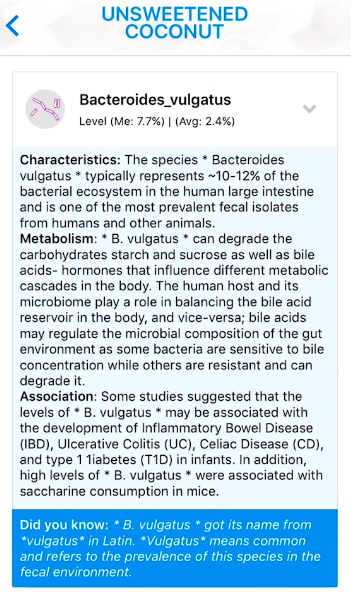 The scoring system only takes into consideration predicted blood glucose levels two hours post-meal. Unfortunately, DayTwo states that the app does not account for any food sensitivities, other nutritional needs, or medical conditions.
Processing time can vary according to the current lab demand, and users are informed of the waiting time when purchasing the product. The company does not offer any other health information or recommendations other than one's dietary needs for blood sugar management.
Cost of DayTwo
DayTwo's Microbiome Testing kit costs $499 and includes DNA sequencing of gut bacteria, the personalized nutrition app, a call with a registered dietitian, and a microbiome summary report.
Health Recommendations from DayTwo
DayTwo offers insights on diet to help users maintain healthy blood glucose levels by predicting how the body might react to certain foods before consumption. The company asks their customers to fill out a health survey, but they do not consider any dietary restrictions or medical conditions to make their recommendations.
The food recommendations only reflect the effect the food has on blood sugar levels and they do not account for other nutrition needs. The company does not provide a structured meal plan but offers a consultation with a registered dietitian to discuss the results.
Review of DayTwo Privacy & Data Security
DayTwo's Privacy Policy is governed by the laws of the State of Israel and any dispute is subjected to the jurisdiction of the competent court in Tel-Aviv, Israel. Users can review, amend, and delete any identifiable information, but the company may retain information as required by law or for legitimate business purposes.
They also state that non-identifiable information is considered non-confidential, non-proprietary, and unprotected, and they may share it with third parties for research purposes, industry and demographic profiling, and other commercial purposes.
The company does not claim ownership of personally identifiable information provided by users.
SelfDecode vs DayTwo
SelfDecode delivers natural supplements, diet, and lifestyle suggestions based on your genes that you can implement right away. DayTwo only offers diet recommendations.
SelfDecode tells you why they make each recommendation so that you can understand the science behind the suggestion. DayTwo makes their recommendations to help users control their blood sugar levels.
SelfDecode prioritizes recommendations based on their analysis of all the relevant genes instead of one gene at a time (through reports). DayTwo rates the foods in their database and presents the results from best to worst based on the scores.
SelfDecode takes a holistic approach to give recommendations that are best for your genes AND the health topic. DayTwo only offers dietary recommendations to help control blood sugar levels.
SelfDecode is the most comprehensive and looks at more genes & SNPs (up to 83 million) to deliver the best analysis of genetic risks. DayTwo only analyzes DNA from the gut microbiome.
SelfDecode supports everything with peer-reviewed scientific studies in their research and checks for contradicting information. DayTwo does not offer scientific references.
SelfDecode never sells your data or gives it away. DayTwo may share non-identifiable data with third-parties for research and commercial purposes.
Comparisons
| | | | | |
| --- | --- | --- | --- | --- |
| | SelfDecode | DayTwo | BIOHM | Viome |
| Personalized & holistic health recommendations | Yes | No | No | Yes |
| One-click regimen builder | Yes | No | No | No |
| Products | DNA testing, wellness reports, health recommendations, patient and provider options | DNA testing for gut health, dietary reports | DNA testing for gut health, gut health reports, supplements | Gut and Health intelligence reports, nutrition and supplement recommendations |
| Raw data access | Yes | No | No | No |
| Cost (USD) | $97 – $387 | $499 | $5 – $219 | $0 (limited) – $700 |
DayTwo Reviews
The company has recently arrived in the United States, so there are not many customer reviews available. However, the app has a significant amount of ratings from customers.
Google Play has an average customer rating of 3.8 of 5 based on 497 reviews. Most negative reviews include the fact that it presents a lot of technical problems, including issues loading the app and a poor user interface. Users also dislike the fact that the food database is not very extensive.
Customers from the Apple App Store rated the app 3.3 of 5 based on 50 reviews. They say the app crashes constantly and that the search algorithm is not optimal. On the other hand, some reviewers say DayTwo's services have helped them control their blood sugar levels.
Alternatives to DayTwo
SelfDecode: Get health, diet, and lifestyle recommendations based on your DNA and labs through detailed reports.
DayTwo Review Summary
DayTwo is a DNA testing company that focuses on profiling the gut microbiome to help their customers maintain healthy blood sugar levels. They score food items and complex meals so users can find out how their body will react to them before eating.
The company does not deliver a structured meal plan, but they offer the opportunity to speak to a registered dietitian to discuss the microbiome composition and answer any questions after users receive their test results.
DayTwo provides a good option for those who seek to monitor their blood sugar levels, but the test does not consider any other nutritional needs when making recommendations.
While controlling blood sugar plays an important part in overall wellbeing, other services like SelfDecode can offer a more holistic approach. SelfDecode uses AI and machine learning to analyze up to 83 million genetic variants to deliver personalized diet, lifestyle, and supplement recommendations, all backed by peer-reviewed scientific research through over 30 DNA Wellness Reports, including blood sugar.
Related