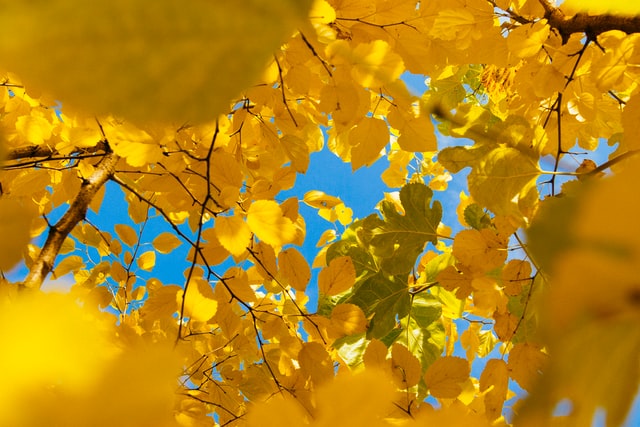 Overview
Products: DNA tests for health and wellness.
Cost: Practitioner prices are not disclosed on their website. Direct to consumer tests vary from $199 to $299.
Reports: Health and wellness reports, practitioner reports.
Raw data access: Yes.
Privacy: Toolbox Genomics claims not to share genetic information with third parties.
Alternatives: SelfDecode offers personalized health recommendations based on your genetic profile.
Pros
The company has a wide variety of health and wellness reports.
Toolbox Genomics provides patient and provider reports.
The results are categorized according to the impact they have on overall health.
Cons
Some tests can only be acquired through healthcare or wellness professionals.
Health recommendations are not very detailed.
The company does not provide scientific references with the patient's reports.
About Toolbox Genomics
Toolbox Genomics was founded in 2016 by Erika Gray, a UCSF-trained pharmacist, and Elvina Hewitt, a registered nurse and MBA.
The company is based in California, and the products are only available in the United States. They aim to help healthcare professionals incorporate genetic testing into their practice and provide gene-based recommendations to their patients.
The company uses scientific and FDA guidelines to select the best research available to generate their reports, and their grading system allows them to distinguish between high and low-quality scientific studies.
Review of Toolbox Genomics Products & Features
To get started with Toolbox Genomics, users need to get access through healthcare or wellness professionals. The company offers two categories of products, HealthcarePro and WellnessPro.
HealthcarePro tests are available through healthcare practitioners such as medical doctors, nurse practitioners, registered nutritionists, dietitians, and others. The tests include:
Cardiometabolic Panel: Analyzes 8 traits related to obesity, blood sugar, insulin resistance, and more.
Cognitive Panel: Investigates 155 SNPs associated with anxiety, depression, memory loss, and head trauma.
Energy/Fatigue Panel: Helps users uncover possible causes for their headaches, exhaustion, and joint pain by examining 60 genes.
GI Panel: Analyzes 5 traits linked to constipation, bloating, abdominal pain, and food intolerances.
Immune Panel: Provides information about skin irritation, autoimmune disorders, and brain fog by studying 120 SNPs.
Dr. Rob Gut/Brain Panel: Helps patients understand how gut conditions can affect brain health.
Dr. Rob TBI/Concussion Panel: For patients who are worried about cognitive decline and those who play contact sports. Analyzes 30 SNPs related to 5 traits.
WellnessPro tests can be ordered by wellness professionals, like health coaches, trainers, nutritionists, and more. The tests listed below fall under both the HealthcarePro and WellnessPro categories.
Epigenetics Panel: Helps individuals understand their aging process.
Respiratory Resilience: Provides insights into genetic predispositions to certain conditions and how nutrient deficiencies are connected to viral susceptibility.
Nutrition Optimization: Helps uncover possible nutrient deficiencies, food intolerances, and gives information about how alcohol and caffeine are metabolized. Analyzes 67 SNPs related to 20 traits.
Detox Panel: Examines 17 traits to help with fatigue, mood irregularity, and skin issues.
Endurance Performance: Studies 40 genes related to nutrition deficiencies, recovery ability, and injury susceptibility. Indicated for endurance athletes.
Health Enrichment: Provides information about various subjects, such as fitness, sleep, nutrition, injury, and more. Analyzes 78 SNPs related to 21 traits.
Hormonal Panel: Gives insights on irregular menstrual cycles, depression, irregular hormone levels, and more.
Weight Management: Highlights macronutrient needs and identifies predisposition to obesity and eating behaviors.
Dr. Rob Musculoskeletal Panel: For athletes or people who want to exercise more. Examines 15 genes linked to 7 different traits.
Healthcare practitioners can order a customized raw DNA panel with no recommendations. Toolbox Genomics states they accept genetic data from other DNA testing companies. The reports are ready in 6 weeks.
Review of Toolbox Genomics Reports
All Toolbox Genomics' reports are presented similarly. Only the Health Enrichment report will be reviewed in this section. The company first presents an overview of the impact each trait has on overall health, seen below.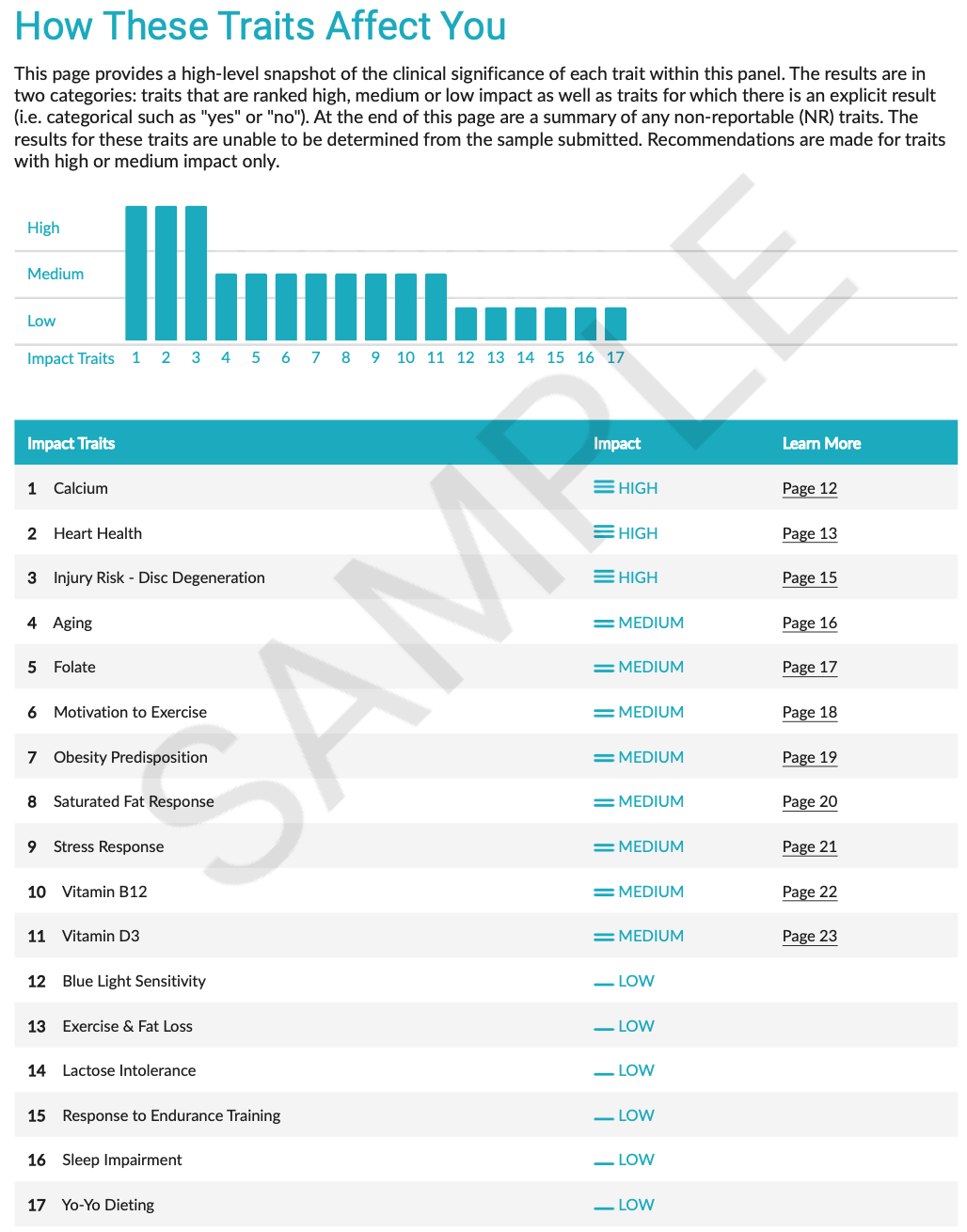 The report also provides a summary of all the recommendations, which are listed according to the level of importance to the individual. The company briefly explains their suggestions and informs which traits are linked to each recommendation, as shown below.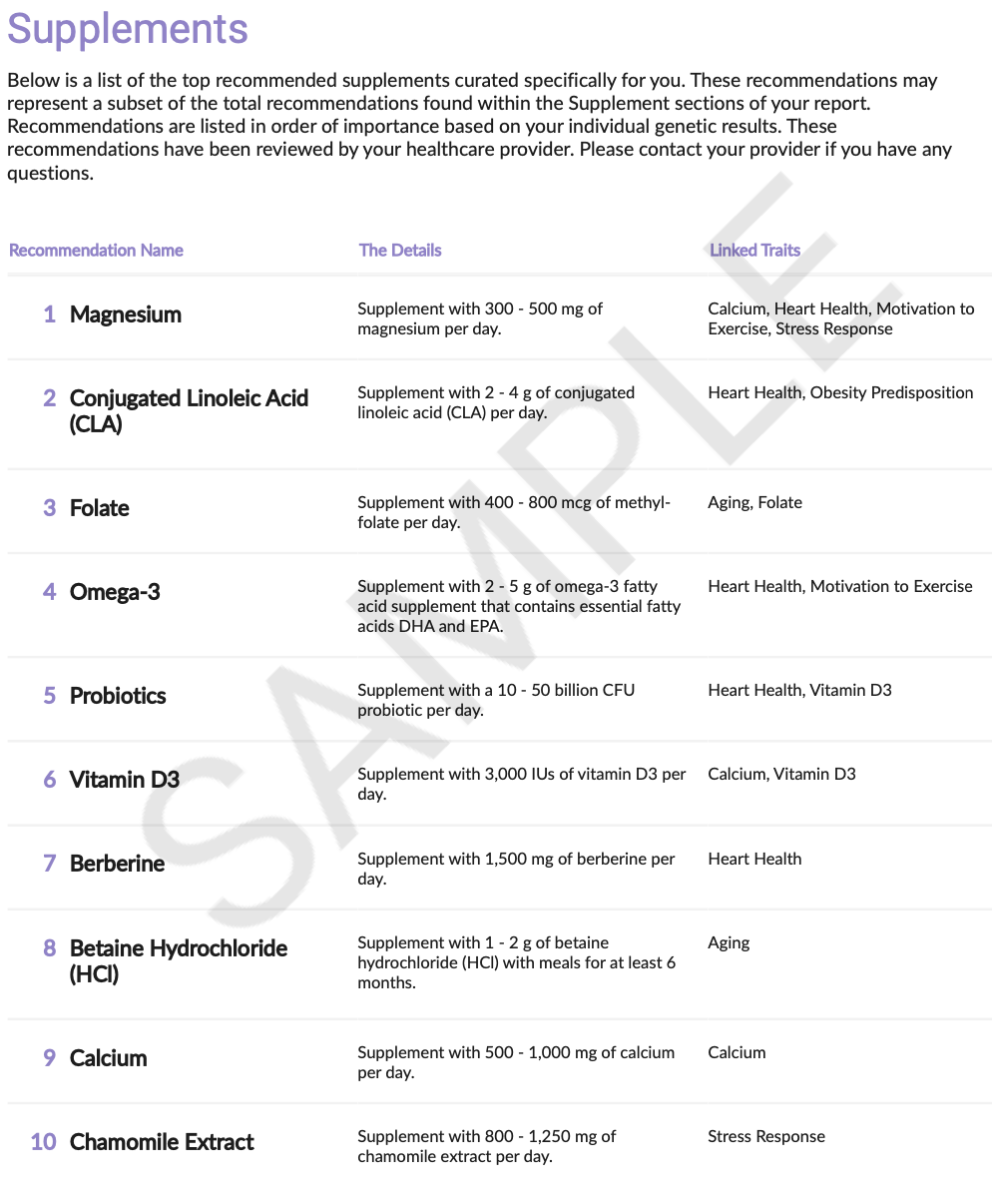 In the next section, the report presents the specific trait or condition, the genes and SNPs analyzed, and the recommendations. The company also includes suggestions for further testing for some conditions, but not all.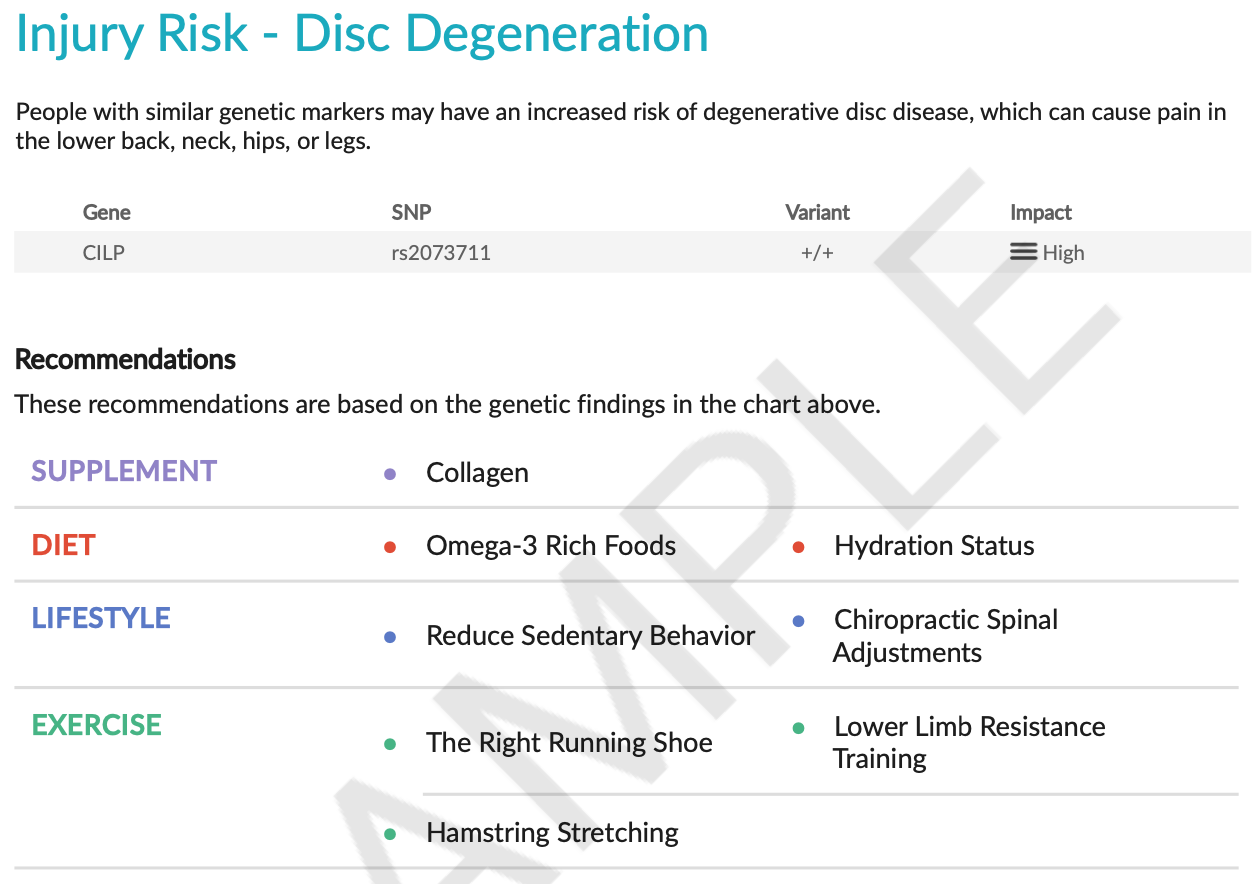 The recommendations section is not very detailed, and the advice can be generic. For example, the report tells users to pay attention to their hydration status, but they do not offer more specific guidance.
In addition to the patient's report, Toolbox Genomics offers a practitioner appendix containing the clinical significance of the results and scientific references, as seen below.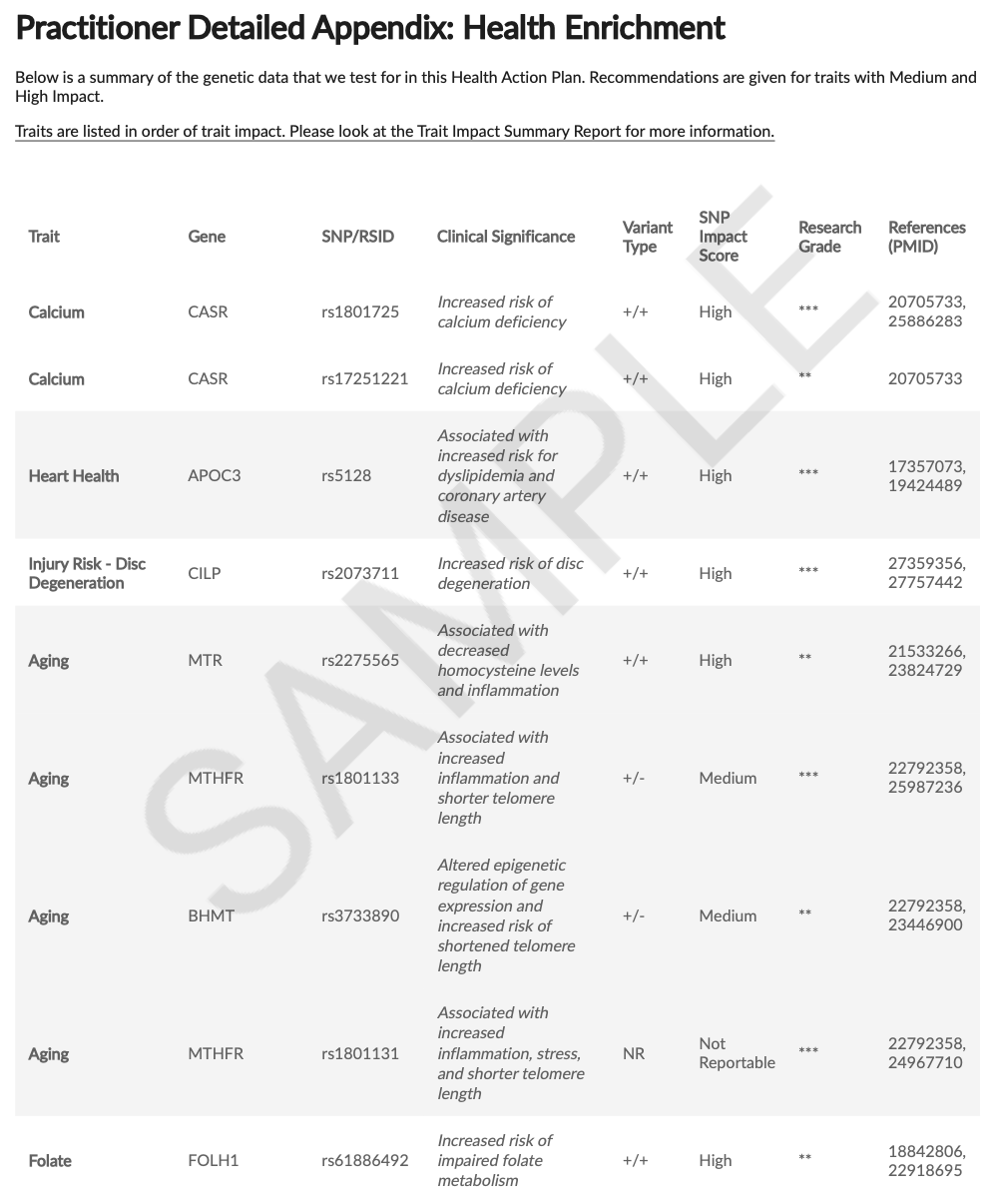 The report also informs on the impact the gene has on the condition analyzed. Toolbox Genomics lists the results by the trait, and they examine different genes and SNPs related to each trait.
Cost of Toolbox Genomics
The company does not disclose prices on their website for the practitioner tests. For more price information, users need to go through a healthcare or wellness professional. My Toolbox Genomics offers direct-to-consumer DNA and Epigenetics tests for $199 and $249, respectively, or $299 for the combo.
Health Recommendations from Toolbox Genomics
Toolbox Genomics gives health recommendations in their reports. The results are ranked according to the health risk they present, and the reports have a dedicated section in which all the health suggestions are displayed.
The recommendations are tailored to the individual, but they can be basic and generic. For example, the report presented above tells the user to consume omega 3-rich foods, but it does not offer any examples.
The company does not provide any additional resources for more information.
Review of Toolbox Genomics Privacy & Data Security
Toolbox Genomics claims not to share genetic information with third parties. They may use de-identified data to help improve their algorithm and reports.
The company states their website complies with HIPAA requirements. If a test was ordered through a practitioner, they will receive a copy of the report.
Users can request access to their raw genetic data via email, and they can ask the company to delete their information at any time.
SelfDecode vs Toolbox Genomics
SelfDecode delivers natural supplements, diet, and lifestyle suggestions based on your genes that you can implement right away. Toolbox Genomics offers diet, lifestyle, and supplement recommendations.
SelfDecode tells you why they make each recommendation so that you can understand the science behind the suggestion. Toolbox Genomics explains which traits are linked to each recommendation.
SelfDecode prioritizes recommendations based on their analysis of all the relevant genes instead of one gene at a time (through reports). Toolbox Genomics lists their recommendations in order of importance.
SelfDecode takes a holistic approach to give recommendations that are best for your genes AND the health topic. Toolbox Genomics analyzes various traits to make their recommendations.
SelfDecode has a team of over 60 highly skilled scientists, MDs, PhDs, NDs, and software engineers to make sure they deliver the most accurate and science-based health information. According to their website, Toolbox Genomics has 3 PhDs, PharmDs, and RNs on their team.
SelfDecode is the most comprehensive and looks at more genes & SNPs (over 83 million) to deliver the best analysis of genetic risks. Toolbox Genomics analyzes 18 to 155 SNPs in each report, depending on the test.
SelfDecode supports everything with peer-reviewed scientific studies in their research and checks for contradicting information. Toolbox Genomics shares scientific references in the practitioner's appendix, but not in the patient's report.
SelfDecode never sells your data or gives it away. Toolbox Genomics claims not to share data with third parties.
Comparisons
| | | | | |
| --- | --- | --- | --- | --- |
| | SelfDecode | Toolbox Genomics | DNALife | Pathway Genomics |
| Personalized & holistic health recommendations | Yes | Yes | Yes | Yes (limited) |
| One-click regimen builder | Yes | No | No | No |
| Products | DNA testing, wellness reports, health recommendations, patient and provider options | DNA testing, health and wellness reports, practitioner's report | DNA testing, health, nutrition, and fitness reports | DNA testing, health and fitness reports, specialized physician reports |
| Raw data access | Yes | Yes | No | Unavailable |
| Cost (USD) | $97 – $389 | Not disclosed | Not disclosed | $129 – $399 |
Toolbox Genomics Reviews
The expert at DNAWeekly rated the company 8 of 10. They dislike the fact that they only offer their tests through healthcare or wellness professionals, and they would like the reports to deliver more specific recommendations.
The reviewer likes how the company analyzes several traits in each report to address specific health conditions. The website discloses they may receive compensation when visitors purchase through a link provided by them.
9 Facebook users rated Toolbox Genomics 4.6 of 5 stars. One reviewer found the reports to be user friendly and informative, but one customer does not approve of their customer support.
Alternatives to Toolbox Genomics
SelfDecode: A direct-to-consumer DNA test that delivers personalized health recommendations through detailed wellness reports.
Toolbox Genomics Review Summary
Toolbox Genomics is a DNA testing company that helps healthcare and wellness professionals to improve the quality of life of their clients. They offer a wide variety of reports, but users cannot obtain most of them directly from the company without the permission of a healthcare or wellness professional.
The reports give diet, lifestyle, and supplement recommendations based on genetic results. However, their advice is not very specific, and the company does not provide any additional resources. For example, Toolbox Genomics does not recommend specific foods users should eat, or what their nutrient needs are.
SelfDecode offers health-focused DNA tests directly to consumers. SelfDecode analyzes up to 83 million genetic variants to generate detailed reports and personalized recommendations, all backed by scientific evidence.
For healthcare providers, SelfDecode also offers a professional plan to help improve patients' quality of life by combining the information found in their DNA, lab test results, and environmental factors. SelfDecode's professional plan users have found that by using gene-based health, they are able to provide more personalized health recommendations, and patients benefit by having a better understanding of their genetic predispositions to certain health conditions.
Related