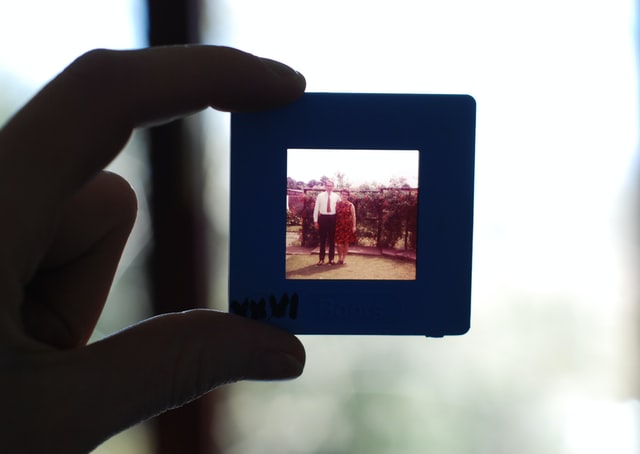 Overview
Products: Genealogy research tools
Cost: Free level, Silver – $5/mo or $50/yr, Gold – $10/mo or $100/yr
Reports: Gene match information
Raw data access: DNAGedcom does not offer DNA testing and requires users to have access to their raw DNA data
Privacy: Does not sell user data to third parties
Alternatives: SelfDecode – The best option for health-focused DNA analysis with personalized reports, symptom analysis, and health recommendations.
Pros
Offers tools for gathering, processing and analyzing GEDCOM data
Rapid growth of users, server capacity, and customer support
New tools are released periodically
Cons
Intended for advanced users and not intuitive for the inexperienced
Does not provide any health recommendations based on DNA
Does not offer DNA testing
About DNAGedcom
DNAGedcom was founded in February 2013 by Rob Warthen, Karin Corbeil, and Diane Harman-Hoog. They offer an application that allows people to download data from 23andMe, Family Tree DNA (FTDNA), GEDmatch, and MyHeritage.
In addition, the website can compare many Gedcoms (computer files containing your family tree data) at one time through its tools. The website also provides tools that allow you to quickly group your data in a visually appealing manner.
Review of DNAGedcom Products & Features
DNAGedcom helps users download complete DNA files and data from FTDNA, Ancestry, and 23andMe. The website also helps users quickly analyze their data.
DNAGedcom offers an analysis of Gedcom files and provides tools that can help users visualize their family trees in greater detail. Gedcom (Genealogical Data Communication) is a plain text file that contains information on a person's family tree and is used for transferring genealogical information between genealogy softwares.
To get started, the website requires you to create a free DNAGedcom account. However, the company asks that you subscribe to have access to all the features.
DNAGedcom Client App
The DNAGedcom Client app is the software used to download DNA data fro other providers. Optimized for both Mac and Windows, this software downloads the data directly into the computer.
In order to use this feature to download data from FTDNA, 23andMe, and MyHeritage, a DNAGedcom subscription is required. After choosing a plan and making the purchase, users are granted access to this application.
Upon launch, the application asks for the DNA Gedcom login information.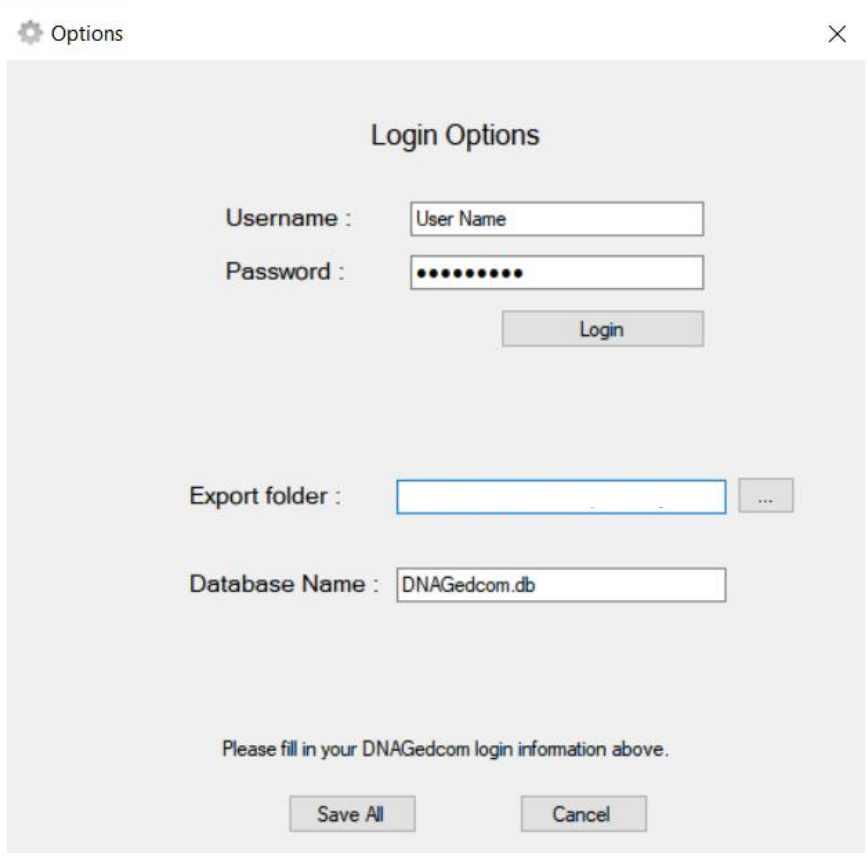 After verifying the subscription, users can choose between downloading their data from the different DNA providers.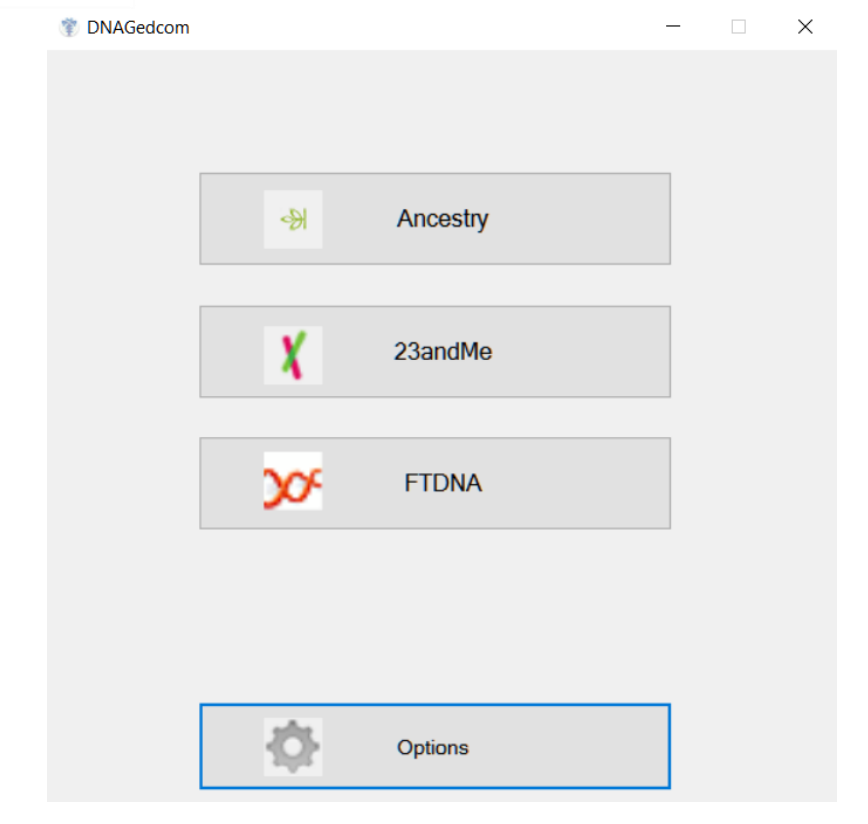 After choosing which company to download raw data from, DNAGedcom requires users to enter their login information for the account they wish to download. For example, those who want to download their data from FTDNA will need to input their kit number from FTDNA and password. The Client application requires a slightly different process for each DNA provider.
Once the data is finished gathering, users can upload it to DNAGedcom.com by simply clicking on "Sync with DNAGedcom", as shown below.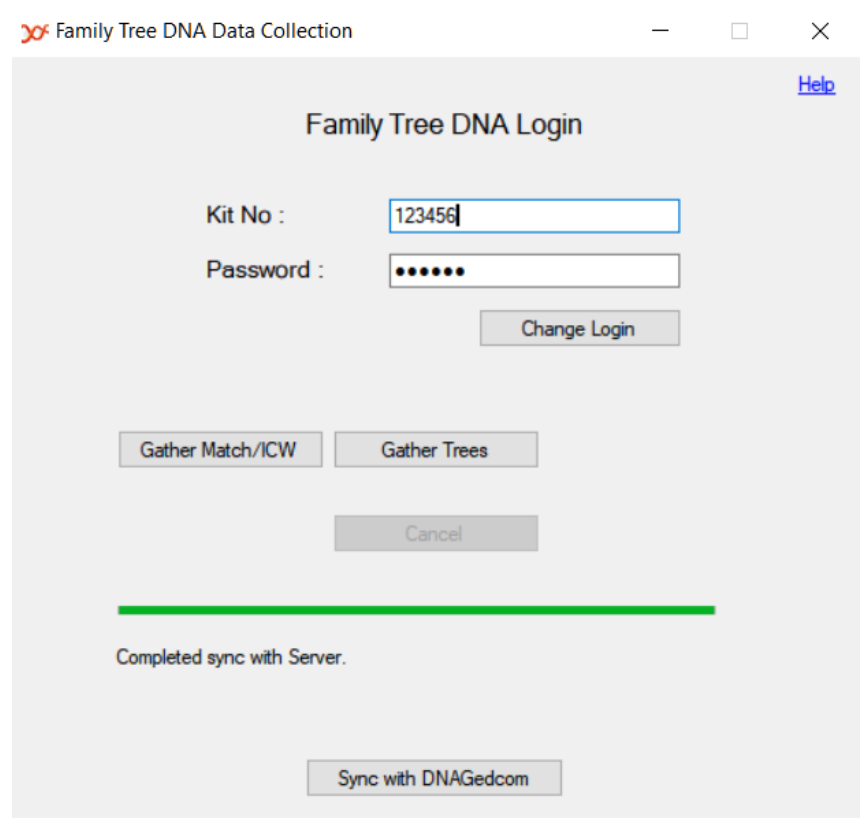 Then, the file will be available in the relevant directory on the website to use with other tools.

Autosomal DNA Segment Analyzer
This tool uses data uploaded to DNAGedcom to generate tables of information on users' matches, DNA segments, and ICW matches. Members then can triangulate matching segments among groups of three or more people. Although, as explained in the Autosomal DNA Segment Analyzer quick guide provided by the company, this tool doesn't provide "perfect triangulation."
GEDmatch Data Uploader
You must be a Tier 1 GEDmatch member in order to download segments and ICW information. This will allow users to analyze their data from Gedmatch. Afterward, the end files can be used in JWorks and KWorks (see below).
JWorks
This downloadable Excel tool creates a spreadsheet of overlapping segments and your ICW status among your matches, which helps identify potential groups for triangulation. ICW status refers to whether one of your matches shares DNA with another of your matches, usually indicated by an X. The tool requires three things:
Chromosome browser data (segment data)
A full match list
ICW status.
KWorks
This tool generates a spreadsheet of overlapping segments and ICW status among matches, which helps identify potential triangulation groups. KWorks is the online version of JWorks and requires the same three components.
GWorks
This tool compares family tree information to identify shared ancestors. GWorks can also sort and filter tree information and perform Boolean searches of the trees. It can use Gedcoms uploaded by the user, and family tree information obtained using the DNAGedcom Client app.
Match-O-Matic
Integrated to be supported on both Windows and Mac, this tool allows users to review matches with users with similar DNA configurations and visually see how they may be related. It also permits users to tag the matches for more detailed clustering.
Review of DNAGedcom Reports
DNAGedcom has tools to find people that users may be genetically related to by showing which segments of DNA they have in common. Thus, adoptees can find missing family members as it provides genetic data on different sides of a user's family. Various types of files are generated which help to locate people sharing genetic links.
For instance, an ICW file generated from the software will provide a list of all the names of people who matched and also how to contact them. Users can use the generated report to find potential relatives on databases such as Ancestry.com.
Cost of DNAGedcom
In order to use DNAGedcom Client App, users will need to pay a subscription fee. The DNAGedcom Client App is a stand-alone program that allows users to download data from Family Tree DNA, and 23andMe.
The Silver subscriber level gives you access to the DNAGedcom Client which includes:
Ancestry DNA
FTDNA
23andMe
My Heritage (Beta)
GEDmatch Genesis (Beta)
The subscription fee for the Silver level is $5 a month. Users can subscribe for a whole year for $50.
The Gold subscriber level gives you additional features:
Higher Level Support
Support the addition of Documentation to DNAGedcom
Support the creation of additional features to DNAGedcom
Run multiple clients
The subscription fee for the Gold level is $10 a month. Users can subscribe for a whole year for $100.
Genealogy vs Health
DNAGedcom does not provide a service centered around health and wellness. Instead, this genealogy company offers valuable tools to those who wish to explore their family history.
Finding out more about where you come from can be entertaining and help people understand more about where they came from. However, DNA analysis can also provide people with a wealth of information regarding their health.
DNAGedcom users who wish to learn more about their past may also be interested in seeing how genetics can affect their overall well-being. This can be accomplished by uploading their DNA data to services such as SelfDecode to get actionable insights into their health.
Review of DNAGedcom Privacy & Data Security
According to their policy, the company does not now, nor will it in the future, sell, rent or lease any of their customer lists and/or names to any third parties.
DNAGedcom may disclose users' personal information, without prior notice, only if required to do so by applicable laws and/or when deemed necessary or as stated in their Privacy Policy.
DNAGedcom Reviews
There are limited aggregate customer reviews online such as GenSoftReviews, where two users rated it 5 out of 5 stars. Both users stated that the site provides many tools for genealogy research, but that the documentation is lacking and the tools can be difficult to figure out.
Several blog articles help walk a user through the complicated process of using the site such as dataminingdna.com.
On Facebook, the company received a rating of 5 out of 5 stars based on the opinion of 14 people. Reviewers say it's a useful tool for DNA analysis.
Alternatives to DNAGedcom
DNAGedcom requires users to have access to their raw DNA data to use their tools. It can provide a good way for people to learn more about their genealogy and find new relatives. However, DNA analysis can offer much more than just ancestry information. Genetics can also influence many aspects of health, and some companies can provide health insights based on your genes.
SelfDecode uses artificial intelligence and machine learning to analyze up to 35 million genetic variants from a typical DNA file (like 23andMe and Ancestry) and gives personalized recommendations to help people improve their health.
For those who are still looking to have their DNA tested, SelfDecode also offers a DNA kit.
DNAGedcom Review Summary
DNAGedcom provides an additional way for people to further explore their genealogy by using their preexisting raw DNA file. The subscription prices are affordable, but users need to be willing to learn how to navigate the complicated application.
As a genealogy-focused company, DNA Gedcom does not offer any information about your health. For those also seeking DNA-based insights to help them improve their overall well-being, they will need to look elsewhere.
Genetic testing can highlight what makes people unique. Other companies such as SelfDecode can analyze DNA to give a genetic risk score and easy-to-understand diet, lifestyle, and supplement recommendations aimed at improving overall well-being.
Related