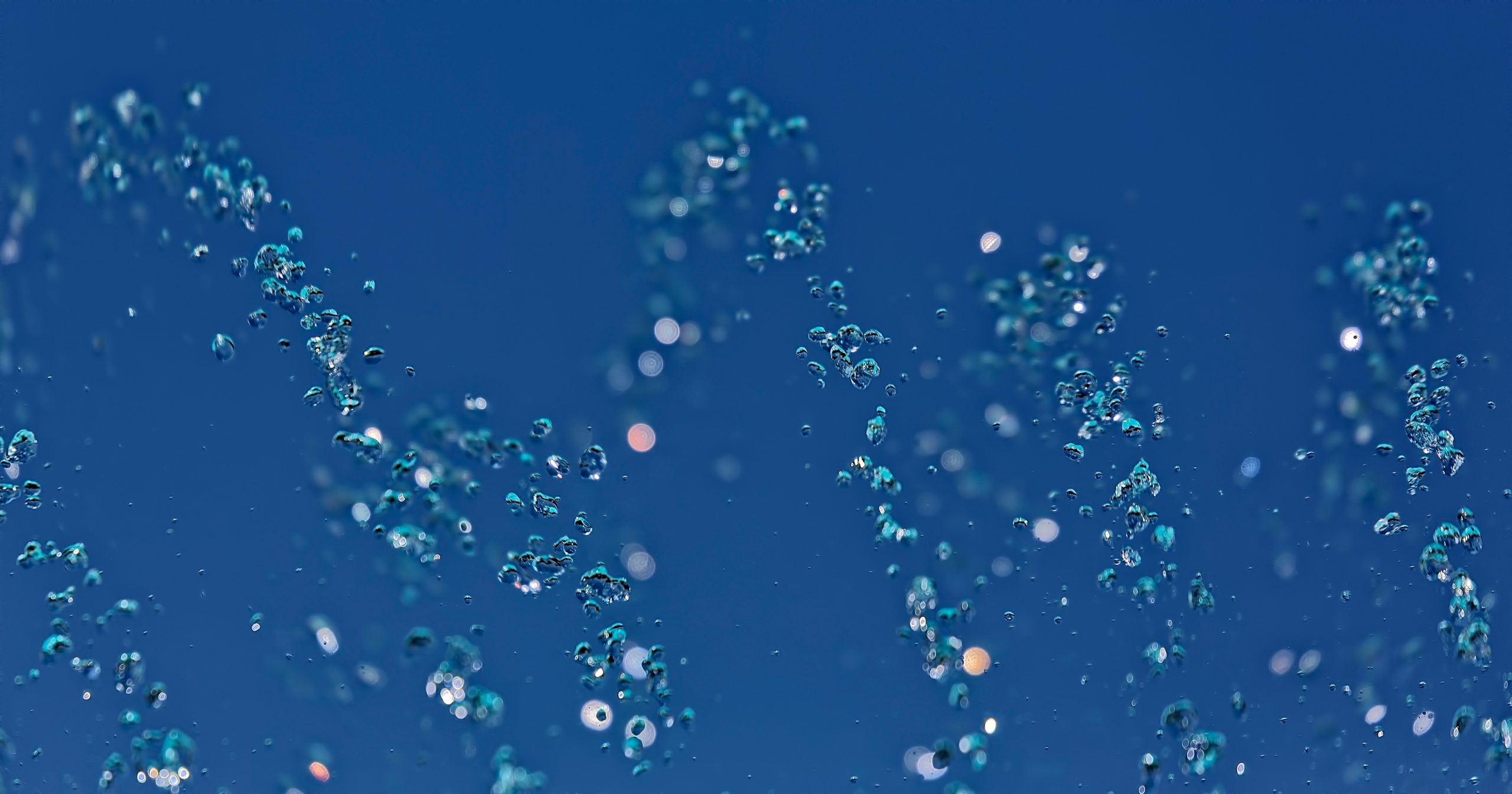 Overview
Products: CRI Genetics offers DNA tests for in-depth ancestry tracing and health insights.
Cost: CRI has two individual testing kits and three bundles.

Ancestry: $99
Weight Loss: $99
Ancestry + Health: $199
Allergy + Health: $199
Weight Loss + Allergy: $199

Reports: CRI provides interactive ancestry and wellness reports in five categories: Health, Allergies, Nutrition, Vitamins, and Traits. The number and type of reports included depend on the package ordered.
Raw Data Access: CRI does not have an option to see or download raw data directly from the client's account; however, access can be granted upon request.
Privacy: CRI encrypts all data and claims not to share it with any third parties unless required by law. They do conduct an ongoing Genetic Research Project to which the client consents upon registering the testing kit. Only anonymous genetic data is used in the project, as the lab never receives any identifiable personal information. All DNA samples are stored for one year, and the client can request to delete their account and destroy all associated material at any time.
Alternatives: SelfDecode – Holistic health reports and personalized recommendations based on thorough genetic and lab analysis and the latest scientific research.
Pros
Results are easy to interpret for everyone, including a detailed and interactive ancestry component. Health insights are stated as facts with simple scientific explanations and potential lifestyle implications.
Midline cost of $99 per kit.
An informative blog with the news from the scientific community and advancements in genetic research.
8-week efficiency guarantee – if a client doesn't receive their results within 8 weeks, they get a 100% refund.
Entirely privately owned and does not sell data to third parties.
Cons
Allergy and Health testing kits cannot be ordered separately, only in bundles.
Cannot upload raw DNA data from other sequencing services.
Wellness recommendations based on genotypic results are brief and generic.
Other noteworthy reports that could be generated based on DNA analysis, such as disease predispositions and cognition, are not available.
Several customers have expressed concern regarding results accuracy and hidden charges.
No worldwide shipping.
About CRI Genetics
CRI Genetics was founded by Alexei Fedorov Ph.D. in 2017 in Santa Monica, California. Fedorov is a molecular geneticist with 35 years of experience, who apprenticed and partnered with Nobel Prize-winning scientists. He is a professor and director of Bioinformatics Lab at the University of Toledo and Chief Scientific Officer of CRI Genetics. Fedorov is very passionate about his research and believes that "genetic analysis is the future of medicine."
Review of CRI Genetics Products & Features
CRI Genetics offers two general types of testing – ancestry and health. Their BioGeographical Ancestry analysis claims to combine genetics, statistics, and anthropology to discover genealogical origins dating back 50 generations. It provides a heritage breakdown along with a timeline pinpointing when each ancestral group was added to the lineage. Haplogroup information showing familial migration and potential connection to famous people is also included.
The health reports are generated using the same raw data and can be bought together with ancestry, or later as an add-on. The complete wellness overview includes findings regarding some personal traits, allergies, nutrition, metabolism, substance responses, and hormones. It is possible to purchase a part or a variation of the health reports.
The company analyzes 527,414 gene markers in each DNA sample using Fedorov's algorithm. CRI Genetics has recently expanded their allergy and nutrition categories. The company claims to add new reports every month, providing clients with further insights. However, they do not offer reports in categories other than those stated above, limiting what you can learn regarding your health.
Review of CRI Genetics Reports
The ancestry section has 5 types of reports available as shown below.

First is the Advanced Ancestry Analysis, which includes ancestry composition and relevant history about each identified region. There is a standard preface outlining what the report shows and how the results were generated. The explanation is followed by an interactive map with genealogical breakdown by percent. By clicking on the percentages, the map zooms in on the area and a description of the selected area appears. Below is an example of this report.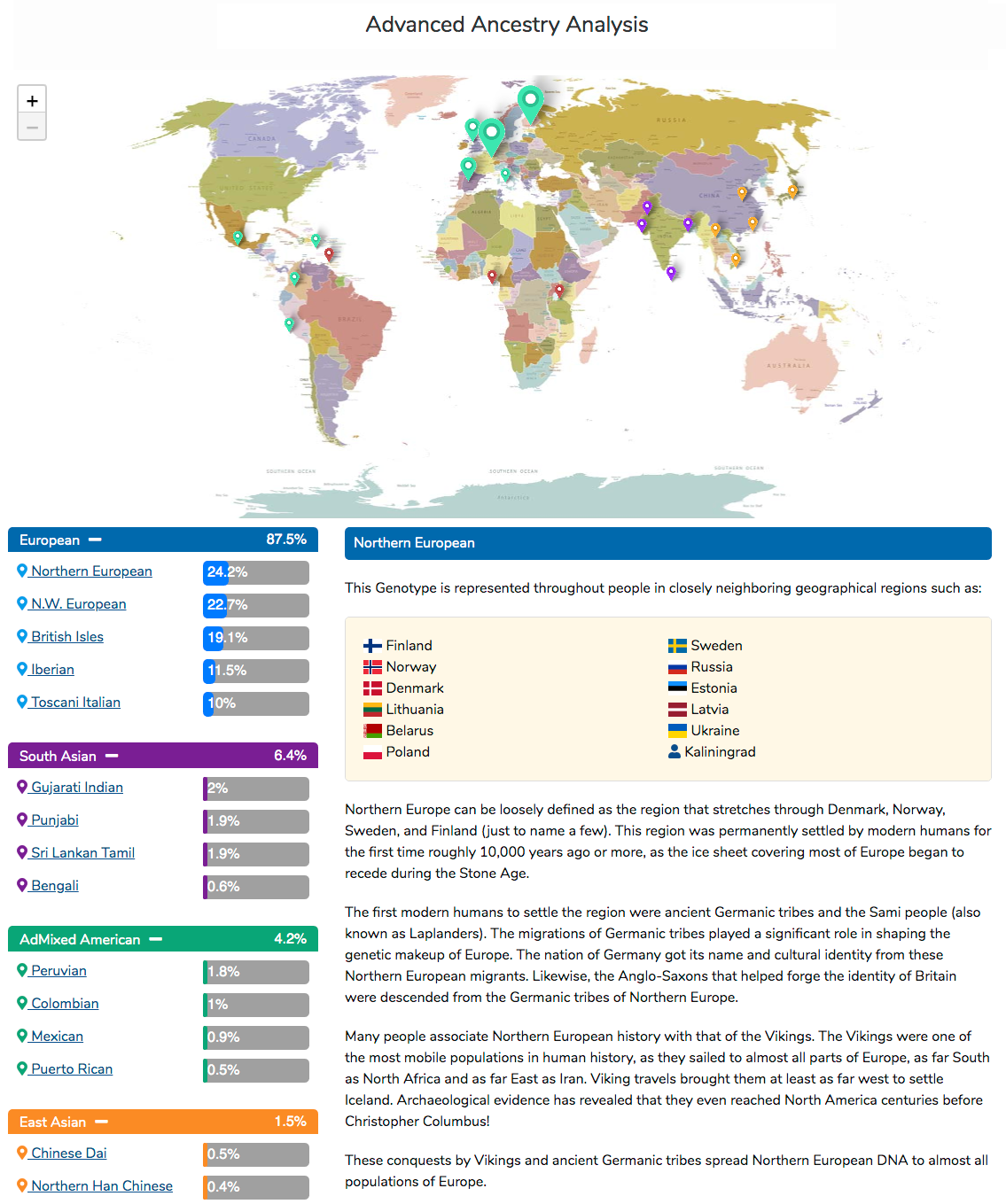 Next are the maternal and paternal haplogroup reports. The maternal report is based on mtDNA, which is passed on through mothers to children, making it available to both males and females. However, the paternal report can only be generated for male clients as it relies on the Y chromosome that is passed on from fathers to sons.
This analysis identifies the haplogroup the client belongs to and traces their lineage accordingly. These reports are also informative and interactive – stating facts about the haplogroup itself and illustrating past ancestral haplogroup migrations. An example of a maternal haplogroup report is presented below.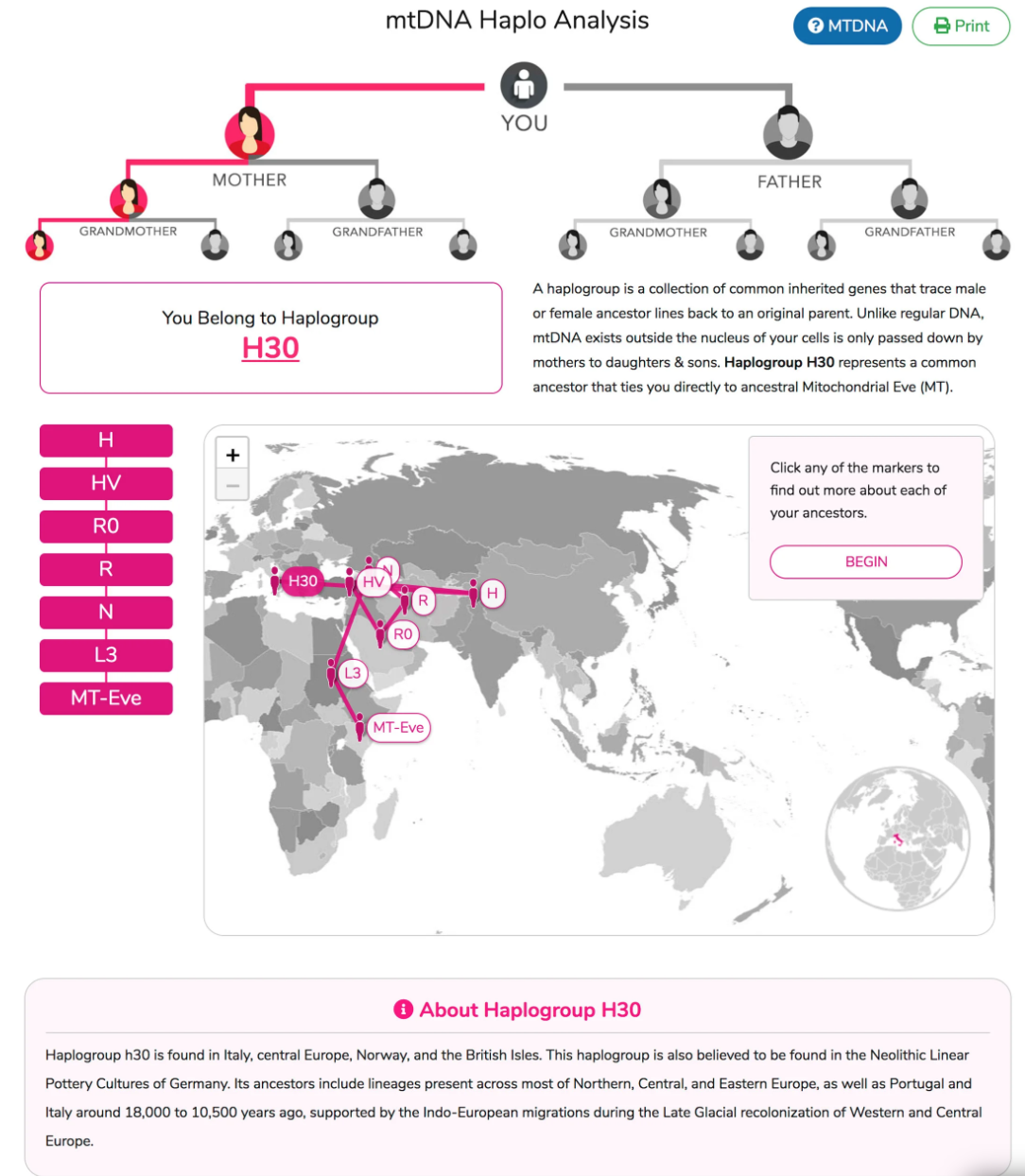 The haplogroup analysis is also used for the Famous People Report. The report lists and provides a brief description of well-known figures that have the same haplogroup as the client. Below is a sample of this report based on both mtDNA and Y-DNA.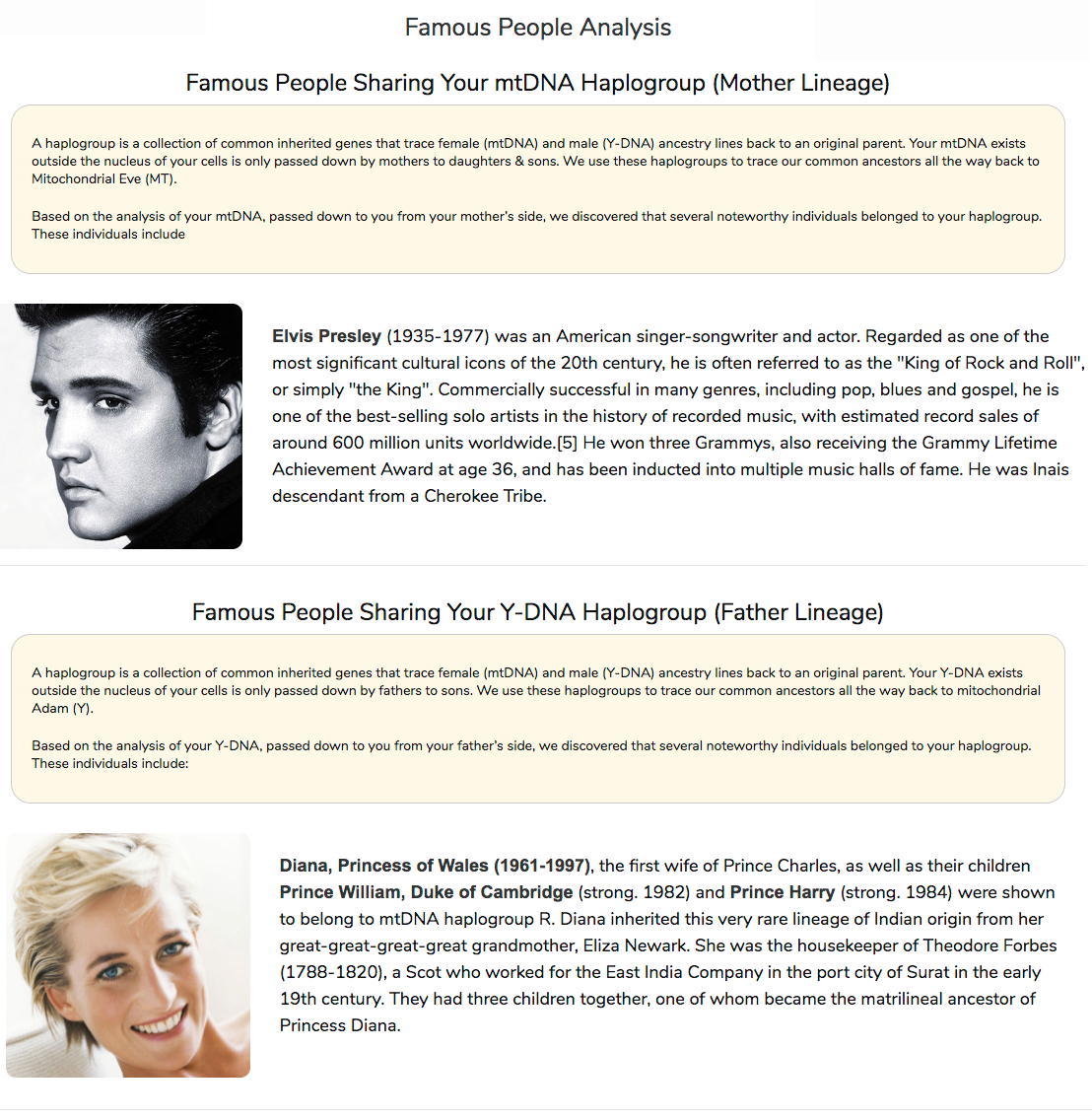 The last ancestry statement concerns the genealogical timeline. It approximately outlines when each specific type of heritage became a part of the client's genealogy. This report gives more scientific detail on where the estimates came from, citing the chromosome number and the SNP segment that matched a certain group. An excerpt from a timeline can be found below.
Overall, the ancestry reports are thorough, easy to understand, and enjoyable to navigate and learn from. Nonetheless, it is unclear how exactly the Advanced Ancestry Analysis is done to such a level of detail and if the method used is accurate. Haplogroup explorations inspire some confidence, yet more explanations and citations from CRI are still needed.
The health reports are divided into five categories – Traits, Health and Wellness, Allergy, Nutrition, and Metabolism. Each category has six to eleven reports that state genotype features and give a likely/unlikely of low/normal/high probability, like in the example below.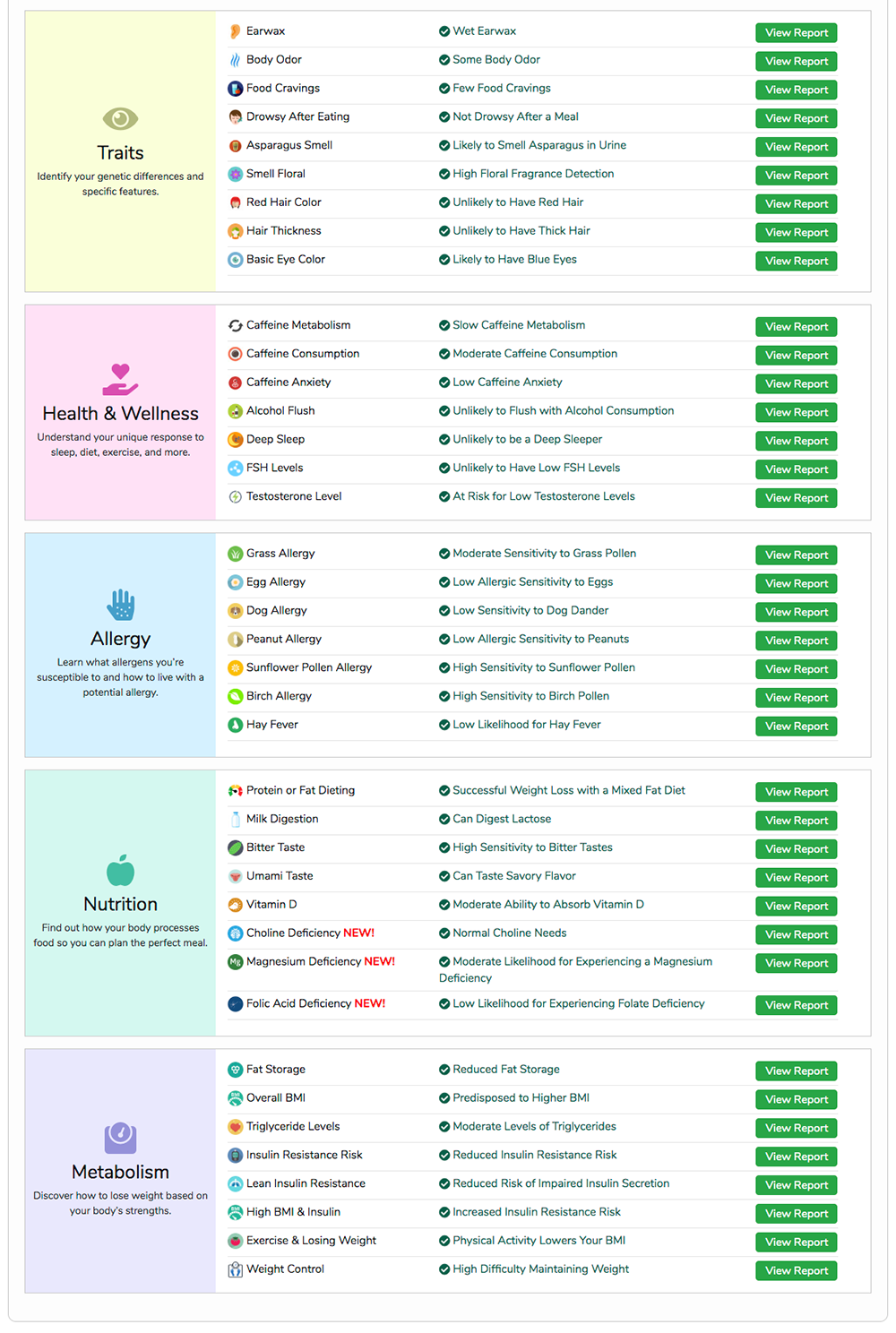 By clicking "view report" the client can explore in greater detail what it means to have a certain genotype. There is a section that explains how CRI got this result and what gene markers are responsible for the outcome. Based on the predispositions, CRI makes recommendations about lifestyle adjustments for a healthier body. Below are examples of a nutrition and a metabolism report.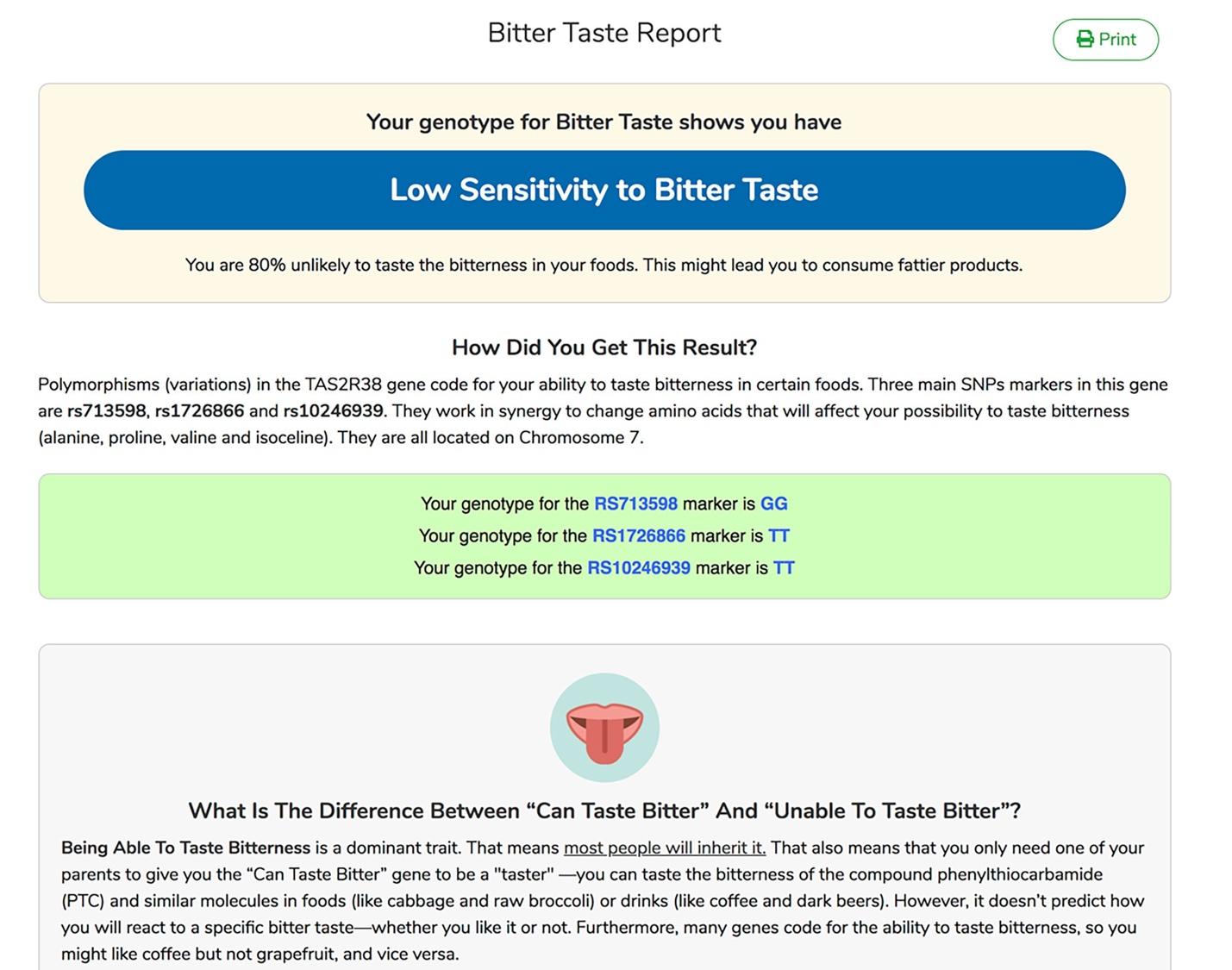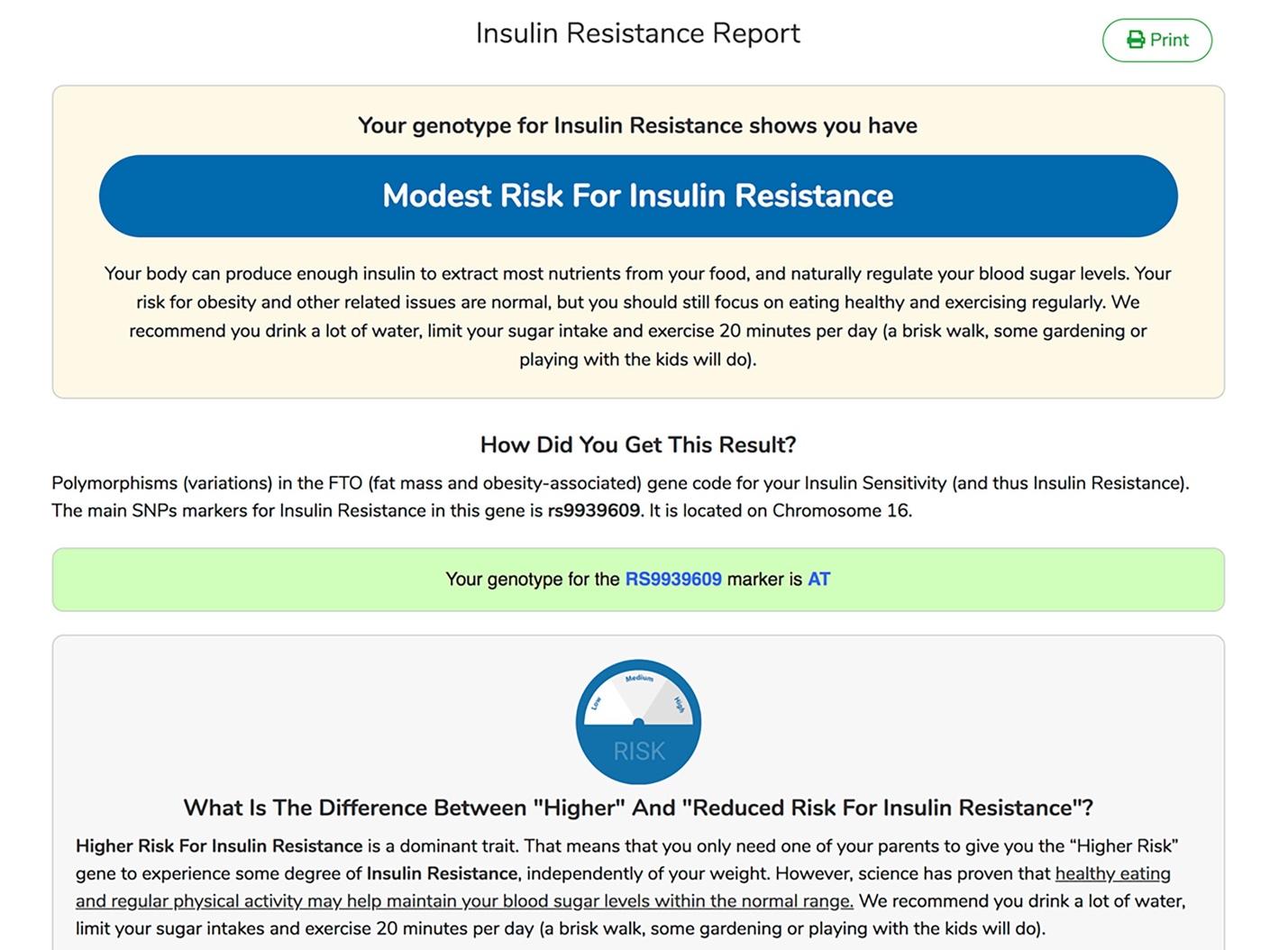 In general, the health reports are written in simple language and are easy to understand. They have some detail and provide several scientific explanations. However, the number of traits and insights afforded is very limited and the lifestyle recommendations given are very generic and do not take into account all the individual attributes. In addition, the health reports do not cite any research that was used to establish the correlation between the marker and its meaning.
Cost of CRI Genetics
Individual tests from CRI Genetics that include a collection kit and the relevant reports cost $99 each. Only Ancestry and Weight Loss can be bought independently. The Health reports can be added to ancestry for $199 or bought as a package with Ancestry for $199. There are two more bundle options for $199 each – Allergy + Health and Weight Loss + Allergy. All products have a $5.95 shipping fee.
CRI Genetics' prices are mid to high end compared to other DNA analysis companies offering similar services. There is no subscription option available and CRI does not allow DNA sequence upload from other sources. It is debatable whether the level of detail provided, especially in the health and wellness section, is worth the cost.
Health Recommendations from CRI Genetics
As mentioned previously, CRI does make limited lifestyle suggestions in each health and wellness report. The recommendations are very rudimentary and boil down to a variation of "drinking water", "eating healthy" and "exercising regularly" no matter the genotype. There is no individualized approach to the client's results.
Moreover, CRI Genetics does not assess disease predispositions – a common analysis among DNA testing companies. This is a missed opportunity that plays a big role when learning about oneself and looking to make lifestyle adjustments.
CRI markets the health insights as key to learning about the body and leading a better life. In reality, the amount of reports and information provided may be enough to make some basic corrections but certainly not to build a holistic and unique health profile. A lot more information can be extracted from gene data, as evidenced by the approach of other companies like SelfDecode, providing a comprehensive feature overview and offering nuanced suggestions.
Review of CRI Genetics Privacy & Data Security
Upon registering the kit, the client has to accept the Terms & Conditions as well as Data Consent Agreement. The Agreement states what type of personal data is collected, what it will be used for, and what rights the client has under GDPR.
CRI's biggest claim is that they do not pass on any personally identifiable information, even to their lab and storage facility. They do, however, implement the anonymous genetic data in their Research Project. By accepting the Agreement, the client consents to have their data added to CRI's database and be used for results that may be published in journals. Third party companies may have access to these results as well, for securing funding. Otherwise, CRI does not share or sell clients' data with third parties, unless required by law.
Regarding data deletion, the client can erase their account along with all reports. DNA data used in the Research Project is not destroyed automatically. The client must contact CRI directly to be completely removed from the database.
SelfDecode vs CRI Genetics
SelfDecode provides thorough reports that include natural supplement, diet and lifestyle suggestions ​based on the genotype. CRI only offers broad diet and lifestyle advice that doesn't seem to be tailored to the individual results.
SelfDecode explains ​why they make each recommendation​. Every conclusion is based on ​peer-reviewed scientific studies that are cited, verified, and updated as new discoveries are made. CRI does state what gene marker led to a specific outcome, yet they do not offer a clear description of their analysis methods or the research evidence used to establish said results.
SelfDecode takes a ​holistic approach​ to health advice, grounding their analysis on ​all​ of the relevant genes instead of one gene at a time. CRI makes suggestions for each genetic condition separately without accounting for their potential, compounding effects. The small amount of features analyzed also results in an incomplete understanding of one's wellness.
SelfDecode has a team of over 60 highly skilled scientists, MDs, PhDs, NDs, and software engineers to make sure they deliver the most accurate and science-based health information. CRI Genetics' algorithm was designed by their founder, Dr. Alexei Fedorov.
SelfDecode is the most comprehensive and looks at more genes & SNPs (up to 83 million) to deliver the best analysis of genetic risks. The CRI Genetics DNA test analyzes over 500,000 SNPs. However, they only appear to include a few in each report.
SelfDecode supports everything with peer-reviewed scientific studies in their research and checks for contradicting information. CRI Genetics does not cite any clinical research in their reports.
SelfDecode ​never

​ ​

sells, gives away, or uses data

for any purpose other than improving client experience. CRI does apply anonymous client data to their own Research Project the results of which may be published and viewed by third parties.
Comparisons
| | | | | |
| --- | --- | --- | --- | --- |
| | SelfDecode | CRI Genetics | 23andMe | AncestryDNA |
| Comprehensive personalized holistic health recommendations | Yes | No | No | No |
| Genes & gene variants analyzed | Up to 83 million genetic variants | ~500,000 SNPs | ~640,000 SNPs | ~640,000 SNPs |
| Products | DNA testing, wellness reports, research-based health recommendations, lab test analyzer | DNA testing, ancestry, traits, health and wellness reports | DNA testing, ancestry, traits, and wellness reports | DNA testing, detailed ancestry and lineage tracing, health reports |
| Raw data access | Yes | Yes, upon request | Yes | Yes |
| Cost (USD) | $97 – $396 | $99 – $199 | $99 – $499 | $99 – $119 |
CRI Genetics Reviews
Trustpilot – 27 Customer Average Rating of ​1.7 of 5 stars
Customers commonly complain about ancestry result inaccuracies, logistical problems, and billings for unexpected costs.
DNAtestingchoice.com – Editor's Rating of 3.5 of 5 stars
The editor enjoyed how thorough and interactive the ancestry report was. They expressed concern that the Ancestry Composition report contradicted the Ancestry Timeline report. The lack of transparency on how the particular results were achieved caused the editor to doubt the claimed reliability.
Better Business Bureau – 308 Customer Average Rating of 3.23 of 5 stars
Similar to Trustpilot, many customers have an issue with the accuracy of the ancestry results. They are also dissatisfied with the level of detail in the reports, especially for the price. Extra costs compounded at checkout and overbilling continue to be a problem. There is a general sense of deception and misleading advertising on CRI's behalf. On the bright side, CRI continuously responds to unhappy clients, issuing full refunds.
Read what people are saying about CRI Genetics on Facebook​
Unlike other review platforms, comments on CRI's Facebook page seem to be mainly positive. Clients are happy with the amount and depth of information they have received.
Alternatives to CRI Genetics
SelfDecode​: The ultimate option for DNA analysis that presents a holistic overview of one's health based on their genetic makeup. SelfDecode offers personalized diet, lifestyle, and supplement recommendations based on your DNA.
CRI Genetics Review Summary
CRI Genetics offers some engaging ancestry reports as well as gene-specific health insights and recommendations. CRI's goal is to help clients learn about their history and find ways they can improve their lifestyle choices. That said, the number of health reports available is not enough to build a well-rounded understanding of one's wellness, and the suggestions provided address issues only on the surface level.
CRI applies a patented algorithm to analyze 527,414 genetic markers and claims that the results are extremely accurate. However, there are concerns regarding their analysis methods and a lack of clarity about how they reach their scientific conclusions. They fail to cite any clinical research and many clients are apprehensive about the validity of their results. In fact, numerous reviews question the legitimacy of their reports and the depth of the analysis. The ordering process is confusing as well since clients have expressed being perplexed by the package contents and the associated charges.
To give a contrasting example, SelfDecode uses up to 83 million gene variants to generate much more extensive wellness reports that cover a wide array of health topics such as mood, heart health, anxiety, and cholesterol (these are constantly updated with the latest research and new reports are released every week).
In addition, the results are accompanied by meticulous explanations and individualized health suggestions that take into account all relevant genomic data. There is no alternative to SelfDecode in terms of the level of detail and personalization, making it the best choice for understanding all the nuances of one's health profile.
Related