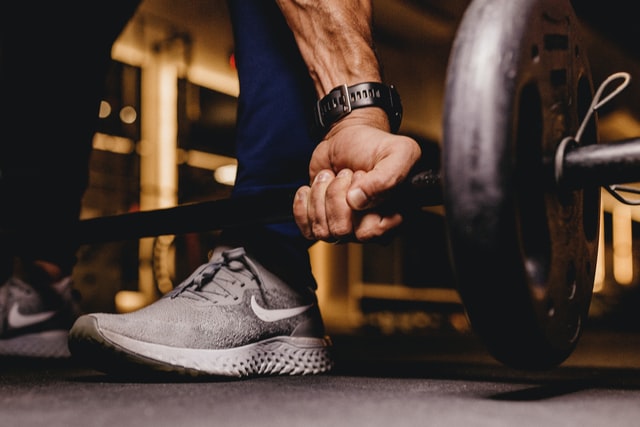 Overview
Products: DNA upload services, health, and nutrition reports.
Cost: The Comprehensive Report costs $25, but users can choose to become a premium member for $15 to $250 a month.
Reports: Health and nutrition reports.
Raw data access: The company does not offer DNA tests and requires users to have access to their raw genetic files.
Privacy: FoundMyFitness may share personal information for their core services.
Alternatives: SelfDecode offers personalized health recommendations through several detailed reports.
Pros
The company allows raw genetic data file uploads.
The reports are ready in a few minutes.
FoundMyFitness offers a free podcast.
Cons
The company does not offer DNA testing.
The genes analyzed and selected are solely based on Dr. Rhonda Patrick's experience in the field.
The reports do not provide recommendations for all the conditions analyzed.
FoundMyFitness only accepts raw data from 23andMe and Ancestry.
Limited number of genetic markers analyzed per report.
About FoundMyFitness
FoundMyFitness is a DNA upload and analysis website founded by Dr. Rhonda Patrick, a Ph.D. in Biomedical Science from the University of Tennessee. She also has a postdoctoral fellowship at the Children's Hospital Oakland Research Institute.
Dr. Patrick wants to encourage people to take control of their health in a proactive and preventative manner. She hosts the FoundMyFitness podcast, which provides free information on nutrition, genetics, immunology, and more.
Review of FoundMyFitness Products & Features
FoundMyFitness generates health and wellness reports by analyzing preexisting genetic files. Customers upload their raw data to the website and the results are available in less than 10 minutes. The company accepts DNA files from 23andMe and Ancestry.
The reports are based on studies chosen by Dr. Rhonda Patrick, and they analyze selected genes that she believes have the greatest impact on health span. Dr. Patrick states that as new studies arise, her list of genes may change. She suggests that users have their genetic data reanalyzed periodically to account for her possible corrections.
The Comprehensive Report investigates several health and wellness aspects, such as cholesterol, longevity, fitness, and nutrient needs.
The Premium Membership combines the Comprehensive Reports with lifetime updates. It also includes early access to podcast interviews with professionals in the medical field, and members get access to a private library with articles about longevity, aging, cancer, and more.
FoundMyFitness also offers members-only emails that are sent out twice a month containing a list of recent studies with notes by Dr. Patrick.
The FoundMyFitness podcast provides information about overall health and wellbeing, but they also have premium episodes for members only.
Review of FoundMyFitness Reports
FoundMyFitness presents the results in a table format. The reports offer information about genes and SNPs tested, how they affect health, and additional information about the condition analyzed, as seen below.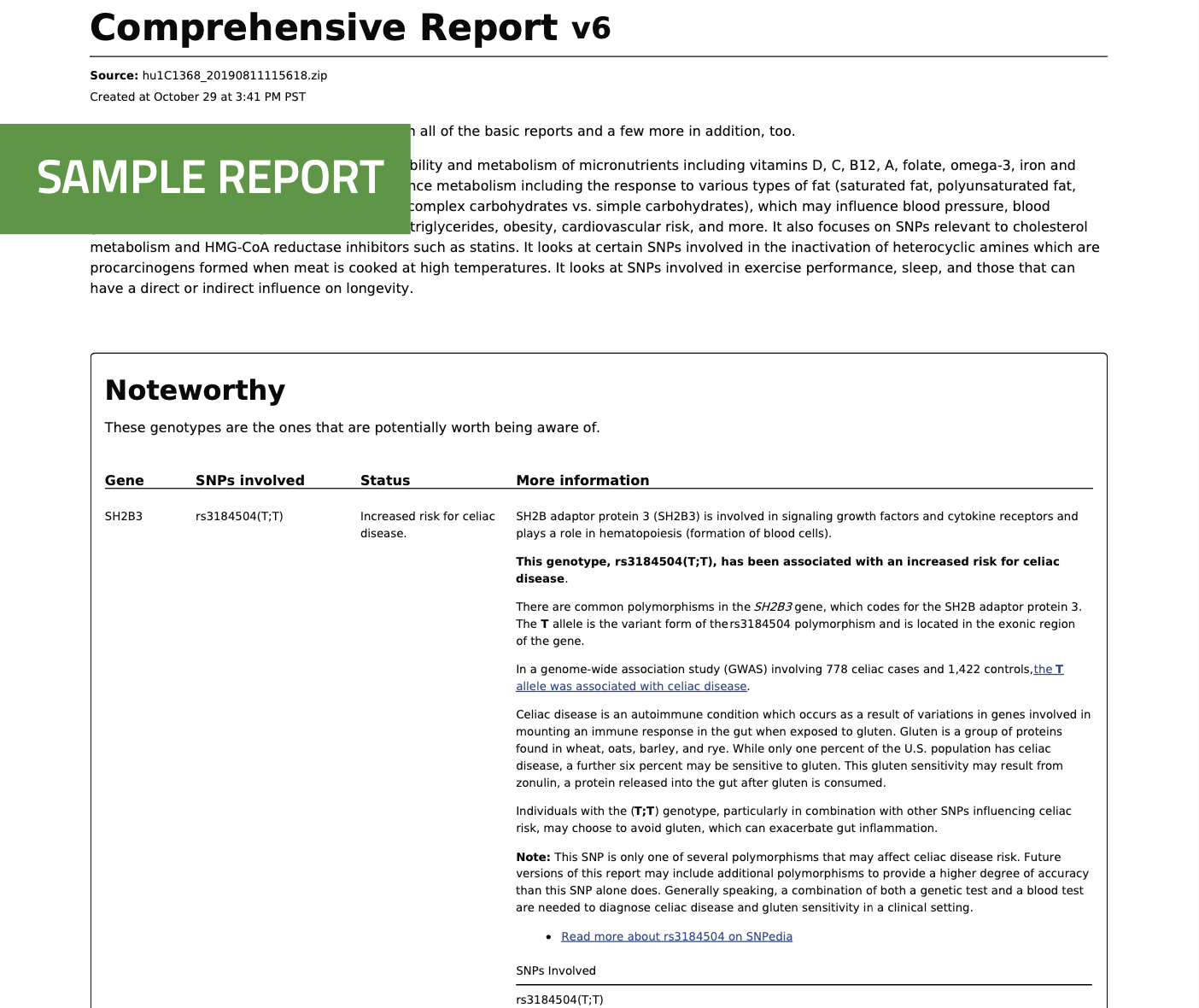 The reports categorize the results into Noteworthy and Less Noteworthy. The Noteworthy section informs on the genotypes users should be aware of, as they may present increased health risks. FoundMyFitness states the results under the Less Noteworthy section are considered normal.
The reports deliver detailed explanations about the conditions analyzed, and they share scientific references with the user.
The company offers a few health recommendations based on the genetic results, but they are generic and not very detailed. The suggestions are presented sparsely throughout the reports and do not have a specific section designated for them.
Cost of FoundMyFitness
The Comprehensive Report costs $25. Users can become a premium member by paying a monthly fee of their choosing, from $15 to $250.
The membership is set up as a pay-what-you-can service. Members get access to all the features regardless of how much they choose to pay. Users in the $250 monthly support tier get access to an exclusive monthly Google Hangout with Dr. Patrick.
The FoundMyFitness podcast is available free of charge.
Health Recommendations from FoundMyFitness
The company offers a few health recommendations based on genetic results. However, they do not consistently provide advice for all of the conditions analyzed. Additionally, the reports are presented using technical language and are not readily understood.
While the company often suggests a particular nutrient to the user, they do not specify foods or discuss the precise nutrient needs. As it is, the recommendations can be generic and not very detailed.
Review of FoundMyFitness Privacy & Data Security
The company states that they may share personal information with business partners when required to perform core services related to the operation of their website. FoundMyFitness states that their partners will uphold the same security standards as described in their Privacy Policy.
They claim that the raw data is discarded after the reports are generated. The PDF report is available on their website for 6 months, but users can choose to delete it at any time. Customers can access, update, and correct personal information kept by the company.
By using FoundMyFitness' services, users agree that the company may publish and disclose names in connection with any material they post on the website, referred to as user content.
SelfDecode vs FoundMyFitness
SelfDecode delivers natural supplements, diet, and lifestyle suggestions based on your genes that you can implement right away. FoundMyFitness offers a few health recommendations in their reports.
SelfDecode tells you why they make each recommendation so that you can understand the science behind the suggestion. FoundMyFitness explains the results in reports thoroughly with scientific references.
SelfDecode prioritizes recommendations based on their analysis of all the relevant genes instead of one gene at a time (through reports). FoundMyFitness divides the results into Noteworthy and Less Noteworthy depending on the health risk they present.
SelfDecode takes a holistic approach to give recommendations that are best for your genes AND the health topic. FoundMyFitness analyzes each condition individually.
SelfDecode has a team of over 60 highly skilled scientists, MDs, PhDs, NDs, and software engineers to make sure they deliver the most accurate and science-based health information. FoundMyFitness reports are based on genes selected by Dr. Rhonda Patrick.
SelfDecode is the most comprehensive and looks at more genes & gene variants (up to 83 million) to deliver the best analysis of genetic risks. FoundMyFitness examines a few genetic markers to generate each report.
SelfDecode supports everything with peer-reviewed scientific studies in their research and checks for contradicting information. FoundMyFitness provides scientific references in the reports.
SelfDecode never sells your data or gives it away. FoundMyFitness may share information with their business partners to perform core services.
Comparisons
| | | | | |
| --- | --- | --- | --- | --- |
| | SelfDecode | FoundMyFitness | Muhdo | Genomelink |
| Personalized & holistic health recommendations | Yes | No | Yes | No |
| One-click regimen builder | Yes | No | No | No |
| Products | DNA testing, wellness reports, health recommendations, lab test analyzer | DNA upload, health and nutrition reports, podcast | DNA and epigenetic tests, health, nutrition, and fitness reports | DNA upload, health and ancestry reports, traits |
| Raw data access | Yes | N/A | No | N/A |
| Cost (USD) | $97 – $387 | $25 for the reports; $15 – $250 for the monthly subscription | $70 – $235 | $0 – $14 per month |
FoundMyFitness Reviews
DNAtestingchoice gave the company an expert rating of 4 of 5 stars. The reviewer comments on how the website does not provide an easily accessible Privacy Policy, so they were unsure of how secure their data would be. Overall, they found the reports to be comprehensive and say that Dr. Patrick has good credentials to write the reports.
The FoundMyFitness Podcast has an average customer rating of 4.8 of 5 stars on Apple Podcasts from over 4,600 reviews. Most listeners say Dr. Patrick has a lot of knowledge, but a few think the podcast falls short on the way she delivers the information. They say the episodes appear to be too scripted.
Alternatives to FoundMyFitness
SelfDecode: A health-based DNA test that delivers holistic, personalized recommendations based on DNA and labs through detailed reports.
FoundMyFitness Review Summary
FoundMyFitness provides health and wellness reports based on the user's preexisting raw genetic files from 23andMe or Ancestry and does not offer a DNA test. They deliver an in-depth explanation of the results and how the genes may affect health. The company offers a few health recommendations, but not for all conditions analyzed.
As it is, the reports examine each health condition individually based on a limited number of SNPs, and the recommendations are sparsely displayed in the reports. For a more holistic approach to health, SelfDecode uses AI and machine learning to analyze up to 83 million genetic variants and give health recommendations through detailed DNA wellness reports covering over 30 health topics.
Related