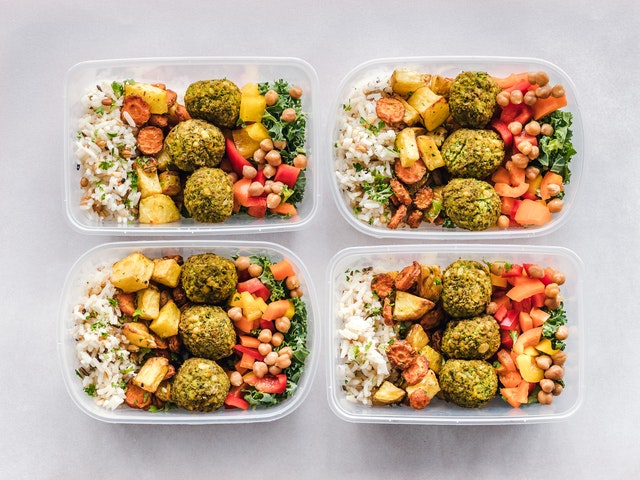 Overview
Products: Meal plans, prepackaged meals, shakes, DNA testing.
Cost: Meal plans cost around $400 per month, the DNA test costs $99.
Reports: Weight loss.
Raw data access: No.
Privacy: May share customer information with third parties for marketing purposes.
Alternatives: The SelfDecode Weight DNA Wellness Report analyzes over 455,000 genetic variants and gives personalized diet, lifestyle, and supplement recommendations to help you manage your weight.
Pros
Convenient food delivery service
Offers a DNA test
Cons
No raw data access
Offers mostly frozen and processed meals
Users cannot upload an existing DNA file
Limited or no lifestyle and supplement advice
About Nutrisystem
Nutrisystem was founded in 1972 by Harold Katz and is headquartered in Pennsylvania, USA. Initially, the company offered a liquid protein diet product, and it was only in 1999 that it started selling products directly to consumers.
In 2014, Nutrisystem was accused of stealing a rival's calorie counting and exercise tracking mobile application after going back on a $25 million agreement to buy said company in 2009. Nutrisystem was acquired by the private equity firm Kainos Capital in 2020.
Review of Nutrisystem Products & Features
Nutrisystems offers meals with a focus on weight loss. They offer the following plans:
Uniquely Yours Max+ Plan (Women and Men)
Uniquely Yours Plan (Women and Men)
Basic Plan (Women and Men)
5-Day Partner Plan
If you have special dietary needs, Nutrisystem offers a diabetes-focused plan and a vegetarian plan. Other than that, they warn users that have other restrictions or allergies to consult the nutritional information of their menu or contact their team to find out which meals fit their needs.
For those who choose the most premium plan, the company claims to offer a new personalized approach. Customers answer questions at checkout and Nutrisystem claims to provide a plan that accounts for metabolism, age, gender, activity level, and goals. However, this option does not include any kind of health testing.
They also have the NuMi weight loss app to help users track food, activity, and progress, and access a variety of guides.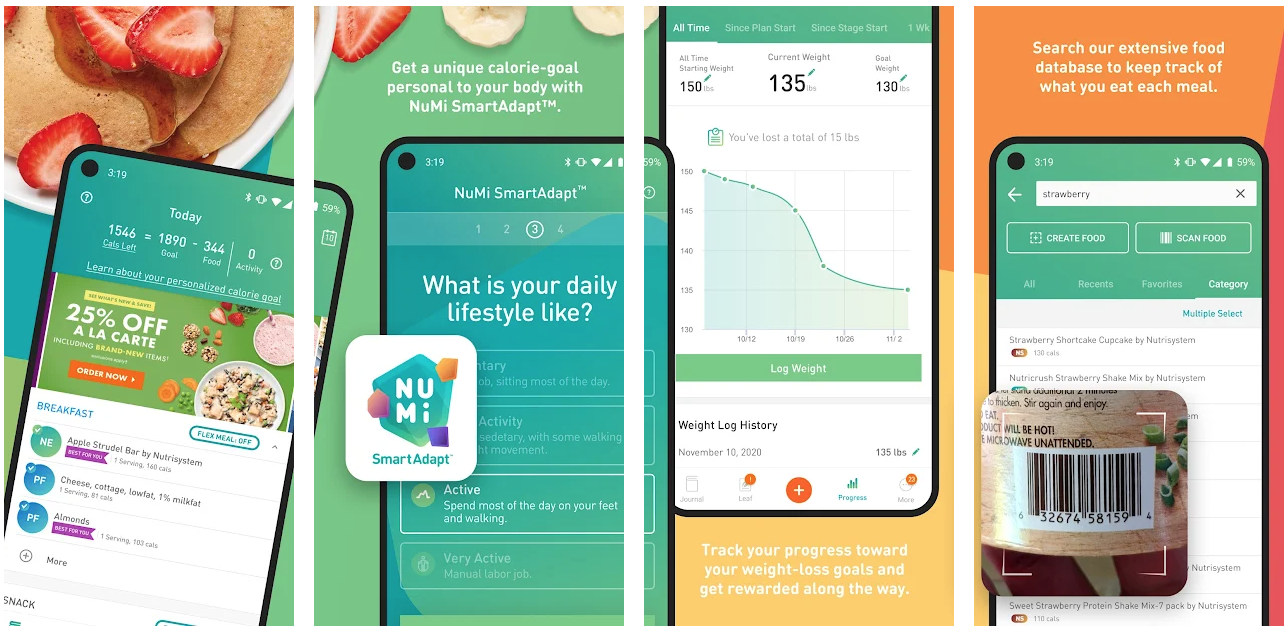 Nutrisystem Meals
Regardless of the plan they choose, customers can opt for between 5 or 7 days a week. They will receive prepackaged Nutrisystem meals, which can either be frozen or ready to go. The company claims they offer high-protein, lower glycemic meals to aid weight loss, but many customers claim the food is overpriced for the quality you receive.
Each plan includes breakfast, lunch, dinner, and snacks. The number of meals differs slightly depending on your gender (men are allowed more food).
Meal options vary depending on the plan you choose. With the Basic Plan, you can choose from 100 options. The Uniquely Yours and Uniquely Your Max+ give you 150 and 160 different meal choices, respectively.
Nutrisystem Shakes & Bars
In addition to the meals, users can choose to purchase Nutrisystem shakes and bars. This can be done separately, or they can be added to any meal plan at checkout.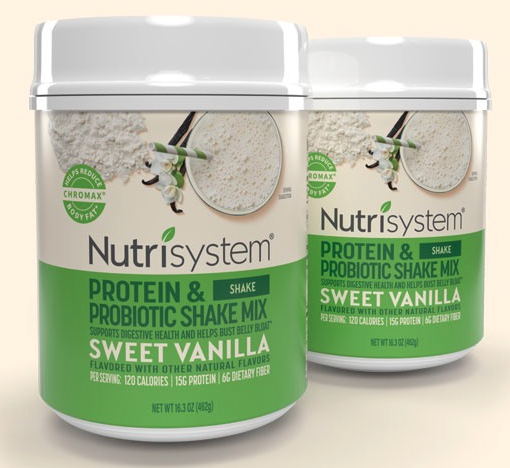 Nutrisystem DNA Test Review
In addition to the services discussed above, Nutrisystem also offers a cheek swab DNA test. Customers can purchase it online or through their call center. The results can be viewed online on the user's private account.
The Nutrisystem DNA Body Blueprint claims to offer insights into how genetics affects weight loss. It includes information about eating behaviors and how you process food, vitamins, and minerals.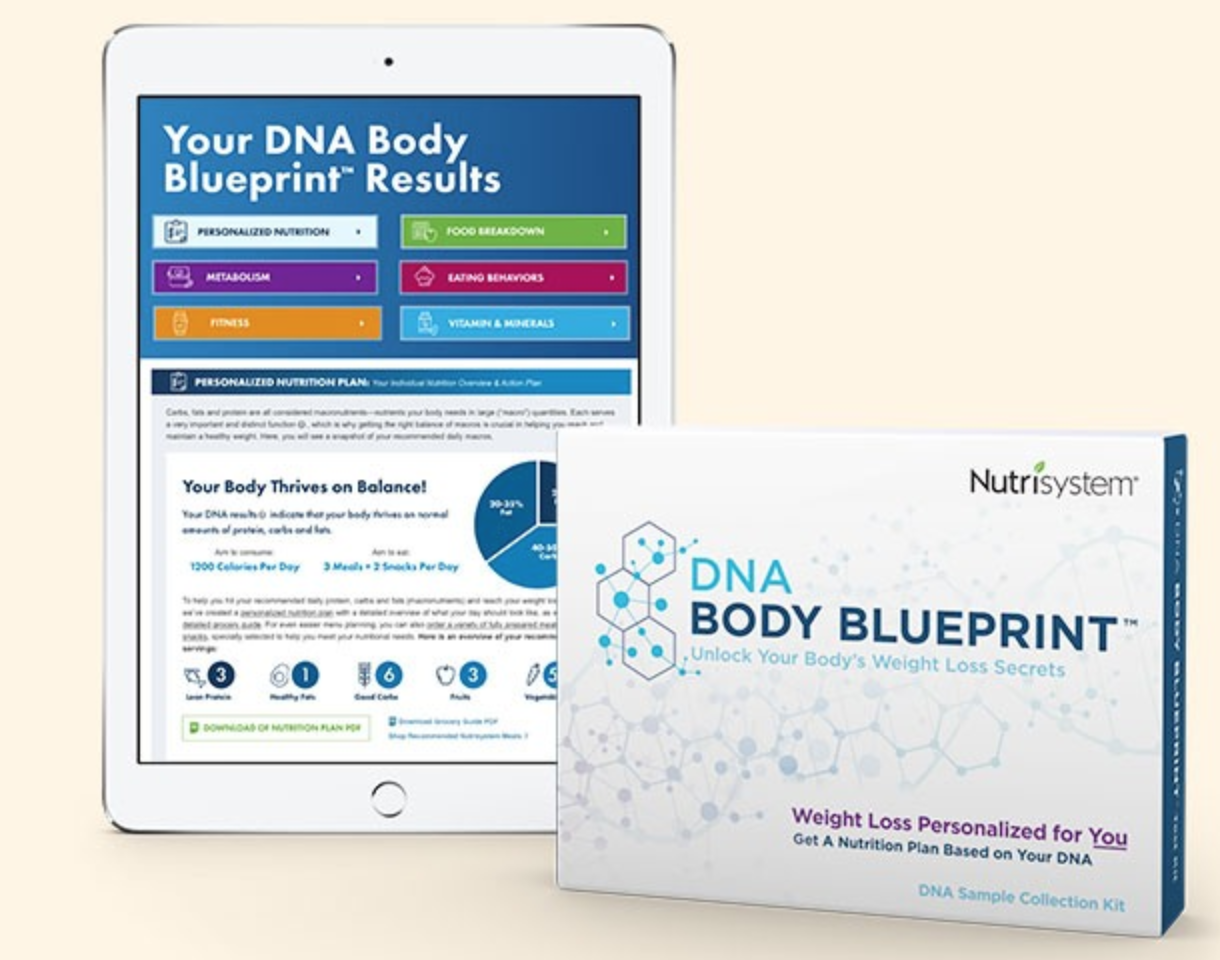 The company only analyzes genetic markers associated with weight management, macronutrient utilization, vitamins and minerals, and response to exercise. It doesn't offer any insights beyond this limited scope. It's important to keep in mind that they do not disclose the total number of variants analyzed, so it's unclear how accurate the results are.
The report explains to users how the genetic results relate with the Nutrisystem program, but customers are not required to purchase any meals or plans along with the DNA test. The DNA test includes a nutrition plan.
Nutrisystem Cost
Nutrisystem cost varies depending on which plan you choose. The following are the prices for women's plans:
Uniquely Yours Max+ ($12.98 a day)
Uniquely Yours ($11.57 a day)
Basic ($9.74 a day)
Diabetes plans ($9.74 – $13.74 a day)
Vegetarian plan ($11.57 a day)
Partner plan ($11.79+ a day)
Men's prices are slightly higher. Nutrisystem charges customers monthly. When signing up, the default option is auto-delivery, so if you don't want your plan to be renewed automatically, you will need to manually change it.
The DNA Body Blueprint test costs $99.
How To Cancel Nutrisystem
Customers can cancel their Nutrisystem auto-delivery program until the day before their order is scheduled. Inconveniently, the company requires users to call to cancel their orders. You will need to provide your personal information and membership number to request for your subscription to be canceled.
Health Recommendations from Nutrisystem
Customers may achieve weight loss with Nutrisystem, but since all the meals are packaged and ready, it will not teach healthy eating habits or provide a sustainable way for weight management strategies. Nutrisystem does claim to recommend meal plans to the user, however, this is based on a superficial analysis of weight, height, and gender.
Generally, Nutrisystem meals work by helping customers with portion control and limiting calorie intake. The DNA test offers some insights when it comes to nutrition, but nothing beyond this limited scope. They also limit their recommendations to food items and make little to no suggestions on how one can change their lifestyle to optimize their weight.
Review of Nutrisystem Privacy & Data Security
Nutrisystem claims not to sell personal information, but they may make email and postal addresses available to other businesses. If you don't want your information shared, you will need to opt out.
The company also claims that they only share genetic information with third parties that assist them in providing services. You can ask them to delete your DNA analysis and report at any time.
Nutrisystem Reviews
Nutrisystem reviews are not very positive. The company has a 1.5 of 5 stars rating on Trustpilot, based on 2,000 reviews. Many report issues canceling Nutrisystem and say the food they received is not high quality. Another common complaint with users is their unhelpful customer service.
On Consumer Affairs, the company had a 3.9 out of 5 stars rating. Again, customers complain about the lack of support provided, and some report they did not enjoy the food.
The NuMi app has a 3.5 of 5 stars rating on Google Play. Customers say the features work sporadically, and the food database is not updated.
Alternatives to Nutrisystem
Nutrisystem offers easy-to-prepare meals that are delivered to your home. While this sounds convenient, everyone has different needs. The company does offer a DNA test, but it is very limited in the scope of genes and topics analyzed.
Your DNA can play a huge role in your weight. A good example of this is the FTO gene. It's one of the most studied genes when it comes to weight. A variant of this gene has been linked to:
Eating more
Eating higher calorie foods
Food craving
Emotional and binge eating
If you happen to carry this variant, it may be more difficult for you to manage your weight. Your DNA may also affect which weight management methods work best for you. For example, people with this FTO variant may benefit from psychotherapy and high fiber and high protein diets.
Analyzing your DNA may help you understand what your genetic risks are and what you can do to counteract the negative effects of your genes. Because what works for someone else might not work for you.
With that said, you may want to try an alternative or complementary service to Nutrisystem. A company such as SelfDecode can offer you a more comprehensive and holistic approach to your health. SelfDecode uses cutting-edge AI and machine learning to provide personalized and prioritized diet, lifestyle, and supplement recommendations based on your DNA and labs.
While other DNA companies only look at one or two SNPs related to your weight to calculate your genetic risks and offer generic health recommendations, SelfDecode analyzes over 455,000 genetic variants in the Weight Report alone to give you the fullest picture of your health.
With a membership to SelfDecode, you will also gain access to SelfDecode Labs. Just upload your lab results or purchase lab tests from SelfDecode to gain tailored insights into how to optimize over 500 lab markers.
Nutrisystem Review Summary
Nutrisystem meals may help some people lose weight since it's based on the classic portion control approach to weight loss. This can work for some, but people have different needs. The company does offer a DNA test in an attempt to personalize their services, but they are limited in the topics and genes analyzed.
An alternative such as SelfDecode analyzes up to 83 million genetic variants and offers over 30 DNA wellness reports covering a variety of topics, including weight, blood sugar, cholesterol, and many more.
Related Articles