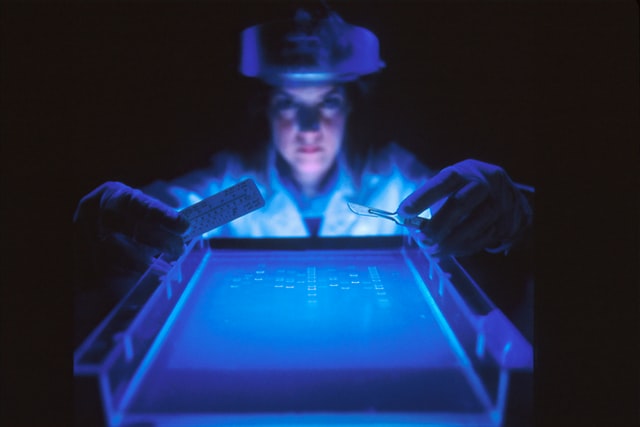 Overview
Products: Genotyping, Whole Exome and Whole Genome Sequencing, health, wellness, and traits reports.
Cost: All the reports are available free of charge for users who upload their preexisting raw DNA files. DNA sequencing can cost between $150 to $1,200.
Reports: Health, wellness, and traits reports.
Raw data access: Yes.
Privacy: Sano Genetics claims that they do not sell genetic information without user consent.
Alternatives: SelfDecode offers an analysis of up to 83 million genetic variants and personalized health recommendations based on DNA.
Pros
Offers genotyping, Whole Exome Sequencing (WES), and Whole Genome Sequencing (WGS).
Reports are free if you upload your raw DNA file.
The company suggests research projects that are relevant to each user.
Cons
There are no personalized recommendations in the reports.
The turnaround time of 10 weeks is longer than other DNA testing companies.
Most reports only give information about non health-related traits.
Only analyzes a few SNPs per report.
About Sano Genetics
Sano Genetics was founded in 2017 by CEO Patrick Short, COO Charlotte Guzzo, and CTO William Jones. Their headquarters is located in Cambridge, England.
The company claims to be a user-centric platform that focuses on connecting people with research institutions. They offer tools for researchers to analyze the anonymous and aggregated data provided by their customers.
Sano Genetics helps researchers find recruits for their studies based on the information provided by the users themselves. Despite being a research-focused company, they claim not to share any data without user permission.
Review of Sano Genetics Products & Features
Sano Genetics connects their users with researchers who are conducting studies or clinical trials. They work with researchers from non-profit institutions as well as biotech and pharmaceutical companies who conduct paid studies.
The company also offers genetic reports on the following topics:
Physical Traits: Includes muscle power, male pattern baldness, nutrigenomics, and more.
Senses and Reaction: Reports on snacking behavior, coffee and caffeine consumption, stress, and others.
Specific Conditions: Covers eczema, psoriasis, and food allergies.
They offer three options for genetic testing: genotyping, whole exome sequencing, and whole genome sequencing.
The genetic results are ready in 10 weeks. If the user has a preexisting raw DNA file, they can upload it to the platform and get the reports free of charge. The company states they update the reports as new advances are made in the genetic field.
After users sign up, they are required to answer a brief questionnaire. The Basic Information questions include age, city, gender, and ethnicity, while the Medical History section asks users about their known medical conditions.
Users can choose how and if they wish to share their personal information with researchers. Sano Genetics notifies customers of research projects that may be relevant to them, but the company claims not to share information without their consent.
They state that they take into consideration the answers to the Basic Information and Medical History surveys to determine which studies are more relevant to each individual.
Sano Genetics uses genetic imputation to analyze 30 million SNPs from DNA files from 23andMe, AncestryDNA, MyHeritage, and other providers.
Are you interested in getting more out of your DNA test? SelfDecode uses AI and machine learning to accurately predict and analyze up to 83 million genetic variants from a typical DNA file and gives personalized recommendations to help you improve your health.
Review of Sano Genetics Reports
Sano Genetics reports are presented as short blog posts that cover the health topics mentioned above. The dashboard displays the reports offered by the company, as seen below.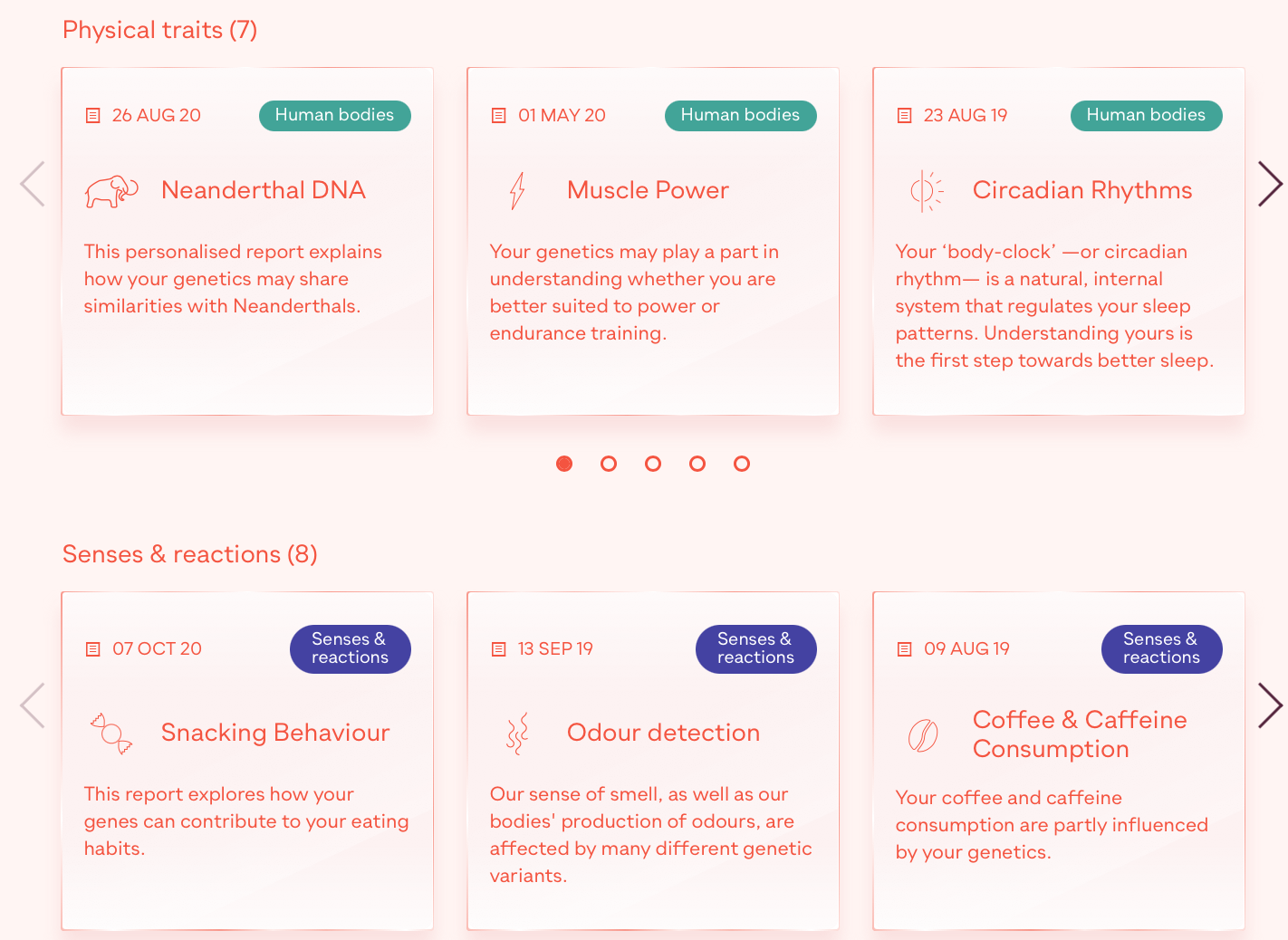 The reports are available to all customers, even those who do not upload their raw DNA files, in which case they are not personalized to the individual.
As can be seen from the sample report below, the company includes a brief explanation of the report and discloses the estimated reading time.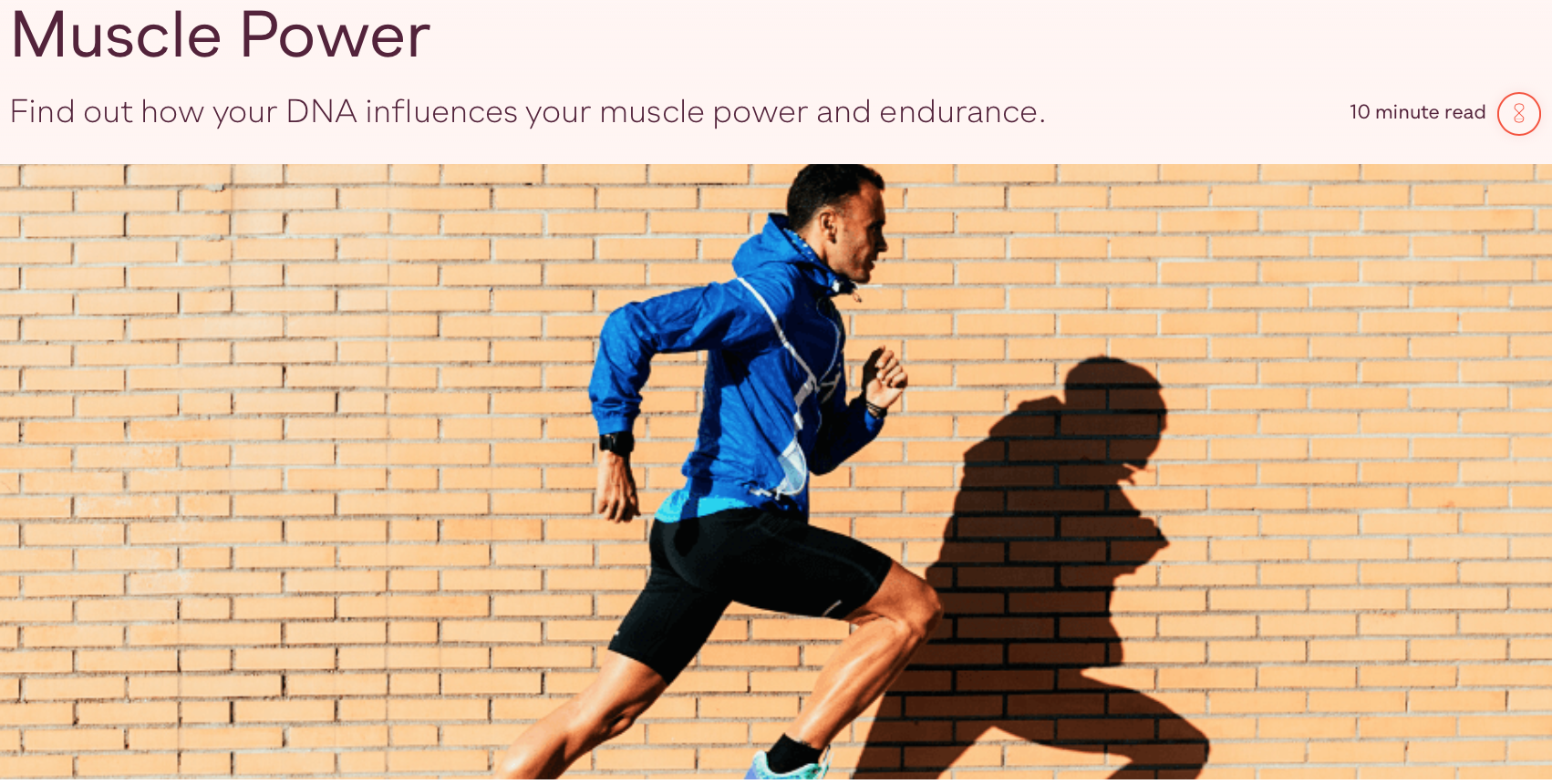 The report explains the health topic analyzed and how genetics can influence it. As seen below, Sano Genetics includes a separate section where they discuss the user's results. This personalized section is limited to telling you how likely you are to have a trait or condition and offers no recommendations.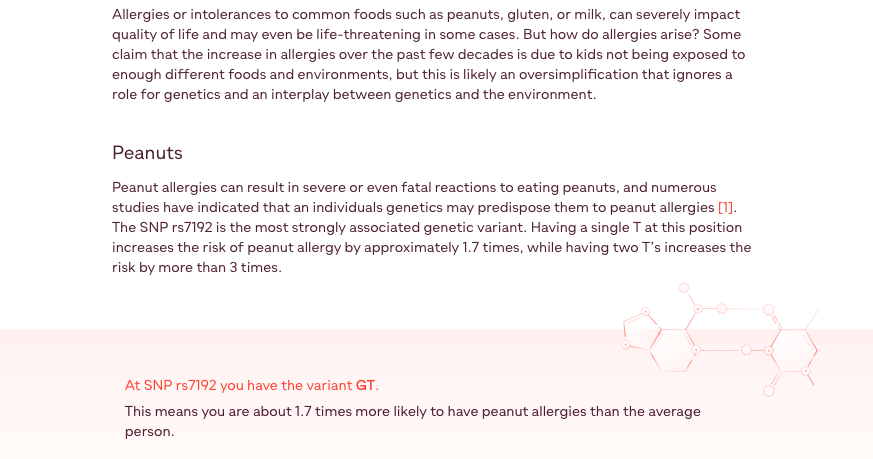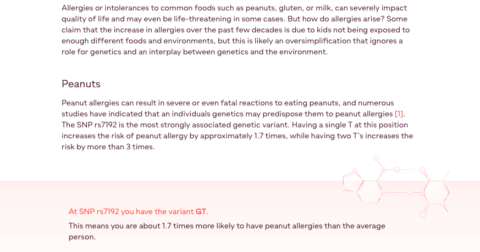 Conveniently, users can upload their raw DNA files directly from the report page, or they can choose to purchase a genetic testing kit from Sano Genetics, as demonstrated in the screenshot below.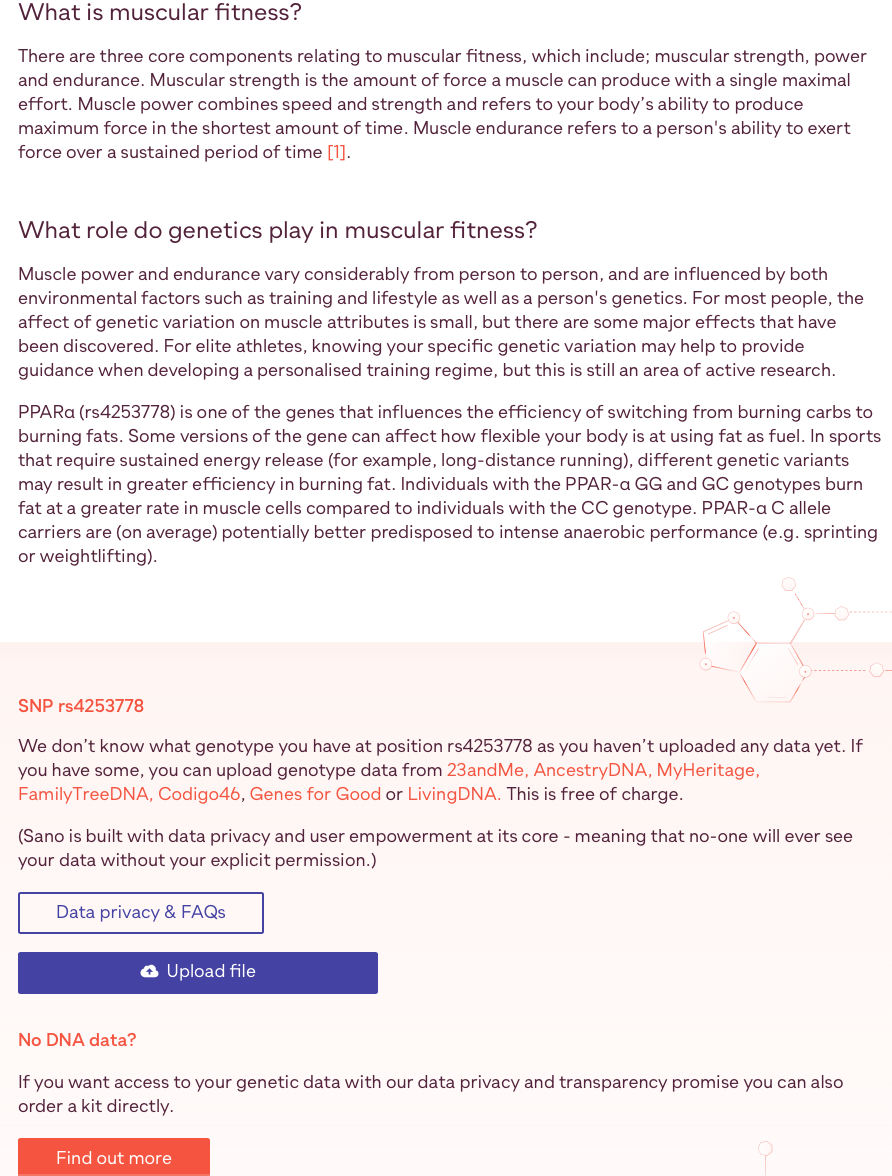 The company includes a section explaining how other factors can affect the trait or condition analyzed, as shown below. However, the report does not give health recommendations to the user.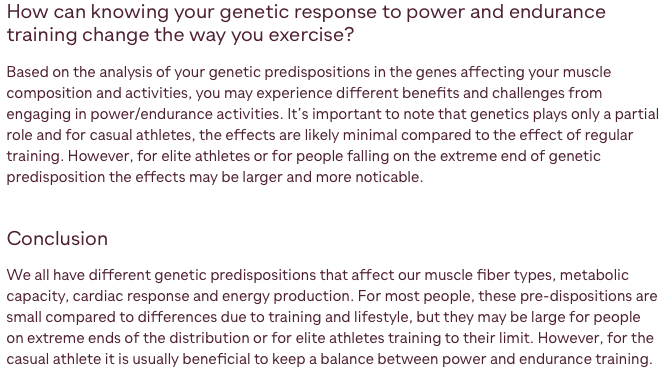 At the end of the report, the company displays their references and adds a glossary to explain a few less known terms, seen below. While some links redirect the user to a scientific publication, a few guide them to other blog posts.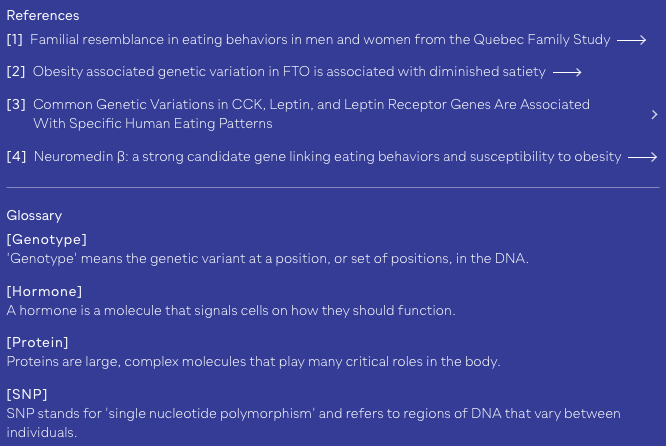 As stated before, users can choose to enter the research projects available on the platform. Some projects require a raw DNA data upload and answers to a survey, but some studies do not require access to the genetic information.
As with the sign-up questionnaire, you can choose whether you want to share your survey answers with every researcher on the platform or just the ones conducting the study you chose to participate in.
Cost of Sano Genetics
WES and WGS cost $550 and $1,200, respectively. Genotyping is priced at $150. Sano Genetics offers DNA testing for free for research participants in some areas. The genetic reports are available for free if the user has a preexisting raw genetic file.
Users may receive a fee from researchers in consideration of their participation in a study or research project.
Is Whole Genome Sequencing Worth It?
Not yet.
Whole genome sequencing is far more expensive than other popular DNA test kits on the market that test up to a million SNPs. A test from SelfDecode, for example, will cost you $90 – this is far more affordable than the $1,200 cost of WGS with Sano Genetics.
Currently, only a small portion of the results from a whole genome sequencing test can provide you with any meaningful information. Plus, by using AI and machine learning, services such as SelfDecode can accurately predict and analyze up to 83 million variants from a typical DNA file.
As more research in genomics is done and databases expand, whole genome sequencing will become more useful. At this time, you are getting very little for the significant extra cost required to have your whole genome sequenced with Sano Genetics.
Health Recommendations from Sano Genetics
While Sano Genetics explains how each gene can affect the condition or trait analyzed, the reports do not advise the user on how they can manage their health. The personalized section of the report is very brief, as showed above, and is limited to telling you how likely you are to have a certain condition or trait.
As useful as this information is, you'll be left with no guidance on what steps to take to address your health issues. Sano Genetics offers no health recommendations based on DNA results.
Review of Sano Genetics Privacy & Data Security
Sano Genetics claims not to sell personal information without permission. Users can choose to allow researchers to access their anonymized and aggregated data or require them to ask for permission each time.
The company uses industry-standard encryption mechanisms to protect their data. They retain samples from testing kits for 20 years. If the user consents to follow-up studies, they will retain it for an additional 20 years.
They claim not to transfer personal data outside the European Economic Area.
SelfDecode vs Sano Genetics
SelfDecode delivers natural supplement, diet, and lifestyle suggestions based on your genes that you can implement right away. Sano Genetics does not offer personalized recommendations in the reports.
SelfDecode tells you why they make each recommendation so that you can understand the science behind the suggestion. Sano Genetics explains how genetics influence each trait or condition analyzed.
SelfDecode prioritizes recommendations based on their analysis of all the relevant genes instead of one gene at a time (through reports). Sano Genetics recommends research projects that are relevant to each user but offers no advice to help users address their health issues.
SelfDecode takes a holistic approach to give recommendations that are best for your genes AND the health topic. Sano Genetics analyzes each trait or condition separately and does not give health advice.
SelfDecode has a team of over 60 highly skilled scientists, MDs, PhDs, NDs, and software engineers to make sure they deliver the most accurate and science-based health information. Sano Genetics does have a few health professionals and engineers on their team.
SelfDecode is the most comprehensive and looks at more genes & SNPs (up to 83 million) to deliver the best analysis of genetic risks. Sano Genetics offers genotyping, WES, and WGS but only analyzes a few SNPs per report.
SelfDecode supports everything with peer-reviewed scientific studies in their research and checks for contradicting information. Sano Genetics includes scientific references in the reports.
SelfDecode never sells your data or gives it away. Sano Genetics claims to take privacy very seriously and not to sell data without user consent.
Comparisons
| | | | | |
| --- | --- | --- | --- | --- |
| | SelfDecode | Sano Genetics | GenePlaza | Genomelink |
| Personalized & holistic health recommendations | Yes | No | No | No |
| Genes & gene variants analyzed | Up to 83 million genetic variants | A few SNPs per report | A few SNPs per trait | A few SNPs per report |
| Products | DNA testing, wellness reports, lab test analyzer, patient and provider options | Genotyping, WES, WGS, health, wellness, and traits reports | DNA testing, genetic apps | Health, ancestry, and trait reports |
| Raw data access | Yes | Yes | Yes | No |
| Cost (USD) | $97 – $389 | $0 – $1,200 | $2 – $195 | $0 – $14 per month |
Sano Genetics Reviews
Customer reviews for Sano Genetics are scarce. 4 people on Facebook recommend the company, with one user stating they like their emphasis on privacy, but most reviews are a few years old.
DNAtestingchoice appreciates their transparency and dynamic consent model that allows users to choose who will have access to their information.
Alternatives to Sano Genetics
SelfDecode: The best health-focused DNA test that delivers personalized diet, lifestyle, and supplement recommendations.
Sano Genetics Review Summary
Sano Genetics offers a platform for customers and researchers to connect. Their user-focused system enables people to choose which research they want to participate in and who will have access to their data.
Additionally, the company offers free health and traits reports. Users can upload their raw DNA files or they can purchase a genetic testing kit from the company.
Sano Genetics offers a great opportunity for those who wish to contribute to advances in the medical field. But the reports do not give any health advice to help people improve their health. The personalized sections of the reports are very brief and are limited to telling your likelihood of having a certain trait or conditions.
While having information about one's genetics is valuable, other companies like SelfDecode can use this knowledge to also provide health recommendations based on DNA. SelfDecode uses AI and machine learning to analyze up to 83 million genetic variants (~1 million per report) and gives personalized and prioritized recommendations to help you optimize your health.
Related Articles